The heavily anticipated "There" portion of our Connections Happen: Here. There. Anywhere. webinar series, highlighting trade shows and hosted on our VExP platform, debuted on February 23, 2021 with great success. This session focused on how we anticipate COVID-19 will impact the return of trade shows. Specifically, we discussed how you could evaluate your strategy for design alterations to be more conducive in a post-pandemic world, cleanliness and sanitization considerations, insights on accountability and liability for safety measures, and updated staffing recommendations. This session was led by Exhibit Concepts' VP of Sales and Marketing, Ellen Kaminski, and Sr. Designers, Chris Rank and Maria Villamar.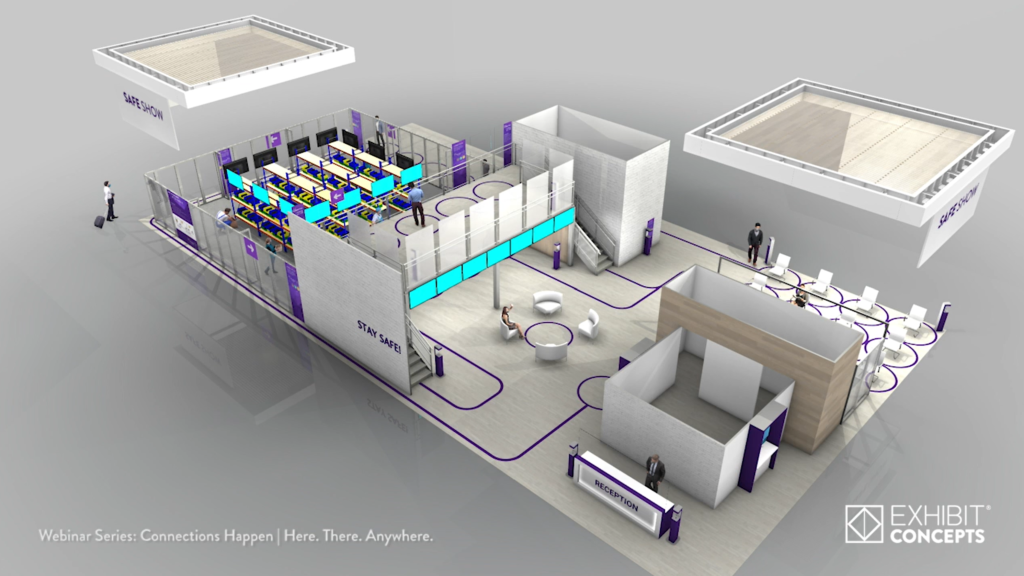 Attendees had the opportunity to view an AR walk-thru of COVID-19 compliant exhibit and interior space and ask our team questions in LIVE chat. If you're interested in answers to either of these questions submitted during the event, tune in:  
What 

actually is

 "hybrid"? I've heard it used plenty but never in the same way. It's obvious that it'll be around for a while, but what does that even mean?

 
Trade shows are a fraction of my responsibility.  What changes do you expect regarding driving traffic to shows and our booth specifically? 

Obviously,

 there will be less attendance but I'm trying to make a case to get back on the show floor sooner than later.  I just don't think 

giveaways

 are right for my buyers.

 
Additionally, we were able to highlight our new product, MyCheck Wellness Station, which was released in November 2020, in partnership with Interactive Group.  
To view the entire conversation, enjoy the video below.
If you're interested in future conversations like this, diving into more specific topics around making connections, join us for Part 4 where we will cover aspects of Virtual and Hybrid Events and Exhibits. Subscribe to our blog to be notified of upcoming virtual events in this series.  
It's our mission to make your story unforgettable: here, there, anywhere. 
___ 
If you were unable to attend Part 1 or 2 of the Connections Happen Series, you're in luck! 
Part 1: an overview of our purpose and intent for this series 
Part 2: interior spaces and modifications for a safe return to the office 
The Connections Happen. Here. There. Anywhere series is meant to help you: 
rethink your approach to 

design

 

evaluate how people experience your 

brand

 

take inventory of your 

audience

 

analyze your company's response to 

COVID

 

 

maximize your current real 

estate

 

complete a situation 

assessment

 

identify potential 

opportunities

 

…and much more
Subscribe to our blog below to be notified of the latest industry insights and our future webinars.