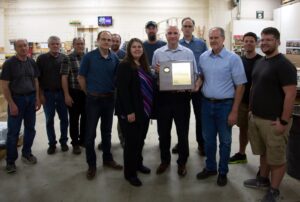 Located in the "Secret City" of Oak Ridge, Tennessee, the American Museum of Science and Energy (AMSE) tells the story of the Manhattan Project and the continued innovations of the Oak Ridge National Library.
Exhibit Concepts played a critical role in bringing those stories to life in 2018.
AMSE had an ambitious goal: to relocate the museum and revamp the space in just one year. The museum engaged Hilferty & Associates, Exhibit Concepts, Boston Media Productions and Communication Electronic Design to take on the project.
A museum project of this size – 6,200 square feet – would normally take approximately three years to complete. But through partnership and hard work it was finished in only 8 months. Exhibit Concepts was responsible for exhibit fabrication and installation, which includes a variety of interactives, graphic panels, and AV components.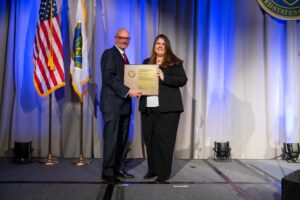 Hard work, passion, and dedication led to Exhibit Concepts receiving the Department of Energy's (DOE) 2018 Small Business of the Year Award on April 16, 2019. Each year, the DOE recognizes a small business that develops innovative and technical solutions that ultimately contribute toward the fulfillment of national security and energy missions.
"ECI exceeded expectations for quality of service by doing whatever it took to provide expected results, adherence to a constrained budget, attention to detail, and the passionate pursuit of perfection to help DOE get the wow factor for museum visitors. ECI quality was extraordinary through the entire project," said Laura Gideon, contracting officer with the Department of Energy.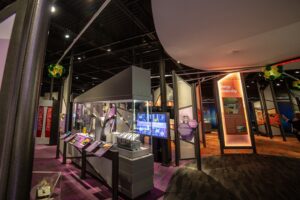 Through our work with AMSE, Exhibit Concepts has helped contribute to the education of the Oak Ridge community on their historic past, present, and future as they continue ground-breaking work in the energy field.
"The attention to detail, diligence, passion, unique solutions, and dedication to our client's success from the people that worked on this project is the backbone of what we do," Kelli Glasser, CEO of Exhibit Concepts said, "we're extremely honored and proud to win this award and contribute to a project so meaningful and important to not only a community, but to our nation."