As a kid, did you ever want to walk on the moon? Maybe you still dream of going into space one day. Thanks to a donation, a lucky group of second graders at St. Albert the Great School in Kettering, Ohio step foot on the moon every time they walk into their classroom.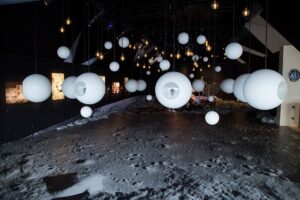 In 2014, Exhibit Concepts produced an outdoor activation that was used for a PGA event at Valhalla Golf Club in Louisville, KY. The project was for Omega Watches through Engine Shop, one of our advertising agency partners. Omega's Speedmaster Watches had been used on NASA's mission to the moon. This event featured the timepieces in a lunar setting complete with an astronaut, planets and a floor designed to look like the surface of the moon. Recently, the owner decided they had no further plans for it and Exhibit Concepts came up with a novel idea.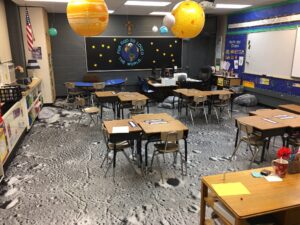 ECI is filled with creative engineers, one of whom obviously dreamed of being an astronaut as a child, and thought we could repurpose the property (or the flooring) for a younger audience. We reached out to officials at the school to share the idea. Several volunteers installed the flooring in one of the classrooms during the school's winter break, transforming it into a fun and unique experience for students.
"As a teacher, I'm always looking for new ways to help my students learn," said Paige Spangler, second grade teacher at St. Albert the Great School. "Incorporating this floor into my classroom is just a small way to not only make science fun, but also bring smiles to my students' faces with a unique new addition to their room."
Now that's what you call an out-of-this-world experience. Want to see more of our unique event work? Check out our portfolio!