It can be challenging to stand out and make an impression at the Consumer Electronics Show (CES) where there are over 4,400 exhibits covering 2.9M square feet of exhibit space. Ranking for two consecutive years (listed at number 12 in 2018) on EXHIBITOR Magazine's Best of CES list, Omron did just that.
A world leader in technology, Omron's founding principle is to improve human lives and contribute to a better society through automation, AI and robotics. Ranked at 18 on the list, Omron's 3,000 square-foot booth showcased robots and other machinery performing a variety of tasks, as well as a series of displays that show how humans and machines will one day work together. Most notably, the company's must-see machine wonder Forpheus, the table tennis-tutor, attracted visitors from all over the conference.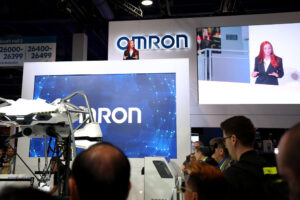 By allowing visitors to interact with their machines and robots, Omron was able to accomplish exactly what they set out to do: create harmony between humans and machines.
Exhibit Concepts is proud and honored to be named on this list of innovative and impressive exhibits from CES. Our team is full of creative and passionate people dedicated to providing unique solutions and excellent customer experiences, which is what makes incredible booths like Omron's possible.
For more about how we bring our customers' vision to life, visit our portfolio page.