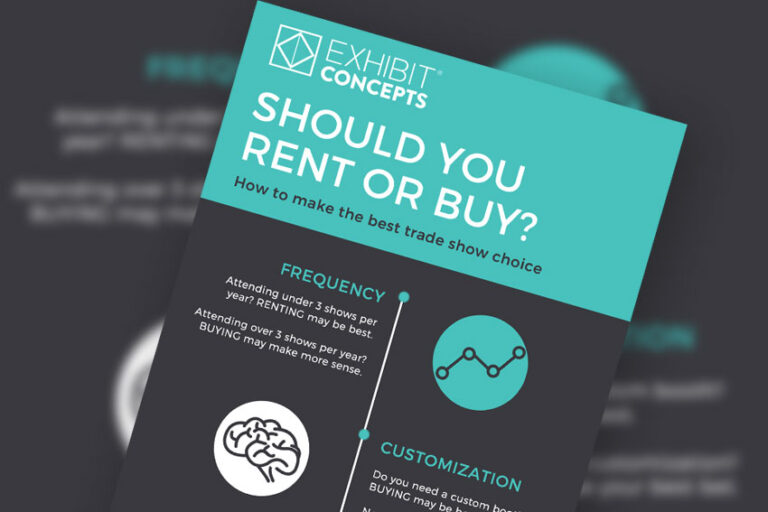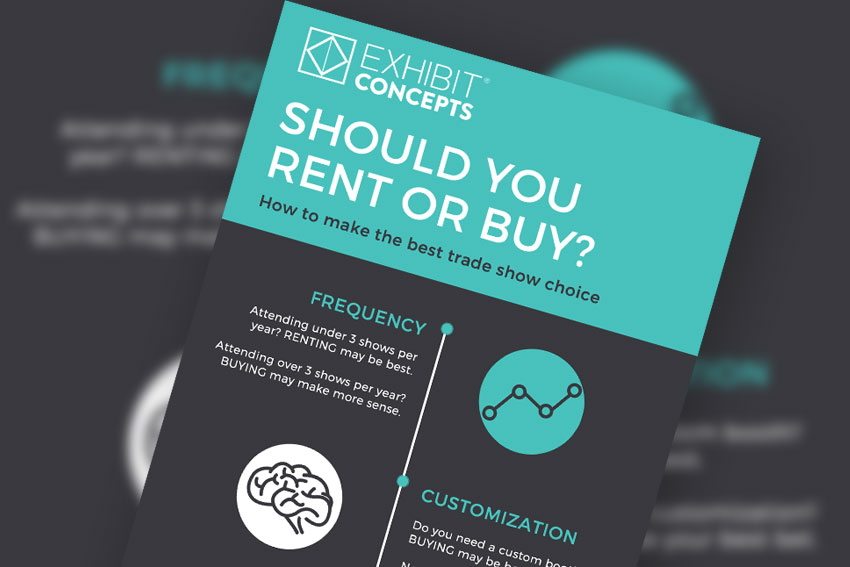 Decisions, decisions.
In trade shows, events and face-to-face marketing in general, expectations to deliver memorable experiences are forever increasing. Our clients are constantly seeking new ways to deliver the WOW factor at the same time delivering on time and on budget. And that can lead to discussions about whether owning or renting booth property is the best strategy. Here are a few ways to decide if it makes more sense to rent or buy your trade show property.
Versatility: A rental can offer more flexibility, delivering results for both a simple project and one that is more unique. It can also be used for smaller inline projects or a variety of island configurations.
Flexibility: Rentals can be used for one year, multiple shows, or even multiple shows over several years. If you currently own property, rental components can be used alongside those assets. Renting also means it is possible to have multiple booths in different locations.
Cost-Effective: A bigger and more complex booth can mean a higher price. If you need a small booth that is, say, around 10×10, renting can help you stay under budget with ease.
Limited Customization: Rentals offer some degree of customization, but buying a booth is the only way to create a completely customized and original space. Graphics and hanging signs can be changed, but otherwise you are tied to rental inventory.
Less Availability: During peak trade show season, there are only so many assets to go around. This could mean changing some elements in your booth's original design.
Industry expert EXHIBITOR, recently addressed the rental topic: "Whether it makes more sense to rent or buy a stand comes down to a host of factors, including whether you have concurrent shows taking place, how many times you plan to use the same exhibit, and whether you have the budget to pay for maintenance and storage when it's not being used."
To take a closer look at EXHIBITOR's article, click here.
Completely Customized: Purchasing a new booth means it's all yours, and it is built to your exact needs and specifications. You can create shelves to fit your products and build the entire booth around your goal—whatever that may be.
Great for the Long Term: If you attend several shows a year and want the same footprint at each, it can be more cost-effective to purchase a booth. This particularly comes into play with larger booth size.
Additional Expenses: Owning your booth means incurring additional costs, like paying to store it and covering repairs and refurbishments over time.
Less Variety: Your booth will, except for new graphics, look identical at every show. This is a con that could be a pro, depending on your audience and your goals for attending trade shows.
Not sold on either option? A hybrid trade show exhibit (sometimes called a custom rental) is a great alternative that offers benefits from both options: customized assets that you own, with the flexibility of rental components.
As EXHIBITOR explains, "lots of rental exhibits are a mix of modular components and custom elements. Many exhibitors make their booths look unique by incorporating 3-D logos, one-off reception desks, etc. that allow the exhibit to be virtually indistinguishable from owned exhibits."
Typically, it means owning the heavily branded portions of the space or those designed to showcase your unique products. This could include hanging signs, graphics, or product displays. These unique components offer the custom wow factor your company desires. Then, those custom components you own are used in conjunction with standard core components like a reception counter, kiosks, or even wall panels. This means you can swap out those rental components for a fresh look alongside your standard, owned assets.
Whether you own or rent your booth, or choose a mix of both, it is crucial to understand the importance of events and how it works with your sales and marketing goals. Thinking about where events, like trade shows, fit into your overall business development efforts is critical to your brand's success.
Want to discuss further? Contact us or download our info graphic below!