When it comes to trade shows, none are larger, busier or more captivating than the Consumer Electronics Show (CES). Not only is CES the gold standard for product showcases and unique engagement, it's a fascinating look at the future of technology. From self-driving Lyft cars to bladeless helicopters, there were no shortage of futuristic innovations to witness at CES 2019.
The Exhibit Concepts team was on the show floor to support our clients including Omron and Wireless Power Consortium and to also take in the sights, sounds, and jaw dropping tech showcased by some of the largest technology companies in the world.
As we walked the show floor, we were wowed not just by the technology, but by the unique ways exhibitors worked to stand out from the crowd and draw visitors in. The show is all about tech, but everywhere we looked exhibitors brought in fresh, unexpected elements to humanize and elevate their technology offerings.
Here are some of the trends we saw on the show floor at CES this year.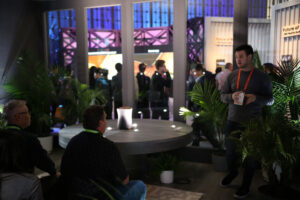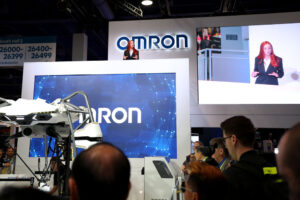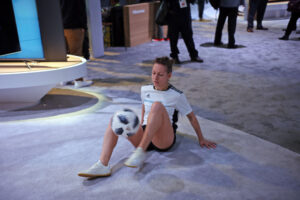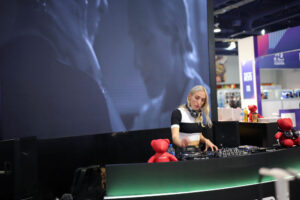 The Human Element
CES is a technology show, but it's really about the marriage between humans and the technology that works to improve our lives. This year, we saw CES booths incorporate humans more than ever—and it made for a fun, engaging experience at every turn. Some of our favorites were the booths that had a DJ, spinning tunes and showcasing products like headphones or speakers. Exhibitors like Omron, SONY, and Intel brought in the human element in a variety of ways. Omron grabbed the crowd's attention with a product specialist perched on a spotlighted, second-floor podium who described the robotic demonstrations taking place below. Intel and SONY had presenters on the floor, speaking to small groups about products and their benefits. SONY even took things further with an acrobatic artist suspended from the ceiling, while another company featured a woman performing tricks with a soccer ball that could be viewed in person or on a large corresponding video screen.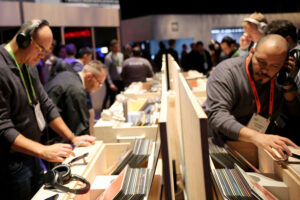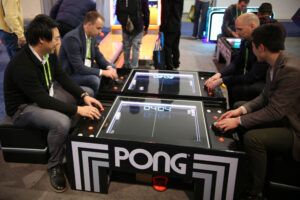 The Throwback
Just like the trend we believe will be big in trade shows for 2019 many CES spaces proved that what's old is new again. Walking the show floor means seeing display after display of cutting-edge technology, but brands like Victrola stood out from the masses. The brand featured over 49 new record players that not only played vinyl, but had Bluetooth connectivity, a CD player and AM/FM radio. The center of the SONY booth was set up like a record store with light wood displays, records by SONY artists to flip through, and a phone with Bluetooth headphones to listen to tunes. While visitors perhaps didn't plan to listen to records at CES, they were lined up to take in the experience. One booth was filled with games like PONG and skee-ball, attracting crowds of kids at heart to play their favorite childhood arcade games.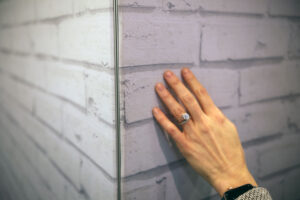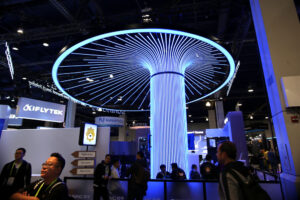 Listen, Look, and Feel
Some of the most meaningful, memorable experiences are those that involve the senses in some way. That doesn't mean involving all the senses at once, but rather finding a way to evoke emotion or encourage action. The Victrola space we mentioned earlier was covered in a vinyl fabric that made it look like it was constructed of painted white brick. Still others mimicked concrete or were made of real wood, making them surfaces you couldn't help but touch. One of our favorite experiences were sculptural elements throughout the show that incorporated light and or fabric to create a beautiful statement piece that hung from the ceiling. This was a great way to use the entire exhibit booth space—and encourage visitors to look up which provided a beautiful relief from the many visuals vying for their attention down on the show floor.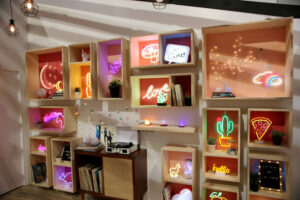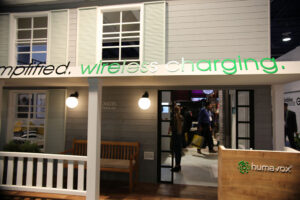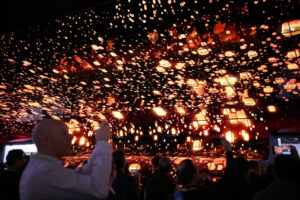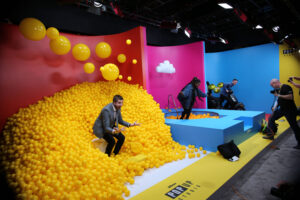 Instagram-Worthy Moments
There are plenty of elements that are begging to be photographed or recorded at CES. Everywhere we turned, visitors had their cell phones out to take a picture or record a video to share on social media or even with co-workers when they returned home. But the brands that really stood out were those who created vignettes that were tailor made for the image-driven Instagram platform. One of the best (and brightest!) examples was in the Nikon booth, where there were three colorful photo setups featuring a pool filled with rubber ducks, for example. Other great examples were brands who created home environments: booths that looked like a bedroom or family room—and one booth that was built to look like a house.
While the emerging technology is a big draw for attending CES, it was the unique ways to tell stories and relay information that really stood out on the show floor.