Exhibit Concepts was recently named Best of Show: Large Booth at EXHIBITORLIVE 2018. The event is a conference and exhibition for trade show and event marketing professionals. The exhibit hall features an array of products and services that serve the industry. ECI attends the show each year, held at Mandalay Bay in Las Vegas.
Judges said, "Exhibit Concepts utilized their prime booth space very well, incorporating a double deck structure, bold graphics, eye catching audio-visual elements, and an open, inviting layout. The second story meeting space featured past projects and judges also gave Exhibit Concepts high marks for what they called a friendly, professional, and well-dressed booth staff that functioned like an effective, well-oiled machine."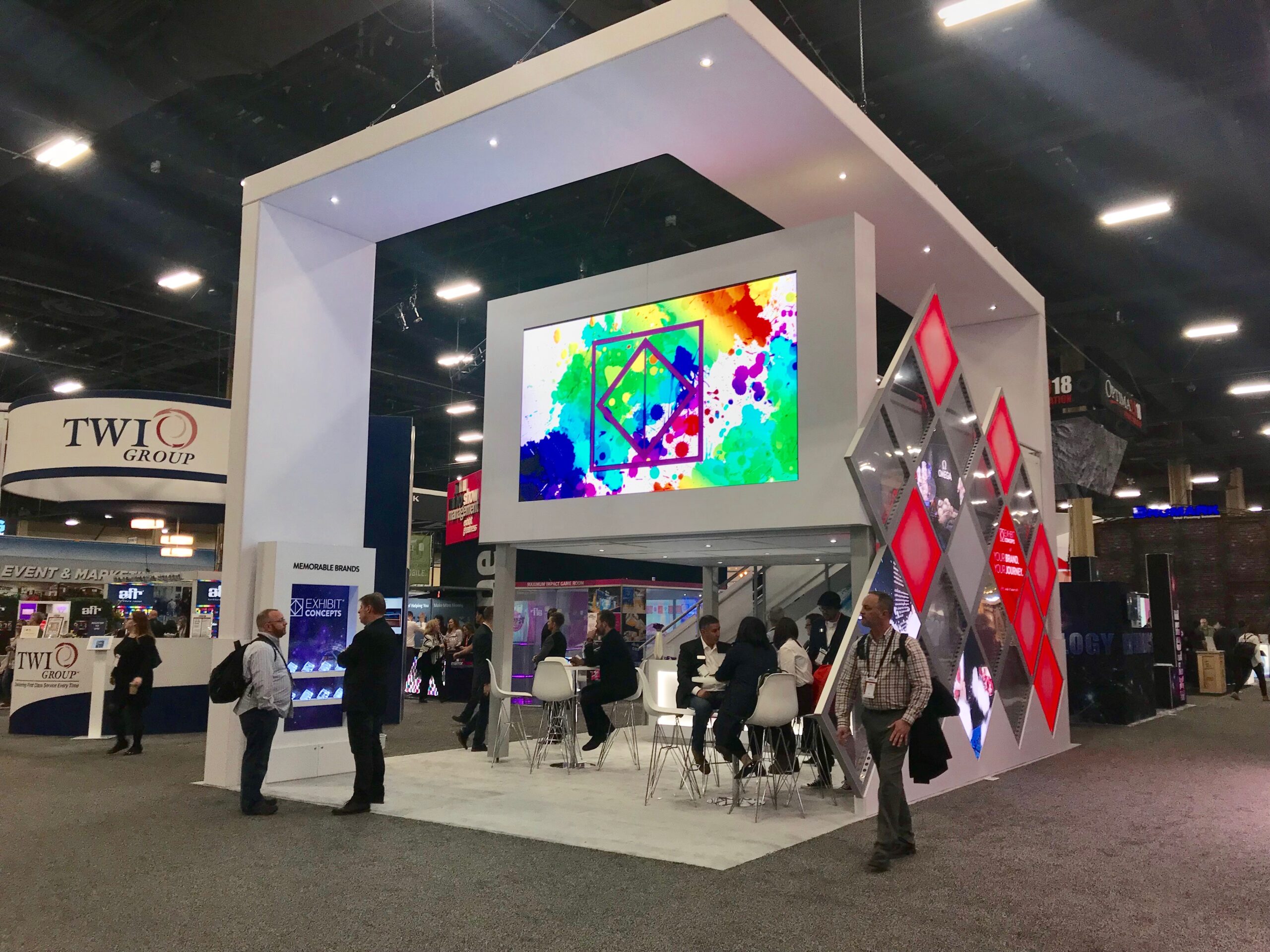 This year's booth, focused on the theme, "Your Brand. Your Journey," featured success stories of ECI's clients in a variety of mediums.
"Every story has a hero," said Ellen Campbell-Kaminski, VP of Marketing. "At Exhibit Concepts, we believe our clients are the hero. Our goal is to bring their story to life in face-to-face settings in the most compelling way. Our EXHIBITORLIVE booth is a testament to their stories."
Utilizing the beMatrix LEDskin product, the booth featured video content custom made to sit inside the booth's framing system. ECI's booth also featured two "cabinets of curiosities" known as Object Theatre. These two stations featured eight custom crystal cubes 3D laser engraved with objects representing a different client story. When lifted from the shelf, a video is triggered on the 4K UHD TV located on the back of the "cabinet." The custom video content takes the visitor on a journey through the client's projects across ECI's various lines of business including trade shows, corporate interiors, mobile vehicle tours, museums, and experiential design.
"I'm so proud of the Exhibit Concepts team," said Kelli Glasser, President and CEO. "This booth is a testament to the incredible talent we have in our company, from the concept all the way to execution."
Exhibit Concepts also won the Portable Modular Award for Best Fabric Exhibit for RCS Sound Systems and was named to the premier Top 40 Exhibit Producers list, recognizing excellence in exhibitry.