In the trade show, museum, and live events industries, interactives and engagements are essential when it comes to creating immersive attendee experiences. For years, touch screens have been a big part of interactive strategies. However, the COVID-19 pandemic raised new health and safety concerns and challenged many traditional "hands on" interactives, creating the need for safer, touchless alternatives. COVID-19 brought a heightened need for sanitization into our everyday lives and organizations' need to take extra measures to bring peace of mind to attendees.  
Cleaning and maintaining touchpoints always poses unique challenges. Museum and exhibit professionals must be especially deliberate and follow manufacturer guidelines carefully. Certain cleaning products can damage certain displays or even ruin touch sensors. Thankfully, the push for touchless solutions continues to create new options.  
Freetouch
™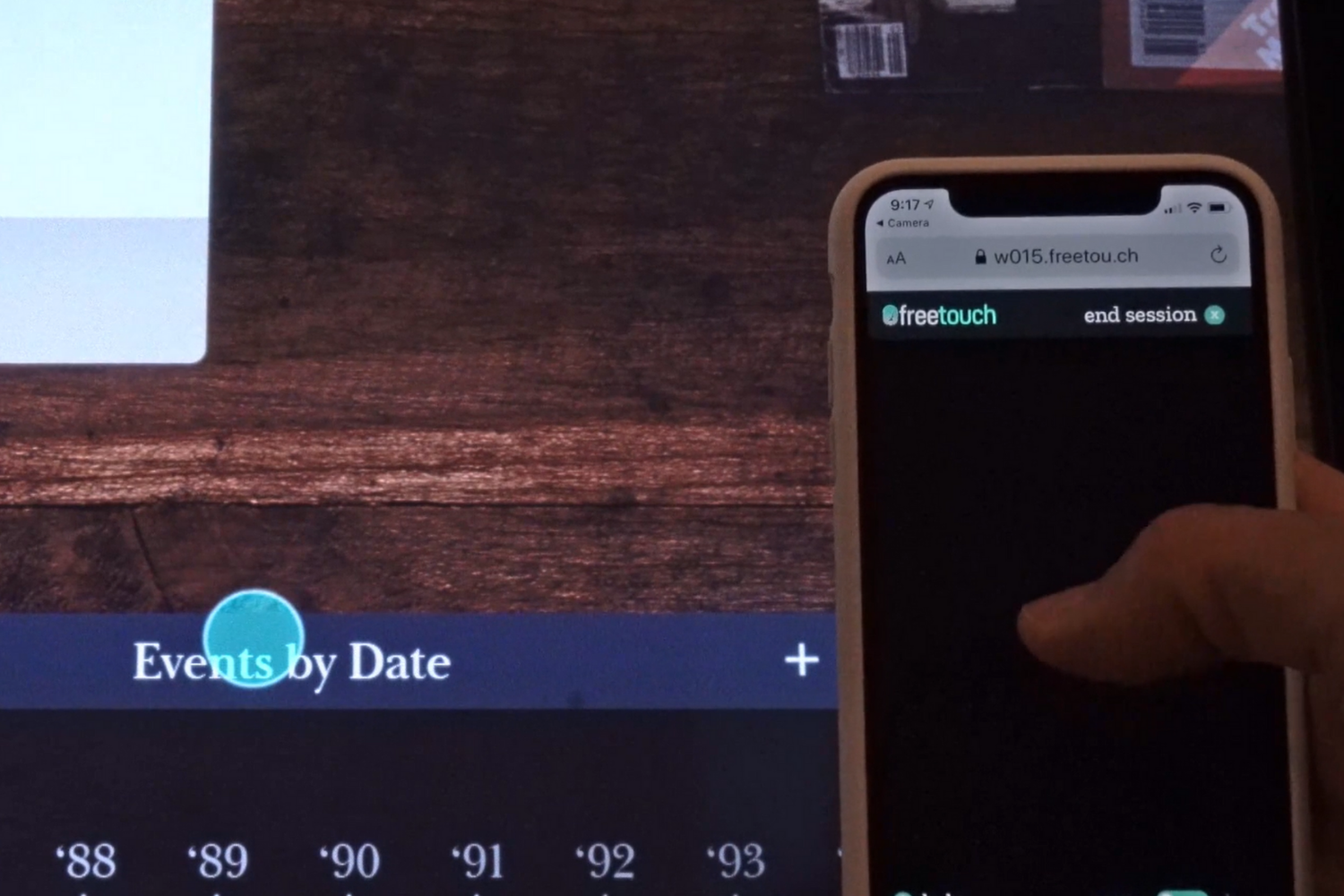 Exhibit Concepts, Inc. (ECI) clients have seen success with Freetouch™, which enables  visitors to use their smartphones to interact with exhibits,  enabling  touchless technology. Visitors can use the one screen they are the most comfortable using – their own smartphone – to experience the engagement. Freetouch utilizes a software-only touchless conversion method that allows the visitor to safely interact with public displays. Check out the video of ECI's NEXT Lab tech guru, John Conley, demonstrating how Freetouch works: 
QR CODES
Many restaurants adopted QR codes to share safer virtual menus with their patrons, allowing customers to view the menu on their personal cell phones instead of physical menus. This same technology also works as a simple solution for museum and trade show exhibits. The visitor takes a photo of the QR code with their phone and the link to content opens through their internet browser. ECI recently helped the National Navy UDT-Seal Museum go touchless by creating and incorporating QR codes throughout their exhibits.
SELF-CLEANING FILM
Another popular option comes from NanoSeptic, a self-cleaning protective film that goes over touch screen interactives. According to their website, "NanoSeptic film surface utilizes mineral nano-crystals which create a powerful oxidation reaction. Working 24/7, the surface continually oxidizes organic contaminants. Unlike traditional disinfectants and cleaners, the NanoSeptic surface uses no poisons, heavy metals or chemicals, and nothing is released from the surface since the nano-crystals are molecularly bonded to the material." However, this solution is best for smaller touch screens, as the largest clear film they currently offer is 12"X18".
PROXIMITY SENSORS
Proximity sensors are small buttons that can be installed that sense motion from 1 to 4 inches from the surface of a display or kiosk. These sensors allow interactive elements to be trigged by motion instead of direct touch.
VOICE ACTIVATION
Voice activation technology is another great touchless alternative for engaging interactive exhibits. Voice activation software technology has improved in recent years and can now be incorporated into many interactives.
SANITIZATION STATIONS
Another aspect of improvements to museum exhibits and the trade show floor, are sanitization stations. Hand sanitization stations can be located next to each interactive, as well as upon entry to the exhibit. Exhibit Concepts introduced our MyCheck™ Wellness Station. MyCheck is placed at the entrance to an exhibit or event and invites customers to engage in touchless temperature checks and hand sanitization. Temperature screening and hand sanitizing are two key actions promoted by health authorities for limiting exposure to virus-related illness. MyCheck also provides visibility to customers about your safety program and wellness strategy.
GIVEAWAYS
COVID-19 caused many professionals to reevaluate promotional giveaways. However, some giveaway items might actually help to reduce touch and promote safety. For instance, promotional stylus pens could encourage the attendee to use the stylus rather than their fingers to interact with the touch screens. Giveaways are already common, and this may be the simplest and most budget friendly fix for those exhibits that have already spent the time, energy, and money on touchscreens. Not to mention the clients are now walking around with your logo in their hands; a win-win!
As live events begin their much-anticipated comeback, and museum exhibits across the country reopen to the public, now is the time to rethink the best strategies for creating safe, immersive experiences for your attendees, without compromising the full experience that the interactive elements provide.
Contributing ECI Authors:
John Conley, Engagement Technologist
Bill Martin, Project Manager