When it comes time to build a new museum exhibit or to refurbish an existing gallery, it is common practice to issue a request for proposal (RFP) to a small number of potential partners. In some organizations, this step is a requirement. However, there are clear advantages to sticking with one partner if your organization allows it.
When you have found a great partner and experienced success with your first project together, sticking with that partner on future projects makes good business sense. Not only does that partner already "speak your language" making the experience easier, but you'll also see benefits in terms of budget, quality and other intangibles.
ON BUDGET EVERY TIME
Dreams are often bigger than budgets. However, as important as it is to stay on budget, so are the long-term costs of the decisions made for each new project. Exhibits need to hold up to the daily wear and tear of a hands-on museum environment. In the long-run, the cheaper bid may cost more if the exhibits break down long before they should.
"I tell smaller museums who think they can find smaller, local contractors to build their exhibits that it will cost them more in the end," says Jeff Salmons, Executive Director of Frontier Texas. "Museums are hard environments and things just don't last unless they're built by someone who knows what they're doing. Exhibit Concepts is the best at building and creating things that withstand the daily grind."
Choose a partner who is willing to value engineer the project with you to ensure you get quality exhibits you can afford. Once a budget has been set, they should be able to deliver on budget no matter how big or small the project. "Even jobs that some may consider small are no less important and Exhibit Concepts treats them as such," observes Rorie Cartier of the National Museum of the Pacific War.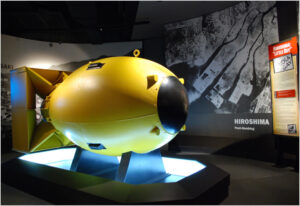 SPEED WITH QUALITY
Your deadlines should never compromise the quality of an exhibit or installation. A good partner understands the balance between project scope, budget and timing and works to deliver the highest quality experiences for your visitors precisely on time.
When the American Museum of Science and Energy (AMSE) set out to create a first-class museum in just one year, their first hurdle was finding companies brave enough to take on the challenge. Exhibit Concepts stepped up, delivering the fabrication and installation of the entire museum in an astoundingly short period of time.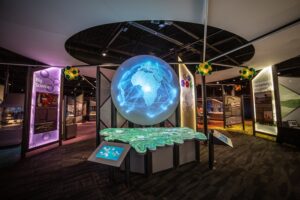 "To make a project like this happen, we can't do it by ourselves. There's always a dynamic group of partners we're working with," explains Jerry Spangler, Vice President Project Management. "It was a big teamwork project. It was very quick, within a year, actually within about eight months' timeframe from start to finish."
TRUST AND SATISFACTION BUILDS
Choosing long-term partners simplifies everything. You know exactly what to expect in terms of quality and process. Plus, you save valuable time not having to find old files or get a new company up to speed on your organization, processes, communication style and expectations.
This is exactly why the National Museum of the Pacific War has continued working with the same partner over and over again. "We're like an old married couple now," says Director of Collections, Reagan Grau. "We know what to expect. We're satisfied and not inclined to shop around."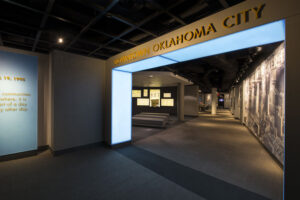 The more projects you work on together, the more invested they will be in your story. Counting on a partner that is both skilled and invested is very important to Kari Watkins, Executive Director at the Oklahoma City National Memorial and Museum.
"This is sacred ground," she explains. "And Exhibit Concepts has always shown the deepest sensitivity to that. They work overnight so visitors aren't disturbed. I know I can leave them in the building, and they will honor the place as well as the exhibits while they're here, even when no one else is around. They have always demonstrated great reverence and respect."
Chris Frison of D|G Studios adds, "It's important to know the companies we're working with. When clients use the same company for numerous projects, there is a mutual familiarity with the process, drawings, and timelines. You're not starting from square one every time, which saves countless hours throughout the project."
LONG-TERM RELATIONSHIP
Consider both a company's level of professional competence and what future projects may look like. If you work with them to update or expand an exhibit in 10 years, how likely is it you will be working with some or any of the same people?
"What we love about our 20-year relationship with Exhibit Concepts is that everything feels the same each time we work with them on something new, whether it's big or small," explains Kari Watkins. "We even work with most of the same people we worked with at the beginning, so there is not only a familiarity but a shared journey we can pull from when planning new ideas and projects."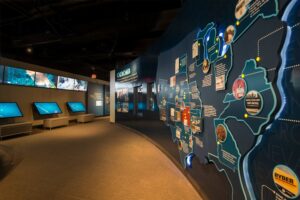 Jeff Salmons at Frontier Texas adds, "Even though there was a 9-year gap between projects, many of the key people were the same. They already knew the building, where we'd been, and our quality standards. We didn't have to dig up old records or try to get anyone up to speed. Not starting from scratch on every project saves time, work, and worry. We have confidence in the craftsmanship and the process because we've experienced it already."
These kinds of long-term relationships are also valuable in a crisis. Kari Watkins knows this first-hand. "When we had a serious flood, the Exhibit Concepts team was here within 24 hours helping with the protection and recovery of pictures and displays," she says. "Because of their heroic efforts, we had little damage and no mold in any of our exhibits."
When you have artifacts, passion, and a story, the right partner can take your exhibits and your visitor experiences to the next level. Prioritize relationships, think strategically for the long-term, and choose your partners carefully. If you're looking for a partner that cares about your story and will devote over 40 years of experience to helping you tell it well, look no further than Exhibit Concepts.