Finding design inspiration for your trade show booth can sometimes feel as if you're looking for a needle in a haystack. From the look to the engagements, it can be difficult to bring each piece together to create a cohesive experience.
When our clients go to shows, our priority is making sure their customers are receiving a cohesive, memorable brand experience. When it all comes together, those experiences can result in our clients winning awards for the booth design and experience we created in partnership with one another. Here are five examples to help you get inspired as you think of what's next for your trade show attendee experience:
Every year at CES, Omron creates an experience that draws the eyes of not only passerby but spectators from around the world.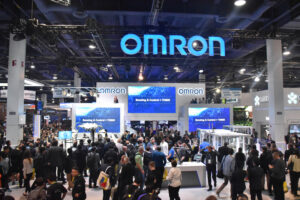 In 2018, Omron debuted with a 2,500 sq ft booth featuring white towers, a fabric canopy, and mirrored surfaces to give the space a sleek, futuristic and theatrical feel. In 2019, Omron expanded and evolved their exhibit. This 3,000 sq ft booth includes large display screens and an upper deck to create more excitement around the scheduled presentations.
Omron demonstrates the harmony between humans and machines with Forpheus, the ping-pong playing robot that adjusts its skill level to make you a better player. This interactive demonstration has proven successful, as 2018 and 2019's booth raked in 6.3 billion total media impressions and 300 booth visits from the media.
The "Wow" factor didn't just generate media exposure. Both booths placed on the "Best of CES" list in 2018 and 2019 and the 2018 booth also took home the "Sizzle Award" from EXHIBITOR Magazine.
When World Fuel attends NBAA-BACE, they do it big.
The 50×150 mega-space provides working areas for the 26 World Fuel FBOs (Fixed Based Operations) to work and meet with prospects.
This large statement booth was a major upgrade, as their previous was older, bulky, and dated. This space needed to accommodate World Fuel's FBOs, which required more conference room space and an area that would support hospitality and various entertainment options. As attendees met with FBOs, they'd also enjoy samplings of food, participate in giveaways, or enjoy a live show from a magician or band.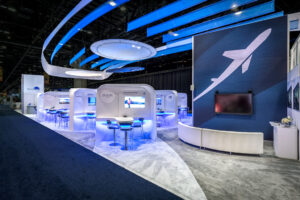 While the experience was the most important takeaway from the booth, it was a must that the graphics on display had a clean, impactful look. Obviously, with a booth this large, keeping shipping and drayage costs as low as possible by using lightweight materials was a requirement. By utilizing beMatrix panels in the booth, we were able to create cost efficiencies.
All in all, the booth was a success and a hit with show attendees. World Fuel took home the gold by winning the "Best of 2018: Best Design Greater than 600 sq ft" award from beMatrix.
3. RCS Sound Systems: 2017 National Association of Broadcasters Show (NAB)
We hear it a lot from clients: "We want a minimalistic, Apple-esque booth." To pull this look off, incorporating lighting, fabrics, and exciting architecture into the booth is pivotal.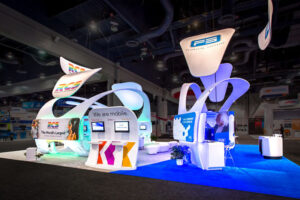 When RCS went to NAB in 2017, they wanted a futuristic, minimalistic space to showcase both the RCS and Florical brand. Inspired by the St. Louis Grand Gateway Arch, the "infinity arch" takes the stage as the booth's focal point. It includes fabric paneling and accessories, halo-lit fabric blades, and white furniture and cabinetry. This space is versatile and allows for a myriad of configurations, and the fabric blades can be easily swapped and re-skinned. RCS and Florical had separate areas to showcase their products.
This stand-out space wiped the floor in awards after winning the NAB 2017 "Best in Show: Best Design" and EXHIBITOR Magazine's "Portable Modular Award for Best Fabric Booth of 2017".
4. AccessData: 2019 ILTACON
AccessData's small portable booth made a splash at the 2019 ILTACON. When trying to solidify a new memory, the best way is to make attendees recall an old one. AccessData themed their booth around the classic TV series, M*A*S*H and brought actor Jamie Farr (Sergeant Maxwell Q. Klinger) along for the fun.
This simple booth included a fabric back wall with a M*A*S*H themed mural graphic, a replica M*A*S*H map sign, rock props, a digitally printed" dirt" floor, and a slab countertop with a faux "wood crate" cabinet and stools.
AccessData employees even took on the theme by wearing camo attire, while some wore costumes themed around their favorite characters. Attendees had the opportunity to meet, talk, and get their photo taken with Jamie Farr. AccessData also gave away M*A*S*H themed items such as an All-Weather Notebook, cigars, keychains, and pens.
While the booth was small, it had a powerful impact on its visitors. AccessData took home a "Best Booth" award from ILTACON, and they have the photo of Jamie Farr holding the ribbon to prove it!
5. Homz: 2019 International Homes + Housewares Show (IHHS)
When exhibiting at IHHS, your booth must make attendees feel "right at home." Since 2013, we've worked with Homz to create that experience for their booth visitors when they exhibit.
Their 2019 booth features hanging signs, architecture structured like a house, graphics, shelving, displays, and cozy furniture.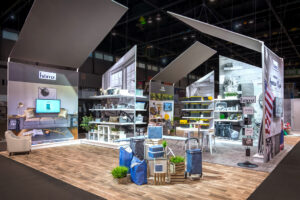 Creating a memorable experience for booth attendees is vital, and Homz did just that. This creative space won Homz the "gia Global Honoree" award for booth design.
6. Deceuninck North America: GlassBuild 2019
For the 50th year, Deceuninck "made history" with this 50×40 exhibit. For Deceuninck, GlassBuild is the largest, most prominent event in their trade show program. GlassBuild 2019 was a unique year, as it marks half a century since the brand began exhibiting at GlassBuild. When it comes to celebrating a milestone, there's no better way than to bring nostalgia to your visitors.
This exhibit features an inlaid floor timeline graphic that takes attendees through Deceuninck's historical evolution in the window and door engineering space. When attendees walked to the end of the timeline, a seamless AV array presents Deceuninck's vision of the future through video content.
For the architecture, Deceuninck brilliantly promoted their product by incorporating their window and door solutions into the booth. Overhead, a large sign with Deceuninck branding and a call-out to the 50th anniversary that helped attract attention to the booth.
Out of over 450 exhibitors, Deceuninck went home with the "Best in Show" from GlassBuild. We can't think of a better way to mark a milestone than to take home an award!
When it comes to designing a trade show booth, the experience should go first. Ask yourself: Why is my brand attending this show? Who are we hoping to attract to the booth? What behaviors or actions are we hoping to motivate?
With your goals or "why" defined, determining the best way to engage your customers becomes more natural. Need some help? We're able to generate an award-winning design and experience for your brand, too!