Right now, moving toward eco-friendly and sustainable products is a necessity. Especially in our industry, where finding ways to reduce waste is a hot topic.
There are plenty of easy changes you can make to create a booth that's not only eco-friendly but will save you money in the long run. Here are three eco-friendly, sustainable ideas you can implement right now:
SUSTAINABLE GIVEAWAYS
You can decrease your waste footprint by giving your attendees eco-friendly, sustainable items rather than opting for more wasteful products, such as plastics. In fact, some venues and show organizers are banning wasteful and harmful-to-the-environment items such as plastic straws, plastic bags and plastic water bottles. There are a variety of businesses you can order from that exclusively offer sustainable, customizable giveaway items. In early 2019, we had the pleasure of meeting with one of them at WBENC. EcoPlum, a business that sells "sustainable swag," offers innovative, recycled, and compostable or reusable products that don't end up in a landfill or the ocean.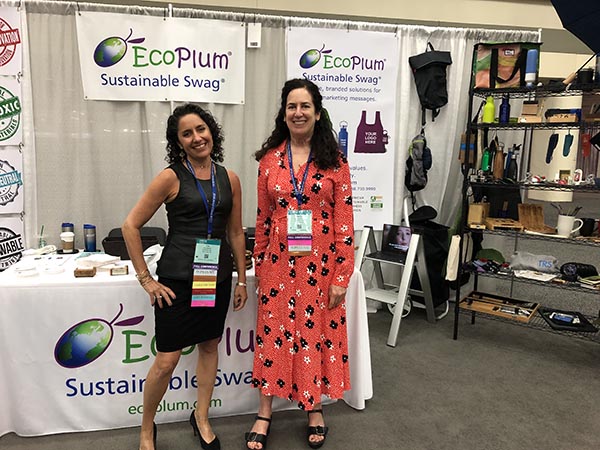 On their website, you'll find recyclable items such as notebooks, pens, keychains, or reusable items like water bottles, mugs, or straws. EcoPlum also offers apparel, bags, outdoor and wellness, food, and other kitchen or office products. Your logo or messaging can be added to the item or items of your choice to keep your brand top of mind.
"Our big overall focus is encouraging companies to be more conscious of their buying. If they want to put their brand on a product, it should show their values, beliefs, and business practices," said Marcia Robbins, Senior VP of Marketing and Strategy for EcoPlum.
Another company that we've fully vetted and used, Green Giftz, offers a variety of sustainable, promotional products. On their website, you'll find apparel, bags, drinkware, office supplies, and more.
RENTAL PROPERTY
Many exhibit houses have extensive inventories of rental components (e.g. closets, reception counters and demo kiosks) that you can incorporate into your booth. There are financial advantages to owning your booth property and you can be sure that no other exhibitor will look like your space, renting a booth or booth components can create a new look for your next campaign.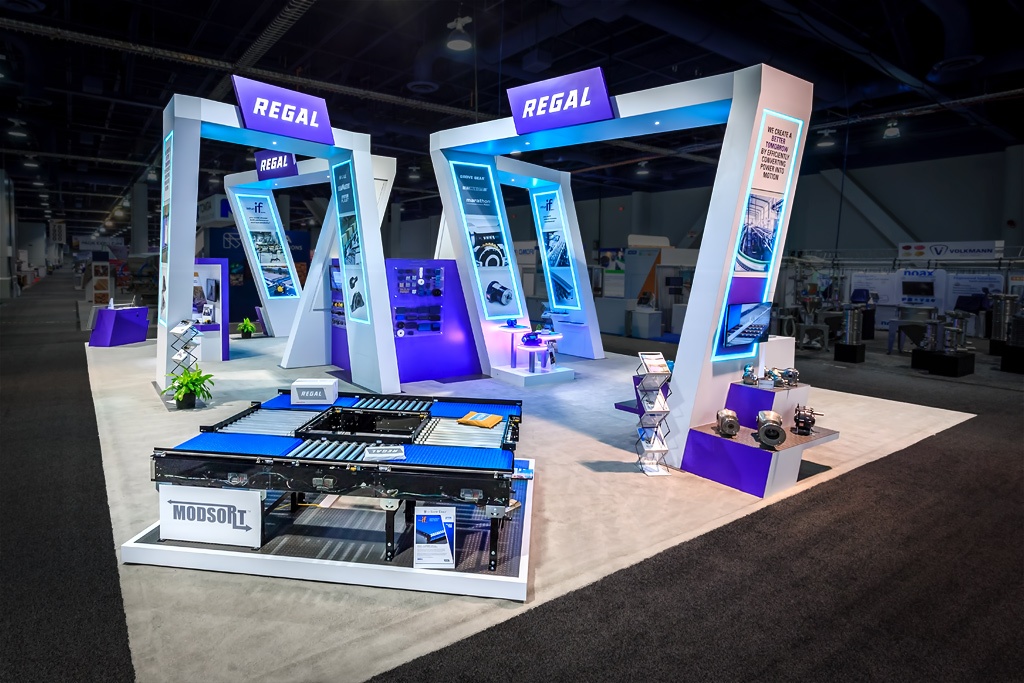 Creating a modular, rental exhibit will also help your company save money. Exclusively using panel systems such as beMatrix allows you to configure your booth into a variety of sizes and shapes, and easily accommodates new graphics show to show or year to year. This flexibility allows you to take on a new look at any show.
REUSABLE GRAPHICS
As your marketing campaigns change, so do your graphics. In some cases, it's impossible to not swap out the old in favor of the new. However, when possible, it's best to reuse graphics on your exhibits to reduce the amount of waste your booth is creating.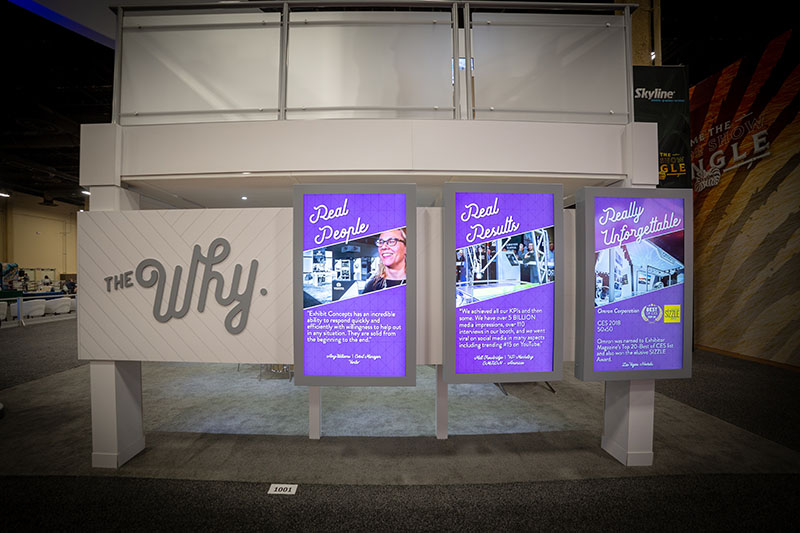 Like with your content marketing efforts, creating "evergreen" graphics that don't stagnate over time will help you save money and reduce waste. Working with your internal marketing teams and your exhibit house to determine what can be reused is critical. If it's not possible to reuse graphics, consider having your graphics printed on recyclable materials so they don't end up in a landfill.
To ensure your trade show booth is green in 2020, work closely with your exhibit house to implement your changes the RIGHT way. It's also good to be in constant communication about your exhibit house's sustainability efforts, as you may be able to help them innovate and shift.
Do you need help creating a modular, reusable exhibit? Let's talk!