When it comes to trade shows, set up can be an intense (and stressful!) experience. Like so many other things in life, creating a strong plan and bringing in good partners is the key to a successful trade show experience. No one knows that better than World Fuel Services, who recently attended the 2018 National Business Aviation Association Business Aviation Convention & Exhibition (NBAA-BACE) in Orlando.
Each year, NBAA-BACE plays host to over 23,000 attendees from across the globe, making it the largest business aviation event in the world.
In order to achieve their goals, World Fuel Services (WFS) secured a 50' – x 150' space near the entrance to the show hall. The space featured a unique and very large overhead sign, a large deck structure for VIP meetings, custom carpet inlays and a variety of spaces to accommodate creative hospitality. This required an 8-day build plan with daily milestones from pre-rigging through the show's start. With a structure this large, there are many moving parts and people involved. Set-up took 500 hours and teardown took another 300 hours. But architecture alone does not create an experience. It was the ultimate marriage of form and function, with a large hanging sign spanning the booth, and 24 small meeting areas for Fixed Base Operators (FBOs) throughout.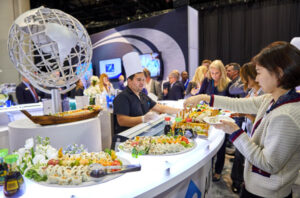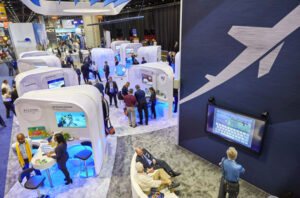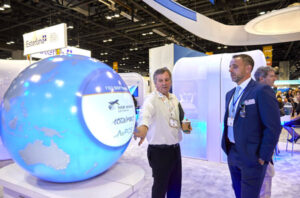 It was important for WFS to have spaces for FBOs to conduct business, in addition to several other events and engagements. A touchscreen globe gave visitors the chance to understand WFS' reach around the world. However, it wasn't all business. WFS gave away highly coveted items throughout the show, including bottles of champagne, headphones, and designer sunglasses.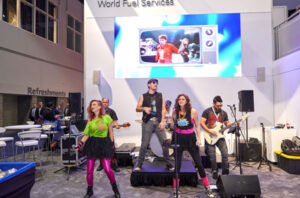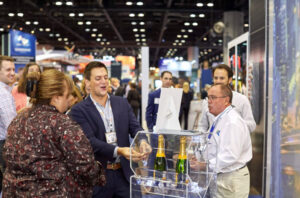 There was no shortage of entertainment and hospitality either: a magician entertained visitors with slights of hands, while several bands performed alongside an open bar and heavy appetizers. While there were many moving parts, events, and engagements happening, that solid plan and strong partners ensured it was a successful event for all involved.
Exhibit Concepts Inc. in Partnership with Elgin Middle East.