The new year is in full swing, and with it brings new opportunities to make a big impression on the trade show floor. We believe 2019 will be a year of marrying human interaction with unique technology to create an experience attendees will remember long after they've left the show floor.
Want a look back at last year's trade show trends? Here are our Top 5 Trade Show Trends for 2018 and Trends from the Show Floor at CES 2018.
TREND ONE: NOSTALGIC ENGAGEMENT
Technology has transformed the way we live our lives, but one thing remains the same: everyone loves a chance to win. "Throwback" games like Plinko and nostalgia-inducing sounds like the click of a prize wheel can capture the attention and hearts of attendees even without a digital component. Look for ice breaker games like these to make their way to the show floor, along with a long line of hopeful prize winners in 2019. These engagements are entertaining and captivating, and appeal to the child in every attendee, all without a tech portion—making it as affordable for exhibitors as it is fun for the attendee.
TIP: Look for ways to incorporate your message into this engagement, whether it's product focused or educational. Creating a unique spin (no pun intended!) on nostalgic engagement will reinforce your value proposition while giving visitors the chance to let their hair down and have some fun.
TREND TWO: CUSTOMER-FOCUSED DESIGN
You only get one chance to make a first impression, which means you need to find a way to appeal to customer's emotions and needs on the show floor. Gone are the days of drawing a crowd with loud music or a flashy booth design that just turns heads. For companies who wish to stay competitive in 2019, it's all about understanding your customers. Don't start with kiosks and demo stations. Instead, start with the ideal customer in mind. Why are they attending the show? What do they already know about your product or service? What do you want them to do, think, or know after they stop in your booth? Design with the answers to those questions in mind to appeal to customers and prospects.
That means knowing their pain points while also understanding your own goals and using them as your north star when designing a trade show space. Every aspect of the design should have a purpose and serve to reinforce your message, which is centered around serving your ideal customer. A booth is no longer a booth: it's an experience for everyone who walks by or steps foot inside, and it is best executed by a design that has the customer in mind every step of the way.
TIP: The best way to understand who your customer is and how you can help solve their problems is with buyer personas. This crucial information not only helps you create a plan to appeal to your customers (both current and potential) but it should play a starring role in the planning process as you prepare for your next show. Putting yourself in your customer's shoes is a great way to ensure your message is received by the right people.
TREND THREE:  AUTHENTIC BOOTH STAFF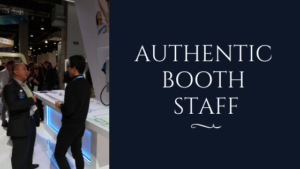 In a world where we are glued to our phones and many of our social media "friends" are people we haven't seen in decades, face to face conversation still matters. In fact, it matters more than ever. At its core, a trade show is about human interaction and making connections. This is why it is critical to not just staff your booth with humans, but with the right humans. We believe 2019 will reinforce the incredible value of human interaction to not just make an impression but build a lasting relationship. Staffing your booth with people who are not afraid of conversation and are able to answer questions is incredibly valuable, as is the presence of executives to reinforce you company's commitment to your trade show investment.
TIP: For your next trade show, think outside the box for booth staff. Could members of departments other than sales tell your company's story in a unique way? You probably need to have sales people on the show floor to make a connection for future relationships. But consider inviting other individuals across the company with deep knowledge and expertise such as software developers, research analysts or customer service to work the show. A passionate team member with a different perspective just might be the best way to make that lasting connection with a customer. In many cases, those who are the makers have the best answers because of their deep working knowledge (and passion!) of your product or service.
TREND FOUR: LIVE DEMONSTRATION

When it comes to walking the show floor, trade show attendees are faced with sensory overload, which can lead to a diminished attention span. While scientists can't agree on how long our attention spans are (some say goldfish pay attention longer than humans), they seem to be growing shorter every day. A great way to stand out from the crowd is to facilitate the learning experience for them. Remember why people come to a trade show. They want to see, touch, and experience the product. They want to ask very specific questions relevant to their situation. They want to get to know the people that they might be doing business with. In a nutshell, the experience and information have to be different and deeper than what they can find on your website. We believe showing and teaching in real time, alongside digital content, will be big in 2019. This means delivering information your customer needs to know in the most relevant, impactful, and meaningful way. Think of it as a guided tour of your offerings, with the end goal of facilitating learning.
TIP: Decide whether demonstrations are better in a group (theater) setting or as a more personal one on one. If you are doing a theater presentation, consider how frequently you will present and how long people will be comfortable watching and listening. Also, think through acoustics and how you will "advertise" the presentations. Presentation training will be critical – if you are using employees – as they need to be comfortable speaking to an audience and may need assistance drawing people in. If you use a professional presenter, you need to get her up to speed on your product so that they come across as knowledgeable. But also have subject matter experts ready to handle the tough questions. Or, go through in-depth training with booth staff to ensure they thoroughly understand the product, your customers, and how to best communicate your unique solution to your buyers. Look for booth staff that have the heart of a teacher: they can deliver a message in a clear, easy to understand way, and are able to successfully facilitate the learning experience for everyone they meet.
TREND FIVE: HARNESSING THE POWER OF DATA

Gathering and analyzing the data and analytics on your booth attendees is nothing new. But, the power of data can lead to a unique perspective for 2019. Not only can data help you understand behavior, it can drive deeper, more meaningful engagement and help you design a richer experience for visitors. Our digital-driven world means the data is out there: and this is the year of taking the time to truly understand it.  When looking at the results of your show, try analyzing what's missing.
Who is missing from your booth?
What segment of your targeted audience just doesn't show up or engage?
Then, think about other ways to reach them, whether it's through a different show, a new venue, or even an off-site event.
It's no secret that justifying your spend and tracking ROI is a crucial element of any marketing plan. In 2019, we see an increasing emphasis placed on data surrounding return on objectives (ROO). Ask questions like: Are we moving the awareness needle? Do customers understand why our product is better? Do they have a favorable impression of our brand and company?
More than anything, it's important to focus on the value of gathering deeper data. This typically means information on things like the number of visitors and peak hours for traffic. But, it should also include demographics of visitors, the questions they ask, what they know about your product and what they consider to be comparable alternatives. Let 2019 be the year of considering your trade show presence as an opportunity to gather deep market research—the more you know, the better your plan.
TIP: Collecting data should be meaningful and provide a deep dive, but it doesn't need to be complicated. Don't grill every visitor with a list of questions. Instead, consider a simple data collection tool that makes it easy for booth staff to record insights during their interaction with a booth visitor after the conversation is over.
2019 promises to bring all sorts of changes and advancements in face-to-face marketing, but we're most excited to observe the happy intersection of people and technology.