By Kelli Glasser, President & CEO
Investing in yourself and your team is always a wise decision in my book. As I reflect on the last year and look to the year ahead, growth has been a consistent thread throughout. I've outlined some of the high points of last year and our direction moving into the New Year.
It has been said that you need to spend money in order to make money, and as a leader I find this to be true. I believe in Exhibit Concepts. I believe in our people. So much so, that we have made a concerted effort to invest in our business to not only grow as a company but to expand our presence in the experiential environments industry.
Here are the highlights of 2016:
One of the biggest changes to our business was the completion of buyout of ownership shares from my father Ned, who founded the business in 1978. This not only represents a complete transfer of ownership, but also that of decision making and cash to invest in the business.
In order to continue to fuel our growth, we have grown our team at Exhibit Concepts to continue to effectively serve our clients. In 2016, we hired 25 new employees that brought diverse talents to the table, including marketing, creative, and sales. To put this number in perspective, 2016 was our largest hire year to date. We currently have 115 employees, our highest company headcount in history.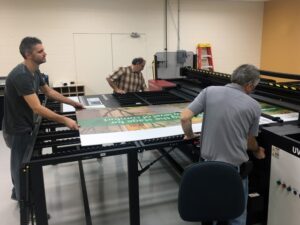 Another major investment made by the company was the purchase of a new direct printer and two additional CNC machines. This direct printer uses ultraviolet (UV) inks, which means there are no volatile organic compounds (VOCs) released during printing, making it a greener and safer process for the environment. It also utilizes LED technology for UV curing, which means less energy consumption and faster warm-up times than previous techniques. It's a hybrid printer, printing on both rolled materials and flat substrates, allowing us to find new ways to meet our clients' needs.
Having two new CNC machines will double our capacity for use in fabrication as well as our graphics and museum departments, allowing us to improve efficiency and accommodate today's speed of business.
Our focus for 2017
As I think about the New Year and goals for our business, we aim to continue our growth and to drive change by expanding the services we offer our clients.
A major focus for Exhibit Concepts is on building our International and Commercial Interiors side of the business. These departments, led by Jeff Hannah, are areas that represent tremendous opportunity and where our clients are looking to invest. The addition of Jeff and other members of the team to our current capabilities mean that we can offer our clients a full suite of face-to-face branded marketing solutions both in the United States and internationally.
Technology is a topic that is always on our minds, as is finding new and innovative ways to integrate it into the spaces we design, build, and install. Our team is focused on meeting the needs of customers through compelling engagement experiences that bring an environment to life. We have an in-house Engagement Strategist who actively works to educate and assist our sales staff to bring technology like Bluetooth® beacons or innovative lighting solutions into spaces.
We believe in the importance of offering a total brand experience to our clients. We strive to successfully deliver our clients' messages in the most compelling ways to enable them to connect with their audiences. That may include tradeshows, but also could effectively incorporate an innovation center, a proprietary event, or a mobile tour.  Our goal is to be that partner who helps our clients determine the most beneficial cohesive package for their face-to-face marketing spend.
I am so proud of what Exhibit Concepts has achieved in 2016 and I am confident that 2017 will be even more successful!