Are you staffing your exhibit with the right people? Is your team trained on how to interact with the local (foreign) attendees? Is your team using your exhibit to its full potential? Many companies who exhibit at international trade shows fail to properly PREPARE before they attend. PREPARATION MISTAKES fall into three main areas: design, staffing, and training.
In this 4-part series:  Common Mistakes Made by International Exhibitors, we are identifying these mistakes and suggesting tactics to avoid them in the future. You can read Part One, Awareness, here.
DESIGN MISTAKES
Your exhibit is the first thing people experience, so it must be interesting and inviting. Every exhibit needs to have a clear focal point to tell your story. Often exhibits are cluttered with too many things—too many design elements, too much copy, too many products— all competing for attention. As a result, the exhibit fails to communicate your message clearly.
Exhibits are also communicating subtleties about your brand –expressed by your specific look, feel, and architecture. Your exhibit should be tailored appropriately to engage with your local audience – whether through live presentations, hospitality, demos, or other methods. Too often, companies take the same approach they use in their home country and expect it to work just as well overseas, which is rarely the case.
Strive to have consistency in your branding with relevance to the local audience.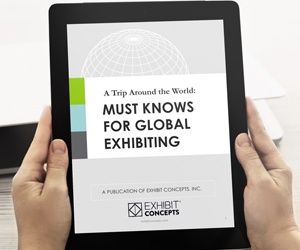 STAFFING MISTAKES
Should your salespeople work the booth? Sometimes they are not the best people for the job because the show floor is more about marketing than selling. Generally, this is top of the funnel activity – engaging with lots of people who may know little or nothing about your company.
I recommend staffing your booth with people who have the ability to quickly and comfortably engage with people of all types of backgrounds. They are friendly, professional, and knowledgeable. They have a true appreciation for cultural differences and are familiar with the local culture and country. They are good listeners and have the ability to communicate well (especially in multiple languages). They desire to educate and inform. They aren't looking to close a deal, but rather to cultivate a relationship.
Having the right team members in the booth can make a world of difference!
TRAINING MISTAKES
Have you invested in training staff members on how to work the trade show floor? Internationally, it becomes even more important that your team is trained not only on how to work in the exhibit, but on how to interact and engage with locals.
For international shows, you should train your staff on things like:
Basic greetings (verbal and physical)
Appropriate conversation/topics to avoid
Local and national current events
Local cultural norms, values
Sometimes, we assume that everyone intuitively understands how the engagement process is intended to work for a particular exhibit. Training can solve that problem quickly – as well as many others.
For more content on exhibiting internationally, visit Global Exhibitor.
This is part 2 of a 4 part series on common mistakes made by international exhibitors. Part 3 of this series will focus on COMMUNICATIONS MISTAKES: Messaging, Engagement, and Evaluation.