And that's a wrap! We concluded our "Connections Happen Here. There. Anywhere." series, as we discussed the channel that can be accessed "anywhere": virtual. After a year of planning and hosting proprietary virtual events, as well as supporting clients who virtually exhibited during the show organizer's virtual event, we have a lot of best practices and lessons-learned to share as it pertains to virtual and hybrid events. This final session was once again led by Exhibit Concepts' VP of Sales and Marketing, Ellen Kaminski, and she was joined by Director of Sales, Masten Worley, Account Executive, Chris Beckstedt, and Sr. Account Manager, Regina Henning.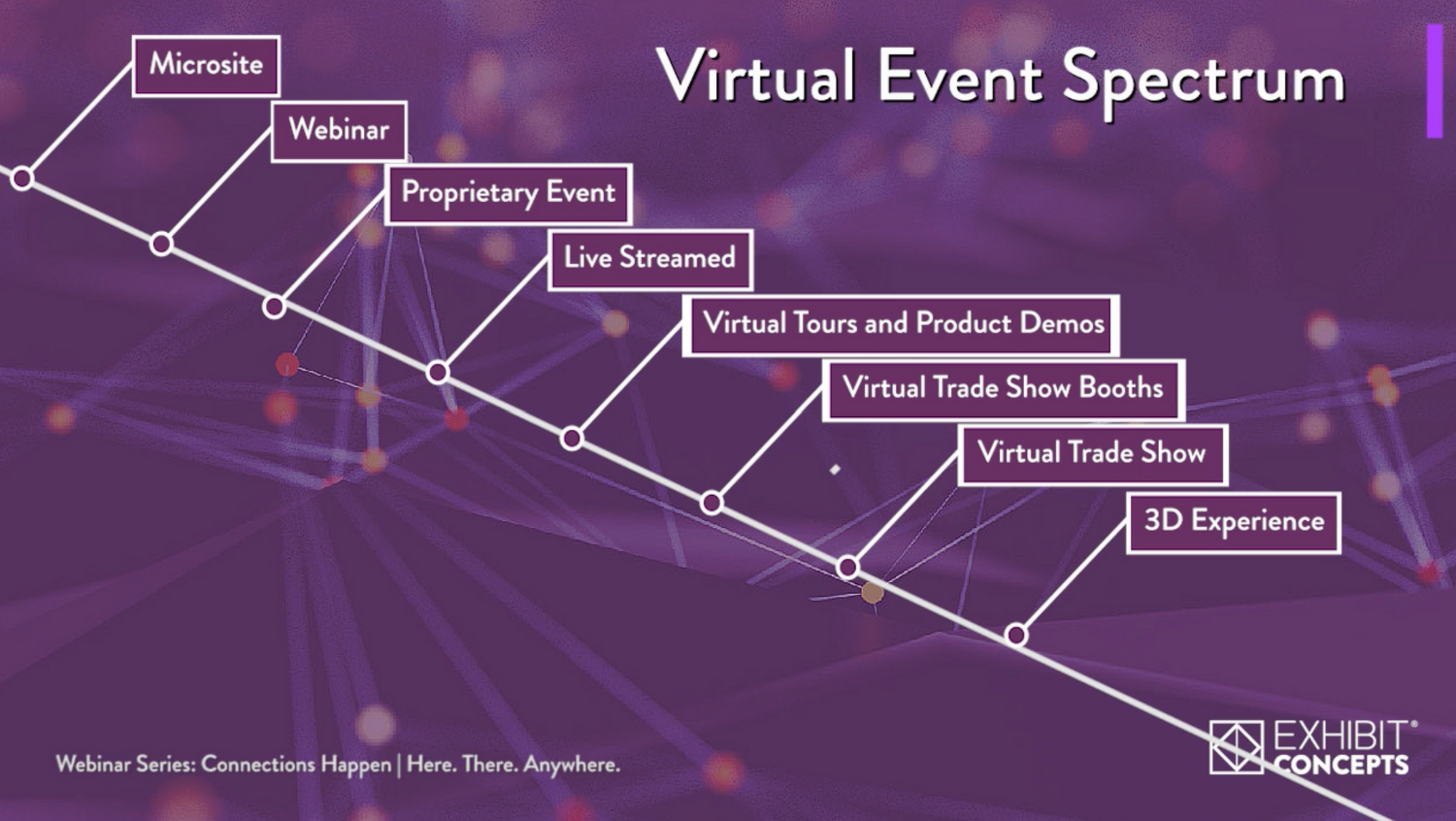 During this conclusion to our virtual series, we discussed the many aspects of virtual; as a standalone event or in conjunction with an in-person event, including the following topics: 
The spectrum of what a virtual event could be, from a microsite to a full virtual 

tradeshow

 

Our approach for client success, with examples

 

The planning process and how it aligns with planning an in-person 

event

 

Methods to drive virtual 

traffic

 
Watch the full conversation, including attendee Q&As, below. 

Throughout this virtual series we have covered a lot of ground in thinking about how sales and marketing teams can effectively reach their audience to make a meaningful connection. We've looked at offices and interior spaces, mobile vehicle tours to take your message on the road, the return of trade shows, and finally, best practices as it pertains to virtual and hybrid events.  
Regardless of the state of the industry, sales and marketing teams will always strive to make genuine, authentic connections with their audience, "Here. There. and Anywhere". 
___  
If you missed any of the sessions in the series, you're in luck! 
Part 1: an overview of our purpose and intent for this series  
Part 2: interior spaces and modifications for a safe return to the office  
Part 3: return to trade show considerations – design, sanitization, safety, and staffing 
It's our mission to make your story unforgettable: here, there, anywhere. 
Subscribe to our blog below to be notified of the latest industry insights and our future webinars.