As we are all keenly aware, hitting our sales and marketing goals during the global pandemic is challenging.  We have relied on face-to-face marketing to generate sales and leads but are now forced to find alternate means to hit these goals. All the while, we are trying to stay connected with our audience.  
This is a big deliverable—finding new tactics to meet goals while maintaining contact and establishing new relationships. And you may think "easier said than done"… but is it?  
Exhibit Concepts has solutions to keep connections happening. Solutions which will help you hit your marketing goals and do it in a way which is safe and on-brand—safety doesn't have to be boring!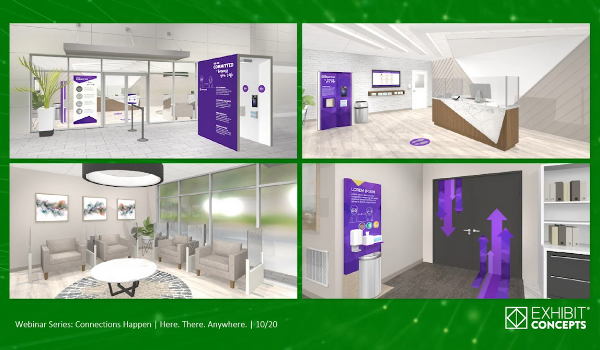 In response to this situation, Exhibit Concepts has officially kicked off the virtual series, Connections Happen. Here. There. Anywhere. 
The series is meant to help you: 
rethink 

your

 approach 

to 

design

evaluate 

how people experience your brand

 

take inventory of your audience

 

analyze

 your company

's

 respon

se 

to COVID 

 

maximize your current real estate

 

complete a situation assessment

 

identify potential 

opportunities

 

…and much more

 
To stay connected, subscribe to our blog for information on upcoming virtual events in this series.  
PART 1:
We kicked off Connections Happen: Part 1 in mid-October with Ellen Kaminski, VP of Sales and Marketing, and Melody Schoonover, Creative Director. This was a quick and high-level overview introducing the intent of Connections Happen. Here. There. Anywhere. 

A few of the topics we covered are:  
W

hat should go into your situation assessment,

 

D

ifferent channels to 

reach

 your target 

audience

, 

 

E

valuating your personas,

 

Q

uality vs reactionary responses to COVID branded spa

c

es,

 and 

 

O

ur five guiding principles 

in regards to

 safe

 design

: 

 
We approach projects in a strategic, holistic way—just like we always have.

We are up to date on safety best practices from a broad array of industries.

We design spaces which intrinsically communicate a sense of confidence and safety.

We develop environments which maintain brand integrity and are minimally invasive.

We provide solutions which work both short and long term.
These are just a few highlights. To view the entire conversation, enjoy the video below.  
If you're interested in future conversations like this, diving into more specific topics around making connections, subscribe to our blog.  
It's our mission to make your story unforgettable: here, there, anywhere.