We believe a rental shouldn't look like a rental – it should embody a company's message.
When Adwerx, a digital marketing agency for real estate professionals (referred to us by Take Success), approached Exhibit Concepts about their tradeshow booth design, they had a specific vision.
The primary goals were:
 Reinforce their "Shine a Light on Your Brand" Campaign
Keep the Budget in Mind
Deliver a Big Impact on the Tradeshow Floor
Exhibit Concepts had the perfect solution from our own inventory. We created a custom booth in early 2016, using it for our own tradeshow presence at Exhibitor LIVE 2016 and the WBENC Conference , with an industrial angle.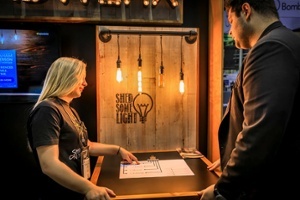 The use of rental exhibits is a great way to design an innovative space for clients and repurposing this booth was the perfect fit for Adwerx. Smaller organizations or those with small booths can benefit from our vast inventory of rental components.
"I heard the client's needs and realized we had property sitting in our building that was designed perfectly for the Adwerx campaign," said Account Executive Stephanie Matlock. "The ECI booth was a great fit for them, and it was something that could simply be repurposed to meet their needs."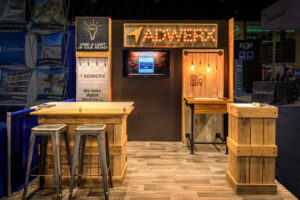 The booth, constructed of reclaimed lumber, incorporated Edison bulbs and custom graphics to deliver the Adwerx message to booth visitors.
"Exhibit Concepts was able to interpret our vision for a booth that was warm, inviting and representative of our company culture. We wanted to bring this authenticity to the trade show floor and bring a piece of Adwerx Durham on the road. We won fans and new business alike because our booth's glow pulled people in. Thanks to Stephanie who used her expertise to offer a solution that fit the budget and our big expectations."
When clients have a big dream and small budget, there is always an innovative solution to their problem.