Twice a year, Exhibit Concepts hosts a company-wide meeting, once during the winter and once in late summer. Typically, these meetings last for an hour and are followed by a lunch for all employees in the main office – with menus such as pasta bar, hamburgers and hot dogs, or boxed lunches from the Honey Baked Ham Company. Content for the winter meeting usually focuses on company performance and plans for the year ahead, while the summer meeting showcases completed projects. In all cases, presenters included company leaders, designers, account executives and project managers and the meeting was shared with employees in the Chicago office and those working remotely. 
This year, the winter meeting occurred on March 11th, just prior to COVID-19 being declared a global pandemic and the live event industry felt the devastating impact of show cancellations, corporate travel bans, and government imposed shut-downs.
With restrictions on large group gatherings in both Ohio and Illinois, Exhibit Concepts used their VExP platform to host the September 2020 meeting which included a mix of live presentations and pre-recorded content.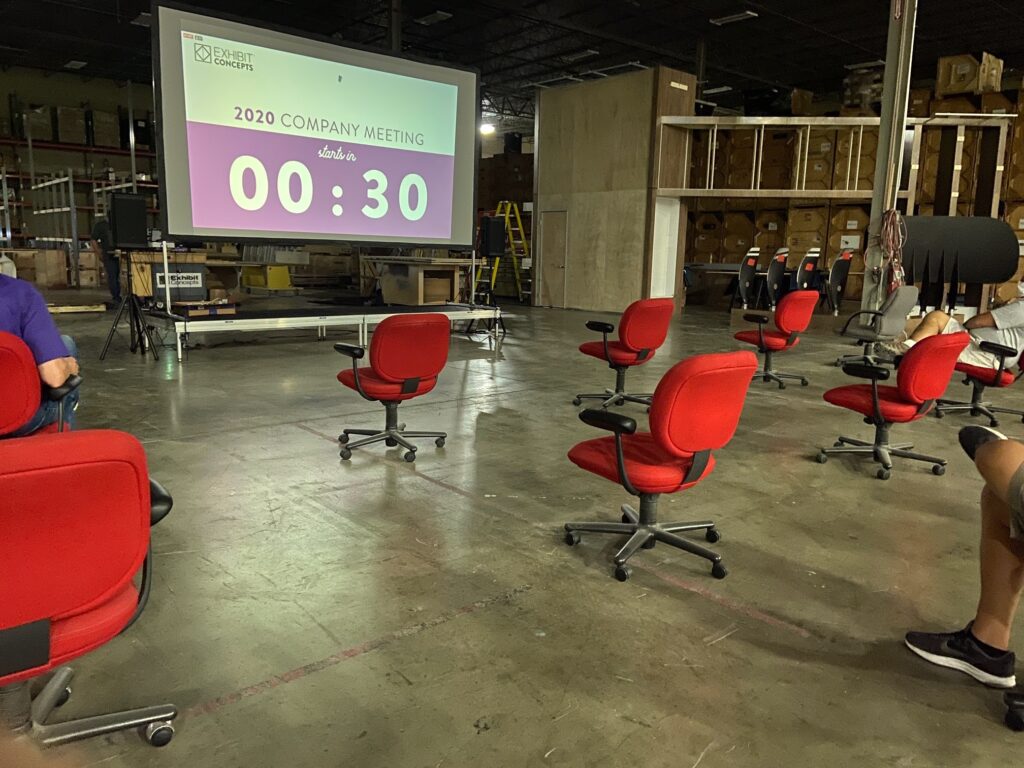 A cross-functional team planned the event starting first with goals and themes. The team recognized that it had been over 6 months since all employees had been together with most office-oriented positions working remotely since late March. They kicked off the meeting with a video montage of employees sharing some of the "silver linings" of their COVID experience.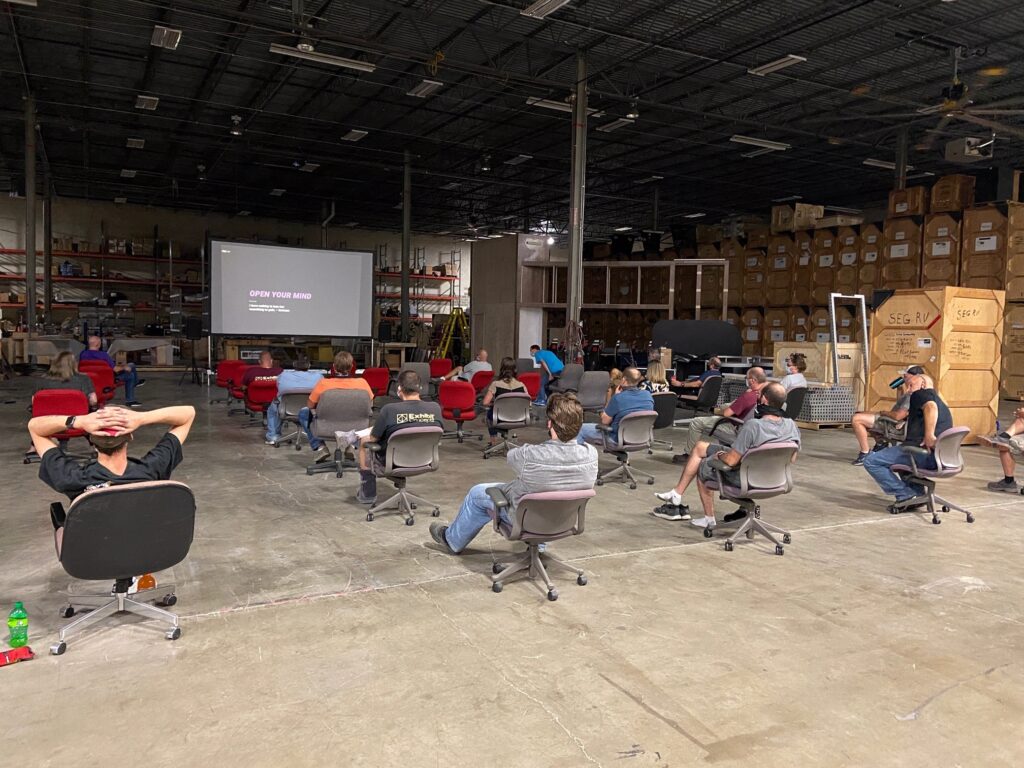 One group of planners focused on safety precautions and how to bring people together safely while maintaining social distancing. Viewing locations were set up throughout the building and employees were assigned to different areas so as to manage attendance. Other employees were encouraged to watch the live stream on the VExP platform.  
Another group coordinated the lunch and opted for boxed lunches from McCallister's Deli. The lunches were set out in different areas in the building to help with social distancing. They chose to have employees bring their own beverages to eliminate employees from reaching into coolers. 
And finally, the content team put together an agenda of content that included a state of the business review from President, CEO and Owner, Kelli Glasser. Project Manager, Bill Martin shared details about a recent corporate museum experience project for a company in Ft. Collins, CO. Account Executive, Steven Lowry covered completed and in-process immersive education projects for schools in Indiana and Texas. And VP of  Interiors, Jeff Hannah and Senior Designer, Chris Rank spoke about an approach to designing spaces that follow safety guidelines without sacrificing design aesthetic.  

All the while, the team kept safety front and center. Some presentations were pre-recorded while others were presented live. This ensured that personnel were limited in the conference room that was converted to a broadcast studio for the day. Planning covered the smallest details such as the use of a boom mic instead of a lavalier or handheld microphone to lessen the possibility of passing germs.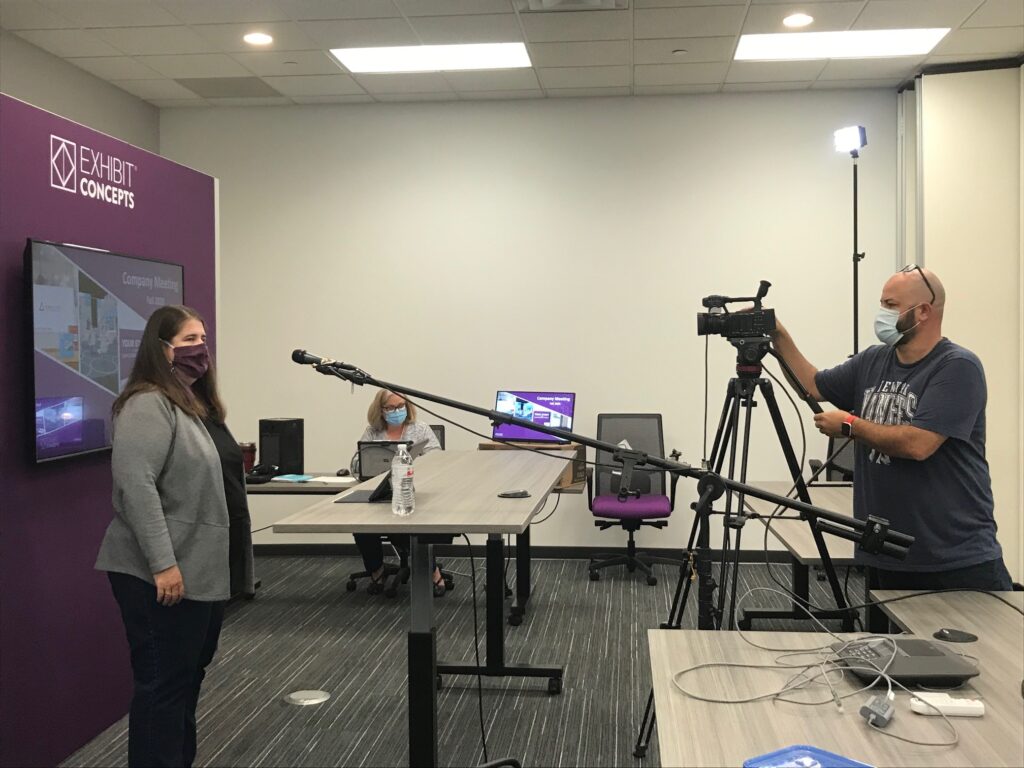 COVID-19 has dramatically impacted our lives – personally and professionally. Having gone six months without bringing the team together, Exhibit Concepts felt it was vitally important to stick with their traditional timing for a company-wide update. With planning and ingenuity, we can effectively communicate with clients, prospects and our all-important team members.