Life changed for everyone over the past 18+ months. While people are hungry to get back out, event professionals must find creative ways to return to live events in the safest way possible. If you haven't updated your event strategy lately, you might find that the world you're returning to isn't the same as the one you left. In the wake of the COVID-19 pandemic, your audience is now more conscientious than ever before regarding public health and safety. And it's crucial that you're well prepared as you return to live events. Nevertheless, the future of our industry looks bright.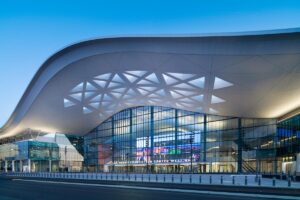 Likewise, currently event venues and show organizers are working hard to prepare safe spaces for face-to-face events.  
THAT'S WHERE GBAC COMES IN 
While you're rebuilding your event schedule and planning for a significant return, you'll probably start seeing "GBAC" mentioned with your event spaces more and more. GBAC has quickly become the new gold standard when it comes to safe facilities, and so many trade shows and exhibit halls are now seeking GBAC training and certification. 
The Global Biorisk Advisory Council™ (GBAC)  helps organizations and businesses prepare for, respond to, and recover from: biological threats, biohazard situations, and real-time crises. GBAC offers education, training, certification, response management, and crisis consulting for situations where environments require a much higher level of cleaning, disinfection, and restoration.
When it comes to trade shows and other large events, partnering with GBAC means going above and beyond to provide best-in-class cleanliness. Event attendees want to know what organizations are doing to prove their commitment to public safety, so convention centers, arenas, hotels, restaurants, and public venues of all sizes are seeking GBAC STAR™ accreditation. You may start to see both event hosts and exhibitors promoting GBAC as a competitive differentiator in sanitation and safety. 
While GBAC primarily works with show organizers and venues hosting events, individual vendors can also work with GBAC to prepare for exhibiting at events. GBAC can help you adopt best practices for your space, such as creating a cleaning sterile schedule, knowing when and what to clean, as well as how to properly sanitize and which products to use to provide a safe experience for everyone.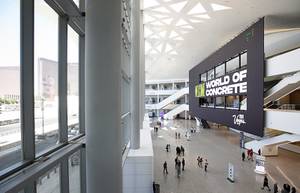 GBAC AT EVENTS 
The Las Vegas Convention Center (LVCC) recently put their GBAC STAR certification to the test hosting their much-anticipated World of Concrete event. After canceling and postponing so many events, LVCC was ready to return in a big way with their new one-billion-dollar West Hall convention center expansion. 
World of Concrete (WOC) is among the most attended and most influential conventions in the US and represents the first large-scale trade show to return since the pandemic brought in-person meetings to a halt. From June 8-10th, LVCC opened its doors to over 60,000 attendees across the industries of construction, masonry, architecture, technology, and more. Preparing for the return of such a significant event in the "new normal" was no small task. 
While everyone at World of Concrete put their best foot forward, it felt a bit different this year. Overall attendance was down compared to a typical year, and many exhibitors reduced their booth staff. Temperature checks were voluntary, but passing grades were marked with green wristbands. Masks were also optional, although the majority opted not to wear masks. 
"As we return to the in-person experiences our customers crave, it's critical for us to collaborate with industry partners to ensure that our communities can re-connect in meaningful and secure ways. We have a clear and vetted industry-wide set of health and safety measures," said Steve Hill, president, and CEO of the LVCVA. 
GET YOUR SAFETY CHECKLIST 
The best in the business know that the key to any successful event is careful planning, and that's especially relevant now. As you're planning your next event, be on the lookout for events promoting best sanitation and safety practices with GBAC, and be sure to consider that as part of your own Safety Checklist. Not sure how to start building your brand's Sanitation & Safety plan? Exhibit Concepts is here to help! Start by downloading our Trade Show Safety Checklist download our Trade Show Safety Checklist to understand how to create a cohesive plan that works for you before, during, and after your next event.  
For more help supporting your next event, contact Exhibit Concepts today.