Sometimes, trying to get your brand noticed at a trade show event feels like a battle of megaphones, a fight for who can swing the flashiest, most expensive tech on the floor. Worse yet, year after year the competition gets fiercer, and you might even be seeing some diminishing returns on your tech displays.
The fact is, in today's world it's getting harder and harder to wow people with the magic of technology. As a lot of cool tech continues to become more accessible, chances are your audience will be less and less impressed by the technology alone.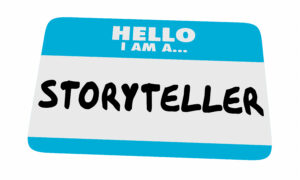 So, how do you stand out in a world that's flooded with fancy tech? While this is a challenge for many exhibitors, it's also an opportunity. 
The secret is good storytelling! As we like to say in the marketing world: content is king. Now especially, in a time where so many people feel overloaded with everything that competes for our attention, many of us are looking for genuine experiences that cut through the noise and connect on an emotional level.
The experiences you're creating and the story you tell has got to be at the forefront of everything you do. Your tech needs to be a thoughtful vehicle that sets the stage for your story. 
Before investing in any trade show tech, pause and ask your team: "What do we want to say?" and "How do we want to make people feel?" It's not just about the tech you purchase for your space, but also how all the elements combine to create emotional impact that aligns with your objectives and mission. 
In all fairness, this is easier said than done. Good storytelling is a strategic, meticulous process that takes time, careful planning, and a particular set of skills. Thankfully, our team is here to help! Whether you're planning exhibit space, or working on a virtual event, or beyond, our NEXT Lab team can make your story unforgettable with purposeful, immersive technology solutions.