From the digital space to your office's interior or trade show – it is imperative that all your brand's touch points are consistent.
When vetting an exhibit partner, you want to make sure that they're on the same page and understand your brand identity, vision and purpose as they ideate exhibit designs. When Sandy Abraham, Director of Global Marketing and Brand Management at FORCAM set out to find a new partner to help the brand exhibit in the U.S. at IMTS, she needed one that could bring her vision to life within budget while exceeding expectations.
The booth needed to look modern, smooth and sleek while also showcasing that FORCAM is a classic company with traditional values. This space needed to show prospects that they create top-notch shop floors known as the "Smart Factories".
As she moved through the selection process, she looked through portfolios from many different exhibit partners and tried to put herself in the shoes of her customers. She asked herself: Was the message clear? Is this booth appealing? Is it bright? Was the product displayed well? Does it showcase FORCAM's vast partner network? If I saw this on the show floor, what would be my reaction?
With her search narrowed, she brought a design concept to several different exhibit partners to see if they could capture her brand's essence while staying within budget and keeping an eye on quality.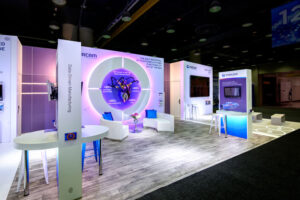 "Other vendors literally took what I said in my concept and put it on paper. They seemed to not have tried to create something that went beyond my initial concept. ECI provided that service and delivered an outstanding concept integrating all of my ideas," said Abraham.
The new FORCAM booth used a combination of existing and rental elements. The most eye-grabbing feature of the booth, the heart sculpture, was enhanced with lighting and mounted to draw attention to the brand that delivers an innovative IIoT platform with pre-installed MES applications. In addition, product pedestals were added, and all the power connections were converted from European standard to US standard with ease.
"What really impressed me is ECI understood what I was looking for from the beginning. They made it look more expensive than it could've looked somewhere else. It was a mixture of meeting my budget needs and looking top notch," said Abraham.
The end result was a showstopping booth that achieved their brand awareness goals and left visitors with a positive impression.
"Thinking about the quality, it's not just about the material used but about the people that make it happen. Attention to detail and care bring a concept to reality. I recommend for all companies to pay special attention to quality graphics – a clear message, and a certain height to the booth back walls. In FORCAM's case it created a simple but powerful look," said Abraham.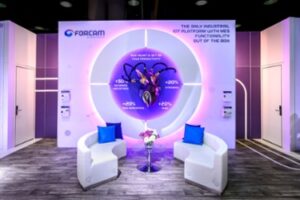 If you're looking for a new exhibit partner, Abraham gives great insights on what to look for in order to achieve your goals on the show floor. Look for a partner that will bring more to your booth than what's on paper: you need someone that can bring expert recommendations to the design, layout, visitor experience and booth flow while staying true to your brand's identity. Hold meetings with potential exhibit partners, request an RFP (request for proposal), bring your design ideas to the table with a creative brief, look at their portfolio and then evaluate the designs they bring back to you compared to other potential partners.
Ask yourself: Is the branding cohesive and clear? What improvements did the exhibit partner make to your design? What types of materials are being used? Is the exhibit partner meeting your budget without compromising the booth's quality? If you were a visitor, what would your opinion be of the booth?
Your space reflects your brand and it's important that your exhibit partner represents you while creating a unique, memorable experience. Through strong discovery processes, your exhibit partner should be able to showcase your products in remarkable ways you've not yet dreamed.
Ready to find that partner? Let's talk.