You can't do it alone.
As you strategize your plan for your trade show, don't limit your thinking to your booth's structure, the engagements within it, the booth flow, how you'll advertise your presence, or the staff you'll need at the event. Yes, all these things can make or break your trade show but so can the partner you choose to assist with your project.
Draw from life experience. Would you become roommates with someone that owns a dozen large snakes? More than likely, the answer to that question is a firm "NO" (If it's yes, no judgment). In that case, the same thought process applies to choosing an exhibit partner. Think about what exactly you're looking for in a partner and what you're not. You wouldn't want to partner with an exhibit house that doesn't take the time to listen, or who assumes they know your goals and objectives before you've told them.
Ask yourself – what goals am I trying to accomplish at this show? What do I value most in a partner? What process for this project works best for my team and my company? What are my budget and timeline? What services or products will I need for this show to be successful? If you're going through an RFP process in selecting a partner, tailor your request to your company's unique needs and market position.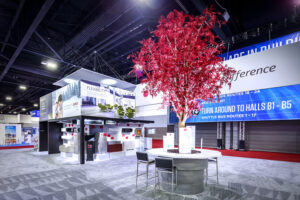 There's nothing more frustrating than working with a partner that doesn't look beyond the design of your booth. You need and deserve a partner that understands your business as well as you do, takes care to tell your brand's story, listens closely, and troubleshoots any issues as they arise.
"From my perspective in looking for a trade show partnership, it's absolutely critical that the partner listens and understands what our goals, hot points, and the things that are important to us are instead of just bringing us a design without really thinking about what's important and what we are wanting to communicate," said Jacki Jaynes, Senior Manager, Channel Marketing at LG Air Conditioning Technologies USA.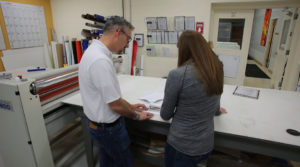 When we begin working with a new client, our priority is to become an extension of your team. In the beginning, our approach is to identify the teams needed for each piece of the puzzle. As we worked on LG Air Conditioning Technologies' presence at AHR 2019, LG recognized the value in each leg of the process and those ECI team members responsible for each segment.
"We didn't see a design in the first couple rounds of meetings. They were listening, asking excellent questions, and helping us think through our goals and objectives. So consequently, when they came back with a design, they were almost right on the money," said Jaynes. "We worked together to make some modifications to tweak a few things but because they were so careful, listening, and guiding us in our thoughts through good questions, the actual design process went very swiftly because they took the time up front to listen and properly interpret."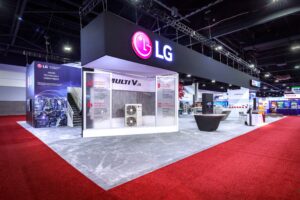 A beautiful booth that impressed everyone on the show floor isn't the only benefit partnership brought to the table. Coordination between Exhibit Concepts' Project Manager, Site Supervisor, and third-party vendors streamlined the flow of the project, bringing peace of mind to the LG team. Because there was a clear understanding of the goals, objectives, and needs, ECI was able to create cost efficiencies: a 25% reduction in show service costs and a 60% reduction in storage fees by utilizing lightweight, modular components and rental inventory in the design.
Once the booth was packed, shipped, and returned to our office to be safely stored, our team got to work reconciling the final invoice and bringing creative thinking into pre-planning, storage needs, and experiential design before the next show.
When you're looking for a new exhibit partner, their ability to listen and understand you is key. Don't feel like you must shout your message from the top of a mountain so that your story is understood. Your partner should fit into your business just as if they are an employee of your own. They should bring creative ideas, a solid process with proven results, a team that will act as if they're a part of your business, and the ability to anticipate your needs to the table.
We make your business, our business.