Adobe and the Computer History Museum are celebrating the opening of the new Adobe Experience on the grounds of Adobe's world headquarters in San Jose, California.
The project is more than four years in the making after Adobe broke ground on the 18-story North Tower back in June of 2019. The 1.3 million square foot campus addition will house both the Adobe Experience collection and the company's growing workforce in California's Bay Area.
The Adobe Experience, which was fabricated by Exhibit Concepts, was officially unveiled last month during a special ribbon cutting ceremony.
The Adobe Experience, covering more than 1,200 square feet, tells the story of Adobe's humble beginnings in 1982. It includes dozens of artifacts from the company's 40-year history and serves as a reminder of Adobe's landmark role in the history of computer technology and software. The collection features a hardhat from Adobe's first groundbreaking in San Jose, Nike sneakers which served as an early advertisement for Adobe, original manuals for Adobe software, and one-of-a-kind clothing featured in early Adobe presentations. The contemporary artifacts are housed in custom-made solid surface display cabinets surrounded by colorful custom reader panels.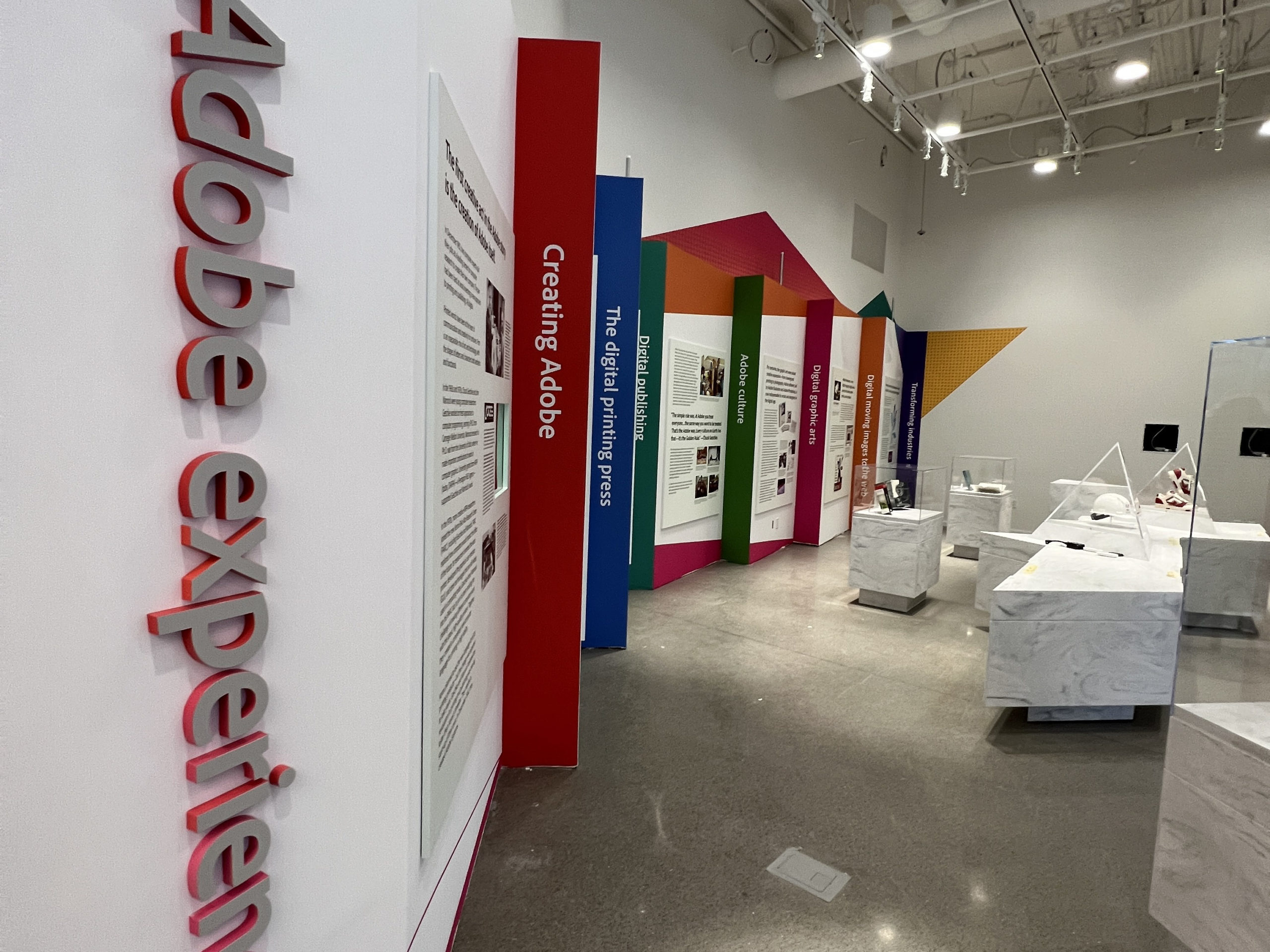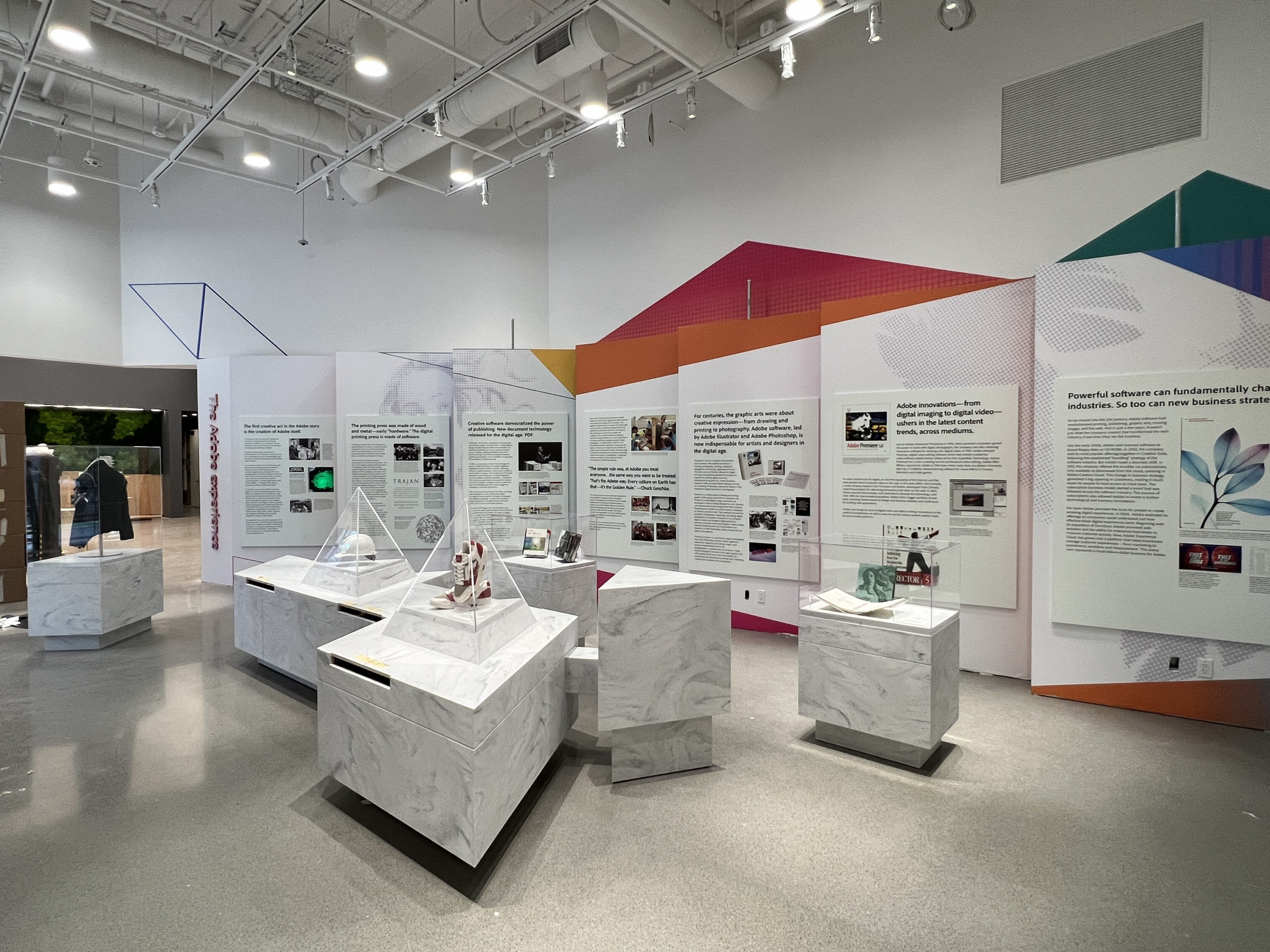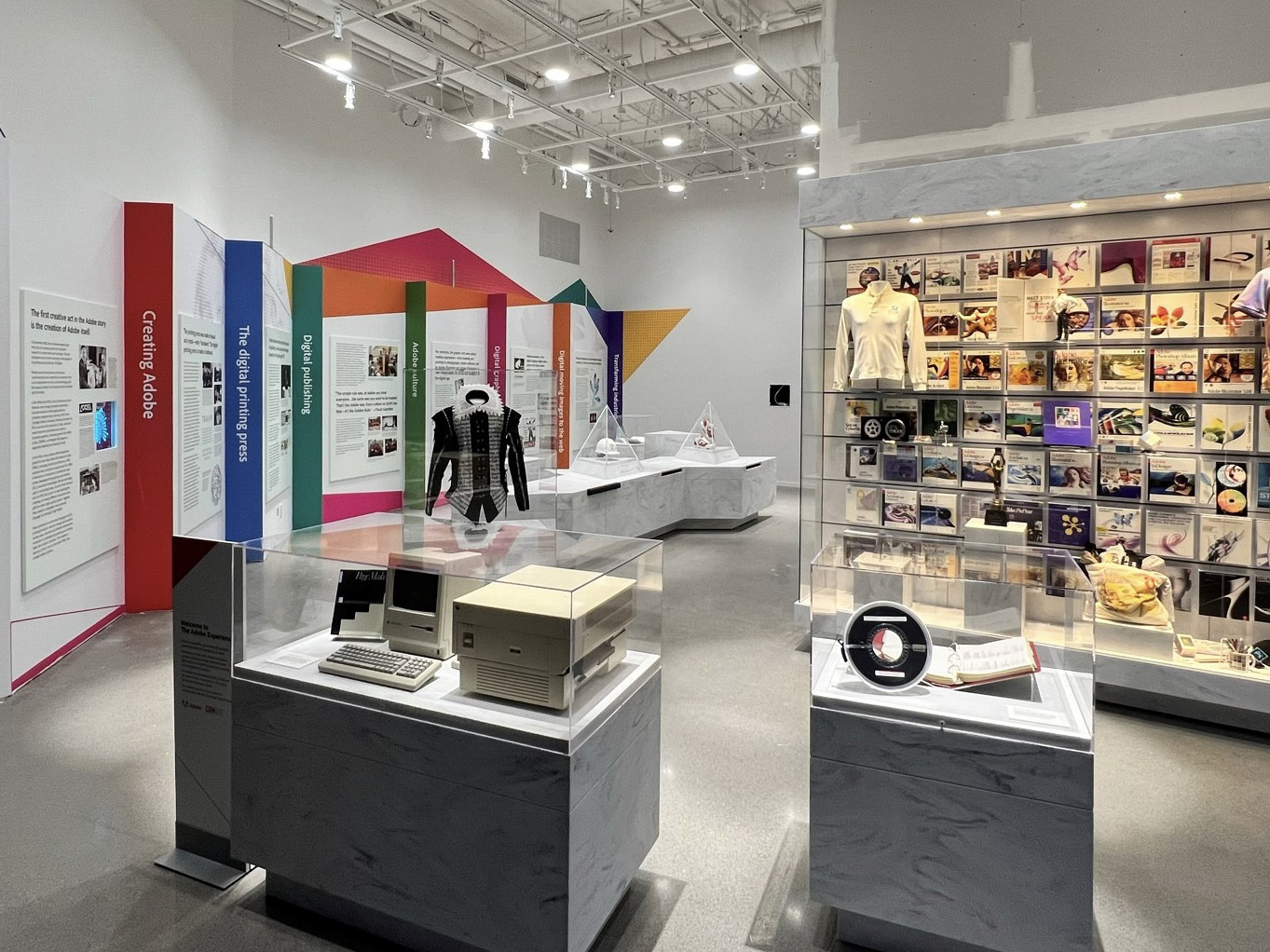 The opportunity to work on the Adobe Experience stemmed from Exhibit Concepts' more than decade  long relationship with the Computer History Museum. The museum was tasked by Adobe to oversee the design, fabrication, and curation of the collection.
The Computer History Museum has trusted Exhibit Concepts with several projects in recent years, including their flagship collection "Revolution: The First 2000 Years of Computing" which was completed in 2011 and "Make Software: Change the World" which debuted in 2017. Both of those projects were designed by exhibit designer Van Sickle & Rolleri with Exhibit Concepts serving as the fabricator.
For the Adobe Experience, the Computer History Museum once again turned to Exhibit Concepts and Van Sickle & Rolleri to complete the project. Installation on the project wrapped up in late 2022 ahead of their 2023 grand opening.
"We pride ourselves on our ability to become an extension of a brand," says Ellen Kaminski, President and Chief Operating Officer of Exhibit Concepts. "When the Computer History Museum and Van Sickle & Rolleri came to us with the opportunity to work with Adobe, we took that trust to heart and jumped at the opportunity to represent such an iconic company in a meaningful way."
Founded in 1978, Exhibit Concepts is an award-winning event marketing partner that designs and produces educational classrooms, experiential events, trade show exhibits, corporate interiors, and museum spaces.