by Ellen Campbell-Kaminski, VP of Marketing
What do a mascot, mad scientists, 169 classes , virtual reality, four magicians, video testimonials, skate boards, exams, balloons, Vegas, and aching feet have in common?  Well, if you throw in some of the most innovative and creative trade show booths imaginable, you've got ExhibitorLIVE:  the Annual Professional Development Conference for Trade Show and Corporate Event Marketers.
After months of planning our presence: objectives, theme, trade show booth design, visitor engagement, client video testimonials, pre-show marketing, and brand ambassador training, it was finally time. My reservations were booked and my luggage was packed and our marketing materials were saved onto thumb-drives and securely packed in my carry-on luggage.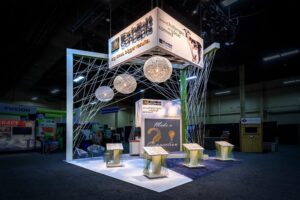 Impression 1:  Education is Serious Business
On the first morning of conference, I attended a beMatrix breakfast meeting where Exhibit Concepts was named Finalist in three categories: The One That Got Away; Best Use of the 360 Solution; and Most Innovative Use. Walking down the hall I passed an enormous wall filled with the class schedule.  I was struck by the sheer number of offerings.  A few that caught my eye, in addition to the four sessions on exhibiting internationally that my colleague Jeff Hannah delivered, included: Build a Better RFP and 11 New Rules of Trade Show Marketing.  Our industry is changing rapidly and at the same time, there is a proliferation of ways to reach our target audience which means we, as marketers, need to develop sophisticated, integrated campaigns in order to reach our intended audiences, wherever they may be.
Impression 2:  The Value of Face-to-Face Marketing
I was recently asked why I joined a company that focuses on trade show exhibits, permanent installations, museums, events and mobile tour marketing.  I think of our industry as "Face-to-face marketing, the original Social Media™."
I believe that human beings are inherently social and at the end of the day, people buy from people.  We want to be able to examine what we are potentially buying and we want to know who we are doing business with; hence, I think face-to-face marketing will be required for years to come. And here I was, attending a conference of thousands of people who understand and are invested in advancing the profession because they too understand the value and necessity of trade show and corporate events.
Impression 3:  Materials, Lighting and Special Effects
Oh My Goodness! The beauty and variety of materials used in the exhibits on the show floor was astounding.  Everywhere I looked, there was something new to see and wonder, "How did they do that?" Woods and metals.  Fabrics and laminates.  Every surface told a story- one of innovation and really thinking outside the box.  The hall was bright and every booth was brightly lit, inviting attendees in at every turn.  Special effects included a dancing wall of water and even holograms with eyes that followed you as you walked down the aisle.
Impression 4:  Reaching New Heights
When I first entered the hall, I remember thinking how tall the exhibits were and was amazed by how many had a double deck for private meetings or engagement.  This was an impressive use of space for booths that had a set size and exhibitors who (literally) chose to take their booth to new heights. These exhibits felt unique and really drew my eye to the space, making me want to take a closer look.
Impression 5:  Attention to Detail
Exhibitors didn't rely on gimmicks to draw attendees into their spaces. Rather, they focused on their story and focused on the details so that attendees were just in awe. In our own booth, I saw numerous attendees staring up at our "word tower" trying to figure out where we were projecting the words from.  The secret is that the words on the tower were lit from within. It was clear that other exhibit houses took the same care in planning and building their booths as we did.  This is our store front, so it has to be our best foot forward.  And this is evidence of the same care we bring to our client's projects.
And so, my first ExhibitorLIVE is in the books.  We're following up with all the great people we had a chance to meet in the booth, at the Welcome Reception, in the classes and just walking through the convention center. And I am already looking forward to next year.
P.S. For Exhibit Concepts, the fun isn't over yet—not by a long shot. We are thrilled to be the sponsor of EXHIBITORFastTrak in Chicago, August 22-25. Ongoing education is a crucial part of our industry, and EXHIBITORFastTrak is an invaluable resource for event marketers; we are thrilled to be part of the event.