Meandering through aisles of shining aluminum, Senior Designers Matthew Brandeberry and Josh Koenig looked like two kids in a candy shop.
We were at Airstream Alumapalooza 2019: an event where Airstreamers across the country come together to meet friends old and new, learn more about their travel trailers and marvel at the unique interiors their fellow fanatics customized to be "Home, Sweet Home".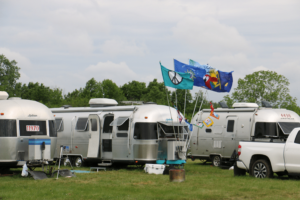 We weren't visiting just for enjoyment. There was an important purpose for attending: we were conducting research to design the new Airstream Heritage Center coming to Jackson Center, Ohio in 2020.
For the last 3 years, Exhibit Concepts has worked closely with the brand to come up with solutions as sleek and modern as the travel trailers. Airstream is well-known for their high quality build that stands the test of time. As we walked through the campgrounds, we passed units aged well over 40-years-old that still travel all over North America. In a sense, it was as if we were walking through a museum.
As Brandeberry led us in and out of the aisles of travel trailers, his role changed from observer and listener to storyteller. We passed by Wally and Stella Byam's small, golden Airstream, affectionately known as "Stella's Dream Trailer" and Brandeberry stopped to tell us more about its history. Impressively, with each living artifact we passed, Brandeberry and Koenig had information about them all, showing us that they'd done extensive research on the iconic brand.
While walking to interview campers, I asked Brandeberry: "Do you always go to these lengths to get to know a brand?"
"The best way to come up with a design is to get to know that brand's community," said Brandeberry. There is truth in his statement. How could you trust a business to tell your brand's story if they didn't do the research to understand who you are and what makes you unique?
Samantha Martin, Archivist and Historian for Airstream Inc., recounted the first time she met with the Exhibit Concepts design team. She sent them home with packets of information about the brand and a book; Wanderlust: Airstream at 75 by Russ Banham which is jam packed with vintage photos and the company's history and timeline. The next time Martin met with the team, she remembers seeing Brandeberry open the book to reference a piece of information. The pages were covered in jottings on sticky notes.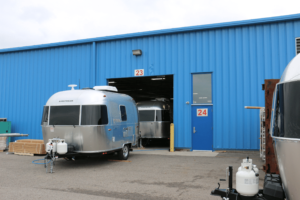 "It was apparent that everything I mentioned about Airstream during that meeting was understood by the ECI team. From the get-go, we were on the same page and and it was clear that ECI was dedicated to gaining a deeper understanding of the brand. We established a level of trust that didn't take long to earn; there was no need for me to catch ECI up because they had already done extensive research," said Martin.
When brainstorming designs specifically around Airstream's caravan culture, Brandeberry and Koenig quickly realized that they needed to go a step further than client meetings and reading.
"There is no other way to understand that culture other than to just become a part of that community," said Koenig.
"For any design, we would take the opportunity to become a part of the client's  community while also seeing firsthand how the product is made," said Brandeberry.
Koenig added: "You can't come up with a stellar design if you don't understand the stories behind it."
In a day's work, we immersed ourselves in all things Airstream: we toured the factory, conducted video interviews, took extensive notes, explored the inside of a few Airstreamers' travel trailers and listened to the fascinating stories about where they came from and where they're going next.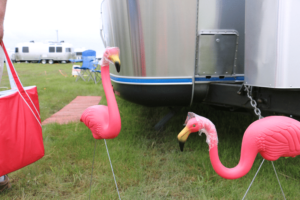 We learned that the lure for Airstream has largely to do with the comradery and community formed around pink flamingos and travel trailers some call home. Like the friendships formed through rallies and caravans, Airstreams are durable, safe and never seem to age. No matter where they are on the road, people approach owners with curiosity and excitement because seeing an Airstream brings nostalgia.
Iconic brands like Airstream have no shortage in stories to tell – from their employees to their loyal following – it is important that their legacy is handled with accuracy, passion and care. At Exhibit Concepts, we go the extra mile to walk in your brand's shoes. We are your partner and a member of your tribe.