When you're choosing an exhibit house partner, it's easy to focus solely on the creativity and construction quality they will provide. What you may not be thinking about is how they will achieve that level of creativity and quality through processes and partnership. Aligning early in the process and identifying key players is crucial to the success of a new trade show build. The exhibit house you choose should not operate independently from you; they should operate as an extension of your team.
When Exhibit Concepts took on the Air Conditioning Technologies division of LG's project for the 2019 AHR Expo, our design, account management, and project management teams held onboarding meetings with the client to better understand their needs and wants. While the Account Manager is the primary point of contact, we identify a team member to oversee each piece of the puzzle. For LG, communication with their Project Manager, Misty Boyd, was crucial to their success as she acted as an extension of their team.
"Our project manager is as much a part of our team as anyone directly on LG's payroll. Whether it is a text, a phone call, or an e-mail, I have instant response and I have absolute trust in terms of being able to respond quickly, effectively, and I don't fear a problem because I know she will resolve it," said Jacki Jaynes, Senior Manager, Channel Marketing at LG Air Conditioning Technologies USA.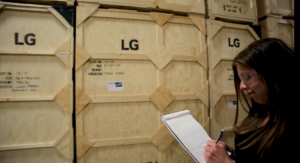 Exhibit Concepts project managers follow standard project management best practices and manage all their tasks using industry-leading project management software. They handle any and all questions and communications regarding the project. They are the liaison between all departments and all vendors.
"The only way to have a productive working relationship with a client is open and timely communication. When I need information or approval for any piece of the project, keeping the 'surprises' to a minimum is absolutely the key," said Boyd.
To streamline communication, project managers hold regular status meetings with the client once the project is approved. Agendas are set in advance and meeting notes are distributed immediately following so as to keep ECI and the client on the same page.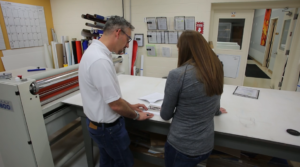 "For us, equally important was the day-to-day account relationship that we had. To have that continuity, to know that there is someone that understands us dating back to day one is invaluable. To know that I have a short-hand communication with that person makes things very efficient and reliable," said Jaynes.
Creating a consistent experience with outcomes that exceed expectations is important for ECI. Our methodology yields solutions that exceed our client expectations, achieves better results, meets budget requirements, and reduces error and rework. Project management is a crucial piece of the process that assures projects stay on track, keeps our clients informed, and coordinates numerous interdependencies to produce the most compelling and memorable physical embodiment of a brand.