It is a true honor to be entrusted with stories.  Stories of heroes, change makers, and those who sought to leave the world better than they found it. They are so much more than stories, however. They are the history that defines our American culture. Museums serve as a way to preserve and protect these stories for generations to come. Many of our significant historic projects fall in this category, including the Oklahoma City National Memorial and Museum, the Kent State May 4th Visitor Center, and the B.B. King Museum, to name a few.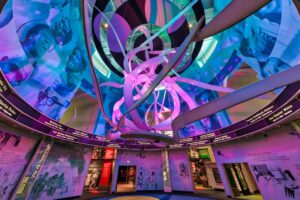 The Mississippi Civil Rights Museum in Downtown Jackson, Mississippi is no exception. This incredible facility is many years in the making, after breaking ground in 2013. It opened on December 9, 2017, the day of the bicentennial celebration year of Mississippi statehood. It serves as the first state-sponsored civil rights museum in the United States.
The mission of the museum is to exhibit the history of and educate the public about the American Civil Rights movement in the state of Mississippi between 1945 and 1970. Exhibit Concepts' graphics, fabrication, and installation teams worked alongside the Mississippi Department of Archives and History and design firm Hilferty & Associates to deliver on the vision for this facility.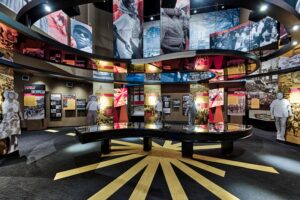 This history is brought to life with eight interactive galleries that follow the journey of black Mississippians in their fight for equality. Seven of these galleries are in the round, converging upon an eighth gallery in the center of the space, known as "This Little Light of Mine." This area contains a beautiful sculpture that glows and pulses in response to visitor actions, all accompanied by music.
Want to learn more about the museum? Visit their website or pay them a visit the next time you're in Mississippi.