We are entering one of the busiest times of year for event and trade show managers. Budgets and plans are due for next year's show calendar and the fall historically hosts the most events. Added to that, many companies hold an annual sales or strategy meeting at the end of the calendar year (or at the beginning of the New Year) that requires a lot of attention and planning. With that in mind, we thought it would make sense to revisit our Top 5 Trade Show Trends to see if there are any notable updates to help with your plans.
Trend One: It's All About Technology
Trend Update: Still True and Possibly Even More Pronounced Now
It will come as no surprise that incorporating technology into trade show spaces will continue to be a major trend in 2017, as it has in years past. And that trend will continue into 2018. It's the topic on everyone's mind. We are a highly connected society and the tradeshow floor is no exception; visitors are expecting information to be delivered in new, innovative ways. Trade show attendees are looking to be educated and informed as much as they are looking to be entertained and "wowed" and technology is often the answer to do both.
Technology doesn't need to be complicated, however: it can be as simple as a touch screen or the incorporation of small devices like Bluetooth® beacons that integrate with client's products. Bringing these items into a space helps draw people in, while also gathering data and delivering a brand's message in a compelling way.
At Exhibit Concepts, we have an Engagement Strategist who works alongside our creative team to assist our account executives in incorporating technology into trade show environments for our clients.
Trend Two: Keep a Human Touch 
Trend Update:  Still True
While technology can be paramount in attracting visitors to your booth, it should never be at the expense of quality human interaction. An authentic conversation is still your most valuable asset. It should add another layer to what a company brings to the table. There is no better way to uncover and understand customers' needs than by properly staffing trade show spaces with the right people who are excellent listeners. And make sure that they are properly trained on your brand story.
Look for booths that draw visitors in with unique elements that engage the senses while also delivering a meaningful message delivered in an honest and compelling way
Trend Three: Make it Personal 
Trend Update:  Make it Unique!
Every client wants to stand out from their competitors. They need solutions that are crafted to their specific needs in order to step up their presence and be noticed. A custom exhibit is the best way to deliver a truly personal, unique experience for visitors. A unique problem requires a unique solution that captures the essence of a brand while also delivering key messages to the audience.
2017 will be the year to focus on innovative booth designs that support and enhance a brand's promise and stands out on the show floor- and from the crowd.
Trend Four: Mind the Budget
Trend Update:  Still True
While custom exhibits work for many clients, others face tight budgetary challenges. The good news is you don't have to sacrifice your presence at shows for the sake of the budget. You can still accomplish your goals by leveraging rental solutions and unique engagement approaches in a truly memorable way. It's true: you can stand out without breaking the bank. Rental solutions allow brands to repurpose and reuse materials and properties. When done right, with fresh graphics, messaging and a compelling engagement experience, rental solutions appear custom and add great value to your company's marketing efforts.
Keep an eye out for trade show spaces that deliver meaningful messages without big investment- and still produce compelling results.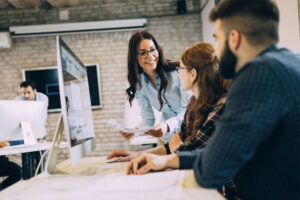 Trend Five: Find New Ways to Engage: 
Trend Update:  Still True, with a Twist
2017 will be all about meaningful engagement. The focus will be on finding creative ways to get people out of the aisles and into the booth with fresh, new ideas. Whether it's incorporating technology or acquiring data in a unique way, booths should draw visitors in and get them talking and keep them wanting more. Delivering a compelling user experience is what it's all about (see all other trends above)- and for good reason. Today's trade show attendees are a very savvy bunch. They've taken time out of the office to attend a conference and exhibition and they constantly evaluate whether their investment was worthwhile.
The team at Exhibit Concepts recently brought engagement into a trade show space by creating a smart, interactive trade show booth for Adwerx, a digital marketing agency for real estate professionals. This space successfully increased traffic and pulled visitors into their space with a creative solution that resulted in meetings, direct sales, and quality leads. Engagement doesn't have to be complicated, but it does need to be compelling.
Trend Six:  Brand Continuity 
Trend Update:  NEW!
Increasingly, brand managers and event marketers are working together to ensure a cohesive brand experience across all experiential environments. When your clients come to you – your company's lobby, showroom and executive briefing center, all of these environments should communicate your brand's identity with cohesive graphics, color palette, technology and finishes. If you "take your brand on the road" with local activation events or a mobile vehicle tour – the goal is to communicate a consistent brand experience. And when you meet clients and prospects at a trade show – your space is a mini-representation of all your company and brand(s) stand for across every touchpoint.
This means it is more important than ever to ensure your face-to-face marketing is also end-to-end.
Trend Seven: Program Approach
Trend Update:  NEW!
Experienced trade show managers are recognizing the value of taking a program approach to their efforts. They recognize the value of organizing their show calendar into tiers where they can align strategy, goals, assets, and resources in the most effective way to achieve their overall goals and manage the budget. They are looking for exhibit house partners who can manage the scale of a large program consisting of several large strategic brand awareness shows, medium size brand and lead gen show and a host of small, local selling events. Automation and eManagement solutions are critical to make sense of it all.
Going into 2018, we expect to see these seven trends continue for the most part with a few tweaks as well as new trends around materials and design start to emerge. We'll post our 2017 recap and thoughts on 2018 early in the New Year.
In the meantime, as you head into your busy season and planning for 2018, keep these 7 ideas in mind. Here are some other resources to help you plan for the busy season:
How to Choose the Best Exhibit Space
Want a Winning Trade Show Strategy? Try Start, Stop, Continue