The trade show industry is rebounding from the Coronavirus Pandemic. As marketers ramp back up, the International Manufacturing Technology Show is readying to take over Chicago's McCormick Place. IMTS 2022 returns September 12-17, 2022, as the longest-running industry trade show in the Western Hemisphere. Held every other year, Exhibit Concepts will be well represented in 2022.
More than 2,000 exhibitors will be in attendance and Exhibit Concepts has seven clients showcasing this year.
As we count down to the exhibit hall opening, let's look at how you can #ExperienceECI from the IMTS show floor. 
Ceratizit | 40'x60' | Booth #431900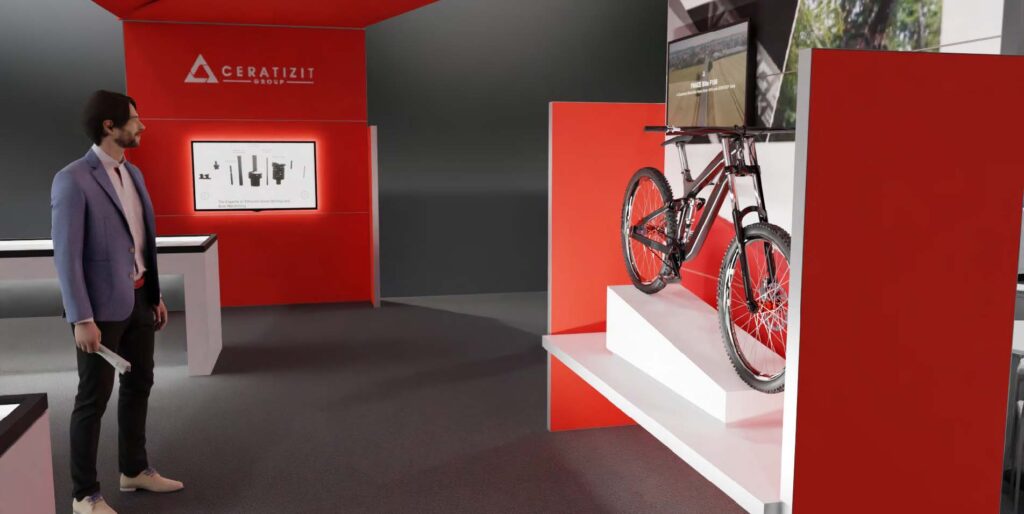 Ceratizit is bringing an inviting 40'x60' booth to this year's show. They're looking to welcome attendees into their space and spark conversation using an assortment of product displays and interactives. Included in the expansive booth is a café area, private meeting room, and touch screen monitors showcasing Ceratizit's capabilities as a leading supplier of custom tooling for the metalworking industry. You can catch Ceratizit in the West Building, Level 3. 
Gosiger | 40'x80' | Booth #339441
Gosiger is bringing an open concept floor plan to IMTS 2022. The company, which specializes in manufacturing solutions and machine tool distribution, is using the space to showcase its machining capabilities. The large 40'x80' booth includes several product displays and a private conference room. Gosiger will be stationed on Level 3 of the South Building.
Hiwin | 70'x80' | Booth #134514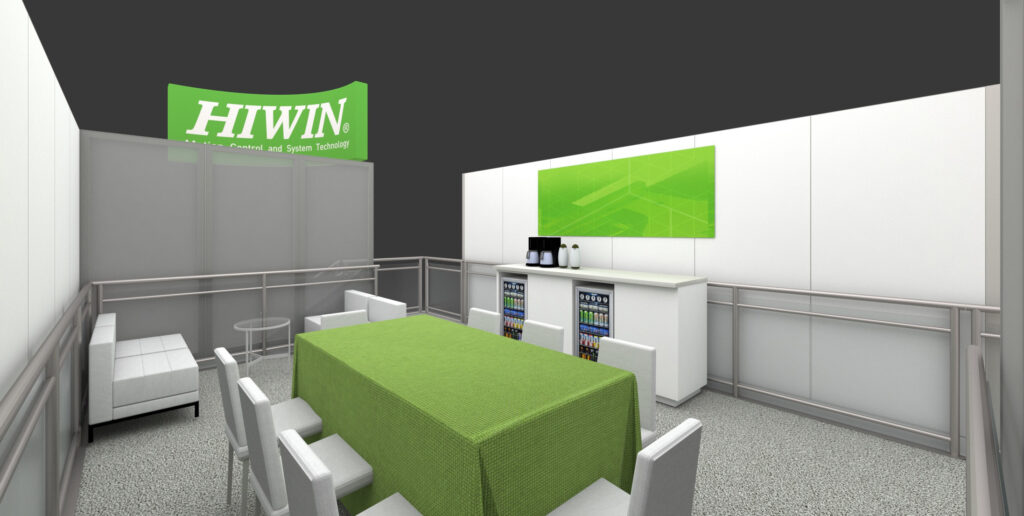 Hiwin will play host to the largest footprint booth Exhibit Concepts' has at IMTS 2022. The 70'x80' island will be located on Level 3 of the East Building. The clean, bold, open design welcomes attendees into the space while providing an industrial and innovative feel. The space provides ample square footage for Hiwin to showcase its vast lineup of ballscrew and motion control components. In addition to plenty of floor space, the Hiwin booth also offers a conference room and hospitality area.
Matrix | 60'x40' | Booth #236717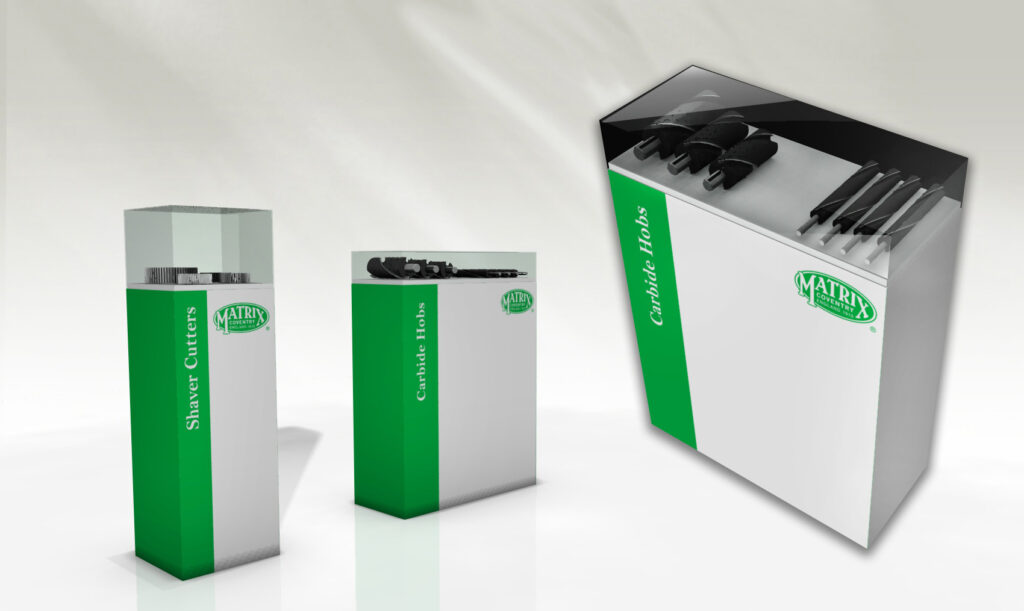 Matrix is also bringing a larger booth to IMTS 2022. The UK-based company is a market leader in both internal and external precision thread grinding machines. Their 60'x40' space features an open concept allowing attendees full access to its displays and inviting café area. The space is crowned with a large overhead banner. The Matrix booth is located in the North Building on Level 3.
Schwanog | 20'x20' | Booth #432061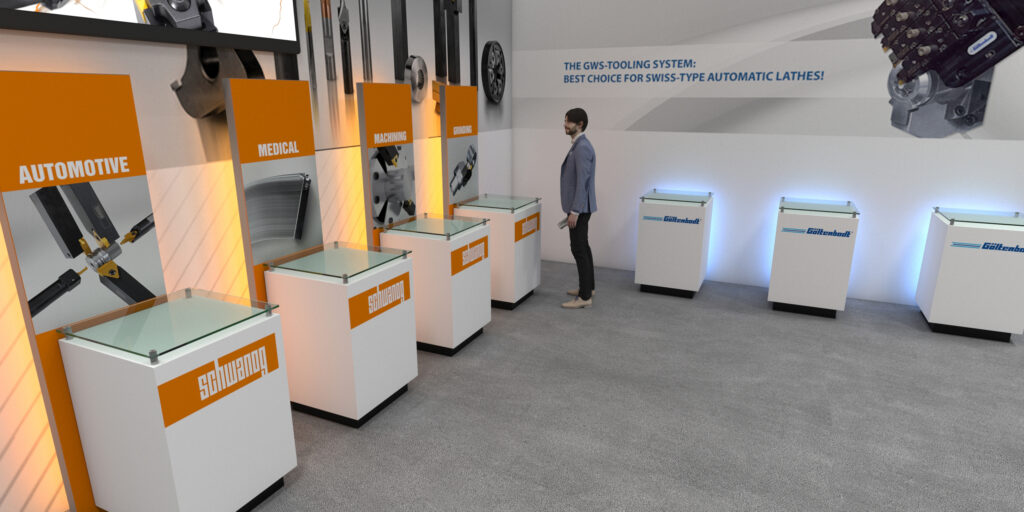 Schwanog is bringing a 20'x20' booth to IMTS 2022. It features easily accessible display areas and colorful graphics inviting attendees into the space. The subtle design will also allow staff more significant interaction with attendees as they showcase their innovative tool-changing systems. Schwanog will be on Level 3 of the West Building.
Spinner | 20'x30' | Booth #339286
Spinner's precision machining capabilities will be prominently featured in their 20'x30' space at IMTS 2022. The focal point will be their machinery while graphics and interactives flank a seating area tucked in the back. Spinner has been a leader in milling, turning, and automation since they were first founded in 1950. You can visit Spinner's booth on Level 3 of the South Building.
Unisig | 35'x35' | Booth #339159
Unisig is bringing a 35'x35' display to this year's show. Attendees to the booth will be greeted with a large overhanging banner. The booth's focus will be on Unisig's industry-leading drilling machines. There will be a conference room, a small seating area, and several display cases featuring Unisig's product lineup. The booth can be found on Level 3 of the South Building.
Planning a trip to IMTS 2022? Don't forget to stop by and visit with our clients as they lead the way in manufacturing technology. If you can't get there to #ExperienceECI, check out our work to see how we can help you achieve your trade show goals.