Trade shows can be loud, crowded, and somewhat chaotic. And when you're vying for your potential customers' attention, your booth design is likely what will initially pique their interest. But when thinking about your trade show presence, don't stop with just how the booth will look. You need to consider the cost, the weight, how your visitors will find you and travel through your space, the time needed to successfully build your booth and the transport and I&D.
Aligning with your face-to-face marketing partner early in the design process will help you think about each piece of the puzzle. When Exhibit Concepts began working with LG, we started with a series of onboarding meetings to clarify roles, identify goals and desired outcomes of their presence. Beginning with this strong discovery process allowed us to understand exactly what LG required in order to attract attention at the AHR Expo (The World's Largest HVACR Marketplace).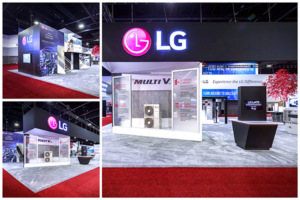 A proactive approach was taken with LG for the design and approval of their new booth. As the design was developed, they were provided with interpretative studies, 3D digital renderings, and product elevation details. Exhibit hall pedestrian flow, how the booth would be oriented, and hanging sign elevation were also factored in to assure the design would be beautiful and functional, while still providing visitors with a seamless experience that enhanced LG's message.
"When ECI brought their designs to us, it was like nothing we would have ever imagined. It was such a perfect interpretation of our goals," said Jacki Jaynes, Senior Manager, Channel Marketing at LG Air Conditioning Technologies USA.
Because of the work and research completed during the discovery process, the design team was able to anticipate LG's wants and needs. This led to a decrease in costs, weight, and labor time. Even when revisions were requested, expectations were above and beyond what LG anticipated.
"As in any design process, there were revisions that were required and again, ECI took our input and were very quickly able to interpret and bring it back to us in ways we never would have thought of," said Jaynes.
Discovery is the first step in the Exhibit Concepts methodology – a framework we follow to ensure on-brand and on-budget projects that our clients love. The methodology incorporates dedicated project management resources and automation tools to stay on track, keep our clients informed, and coordinate numerous inter-dependencies in order to produce the most compelling and memorable, physical embodiment of a brand.
How you and your marketing partner align on your goals, wants and needs will influence your project's outcome. The discovery process is vital when it comes to creating a design that is not only eye-catching and interactive, but functional and cost effective.
Are you ready to take the plunge and find a marketing partner to take on your trade show build? We're here to help.