We believe creativity isn't just delivering fresh, innovative ideas to clients. It goes much deeper than that, into the realm of understanding (and anticipating) their needs, interpreting the vision, and offering solutions along the way.
This is the kind of knowledge and insight that can only come from experience. The most creative thinking often comes from places other than the creative department. For example, creative thinking and problem solving resides in the purchasing department to find new cost effective material sources or with the crate fabricator to construct a solution involving the fewest number of crates but also protecting the contents.
For HIWIN Technologies, they had very specific goals for their face-to-face marketing program: they desired a fresh look for an upcoming trade show, where they planned to introduce a new product to the market. It was important to not only attract visitors to their trade show space at the show, but also outshine the competition in the process.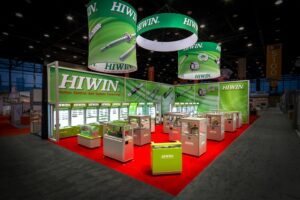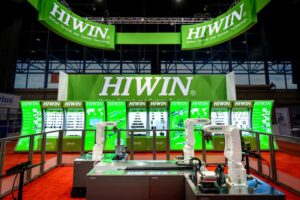 Creativity drove the design of their trade show space, but it's the guidance and contribution of a trade show partner that has made all the difference.
But you shouldn't take our word for it. We believe our customer, Shawn from HIWIN, says it best in the video below.
Looking to increase the creativity of your face-to-face marketing plan? Download our free Creative Brief Template or read more about how inspiring spaces lead to creative places.