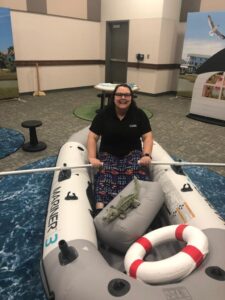 Brittani is full of life and energy! ECI is fortunate to have her funloving spirit on the team as a Graphic Designer. She grew up in a small town in Michigan, and currently lives near Grand Rapids where she spends free time with her fiancé and three fur babies.
She attended College at Ferris State University with an Associate's degree in Graphic Design & Bachelor's in Advertising and Integrated Marketing Communications. More fun facts about Brittani below!
What year did you start working for ECI?
What role do you play for ECI?
I started out as a Production Artist, setting files up in preparation for the production process. I was promoted to Graphic Designer about 6 months into my career.
Where do you find inspiration?
I am inspired by TikToks and scrolling on Pinterest. I also enjoy going to plays and exploring the community. I tend to come up with my best creations when I am out and about.
What are your top three favorite projects?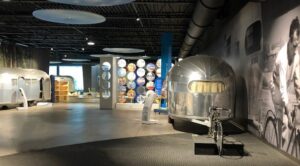 Airstream Heritage Museum– This was my first opportunity to work solo on a museum exhibit. I grew throughout this project and a much better designer because of it. It is wrapping up in production right now and I can't wait to visit once it has been installed.
Alief ISD– This one was a real whopper, we produced nearly 36,000 graphics for this project overall! ECI partnered with Alief ISD and created 12 different Interactive Classroom Experiences. I enjoyed working with the team on this project developing activities for the children to use in their new classrooms. These activities are specifically designed for each environment and allow the students to fully interact and experience each environment.
East Noble Schools- This was the first project I feel like I was set free to explore my creative abilities. I was able to make all the graphics for the rooms and the interactive activities.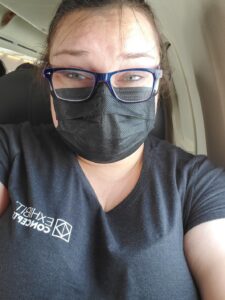 Describe your proudest moment with ECI? 
The day I was asked to fly to Houston. I was asked to train the Alief Teachers on how to interact with their new environments. I put so much hard work into the learning activities, and it didn't go unnoticed. This trip was also my first time traveling on an airplane, so I will never forget it!
What is your absolute dream job?
It's EXACTLY what I am doing right now, not to sound cliché. When I was in college, I never imagined I would be working on such fun projects for such a variety of clients. I look back at all the things I have been through in my life, and all the setbacks, and I am so proud of how far I have come.
What's your spirit animal and why?
Without a doubt, a Unicorn. I am a unicorn enthusiast which started in college when a friend got me hooked. I am a member of the Magical Unicorn Society and have a house full of unicorn knickknacks collected over the years.
What food can you not live without?
I am a mac and cheese connoisseur.
What is your greatest fear?
I absolutely hate spiders, I get that from my mom. My fiancé picks on me and says I squeal like a little girl whenever I see them. I am slowly getting acclimated to them due to my bonus children torturing me with them.
Most used emoji?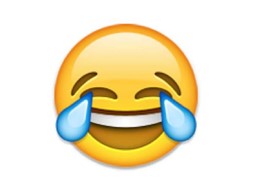 If you had a superpower, what would it be and why
I would love to have the superpower to never gain weight and eat as much as I wanted because I like food…. A LOT!