Exhibit Concepts, Inc (ECI) has designed, built and installed museum exhibits and educational spaces across the United States for over thirty years and is pleased to announce the expansion of the team supporting these important projects.

Colleen Incandela is an Education Specialist who partners with schools, teachers, and museum professionals to provide needs-based content and experiences. For over 20 years, Colleen has contributed to the field of education, most recently designing and evaluating exhibits, programs, and professional development at the Adler Planetarium in Chicago, IL. Before joining museum education, Colleen served as a kindergarten teacher and school administrator. She has contributed to several professional journals and educational texts, on topics such as museums as teacher field sites, building self-efficacy in science teaching and learning, and general field-based teacher education. Colleen holds a B.A. in Elementary Education and an M.A. in Early Childhood Professions.
Exhibit Concepts takes pride in providing experiences that exceed client expectations and places high value on a collaborative design model.
"I'm thrilled to join the ECI team and bring my experience and focus on equitable outcomes to our museum and education centered clients."

– Colleen Incandela, Education Specialist for ECI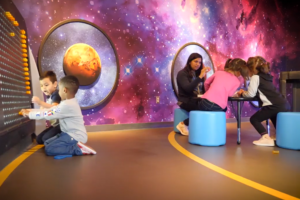 ECI approaches educational design with intentionality, focusing on the partner's organizing principles and current research. "Curriculum design and exhibit design occur in tandem for the best outcomes," according to Jeff Hannah, VP of Creative and Interiors.  Educational theories, standards, and most importantly, student needs are considered throughout the educational design process. 
"We understand and value the importance of experiential learning as it provides students of all ages and abilities the opportunity to participate in simulated real-world environments, strengthens interests, and aids in comprehension," said Hannah.  
ECI also recently added to the team of subject-matter experts with the addition of Aaron Scarlata. Aaron's background in landscape architecture and outdoor environments will be featured in exterior play spaces, nature centers, water conservancy, and custom outdoor elements. Education