Exhibit Concepts is excited to announce that it has been named a finalist in four Portable/Modular Awards. It's the 10th year for the annual honors presented by EXHIBITOR Media Group. Winners will be announced during the company's upcoming EXHIBITORLIVE show in Louisville, Kentucky, in April.
In all, 45 finalists represent eight categories chosen for this year's awards. They include Best Fabric Exhibit, Best In-Line Exhibit, Best Island Exhibit, Best Reconfigurable Exhibit, Best Rental Exhibit, Best Use of Graphics, Best Use of Technology, and Best Conceptual Design. To be considered, exhibits had to be launched between January 2020 and January 2023.
Among Exhibit Concepts' finalists are Abbott Nutrition for Best Use of Technology, Locus Robotics for Best Island Exhibit, Nestlé Purina for Best Reconfigurable Exhibit, and Exhibit Concepts' 2022 EXHIBITORLIVE booth for Best In-Line Exhibit. 
Abbott Nutrition is being recognized for its incredible use of technology at the American Academy of Pediatrics National Conference and Exhibition (AAP) in 2022.
Exhibit Concepts helped Abbott take a bold approach to the show with two booths, situated side-by-side. The first booth took a traditional approach, offering touchscreens and LED monitors to educate attendees on Abbott's role in the industry. Across the aisle, attendees were greeted with a far more technical display. The booth was crowned with a hanging LED sign that featured custom-made, hyper-realistic animations. Additionally, a vertical LED tower offering expert testimonials drew crowds in further. Once inside, attendees engaged with four separate touchscreen monitors. The first told of Abbott's advancements in the nutritional research field, and the second monitor educated attendees on Abbott's scientific approach to their work. Further into the booth, a pair of RFID-enabled touchscreens allowed visitors to choose their educational path and learn more about Abbott's offerings and role in nutritional health. The tech-heavy booth created an experience for visitors to fully immerse themselves in Abbott's reputation and engage in their life-changing work.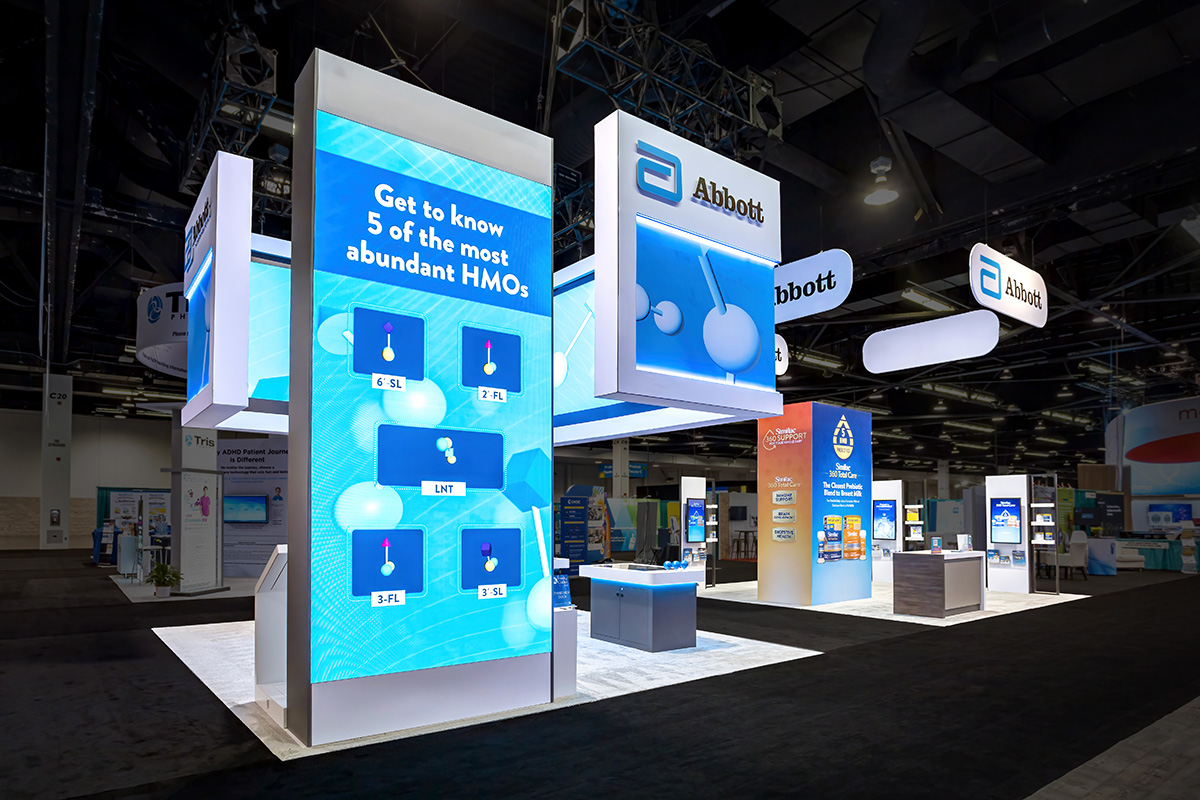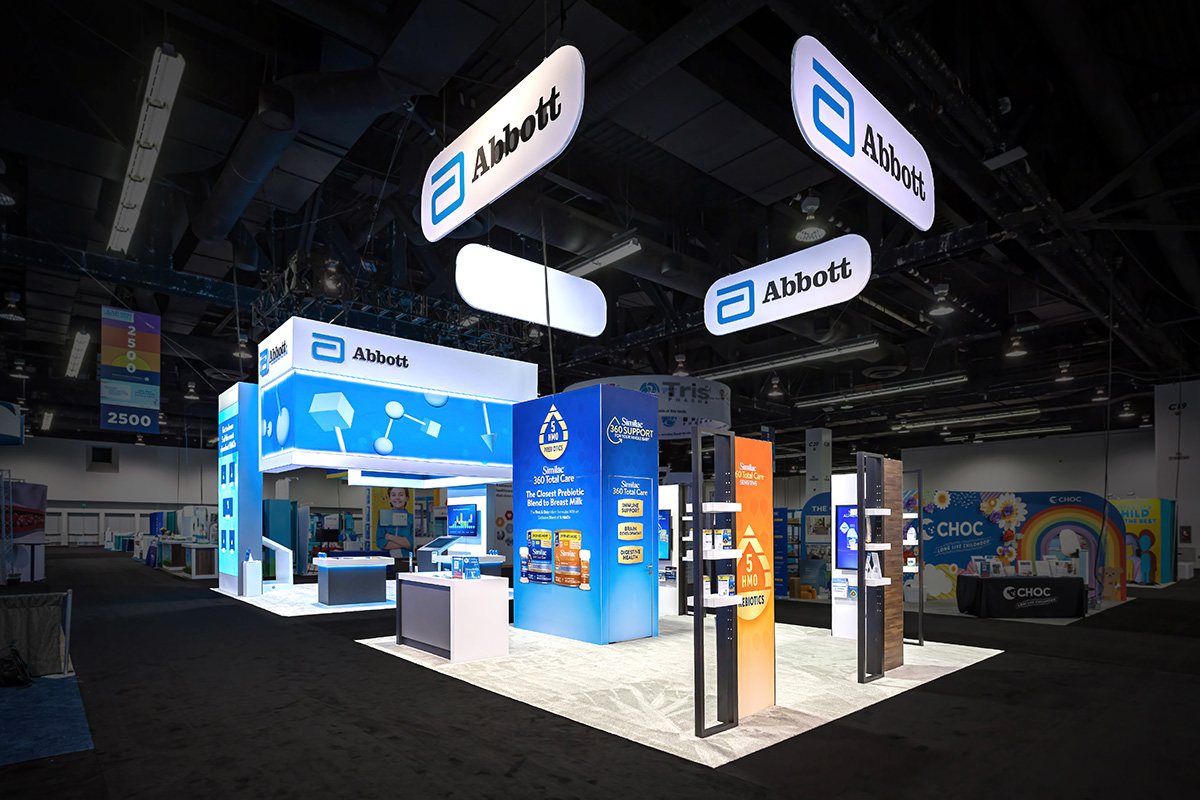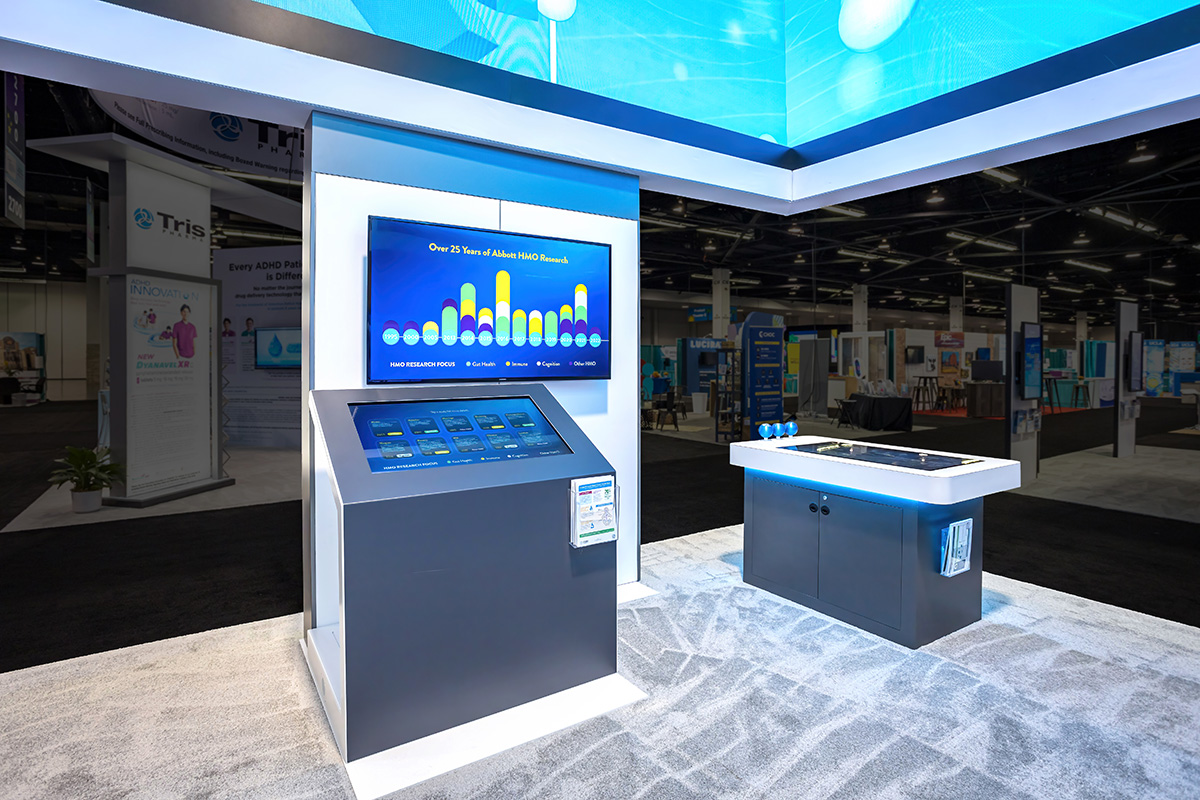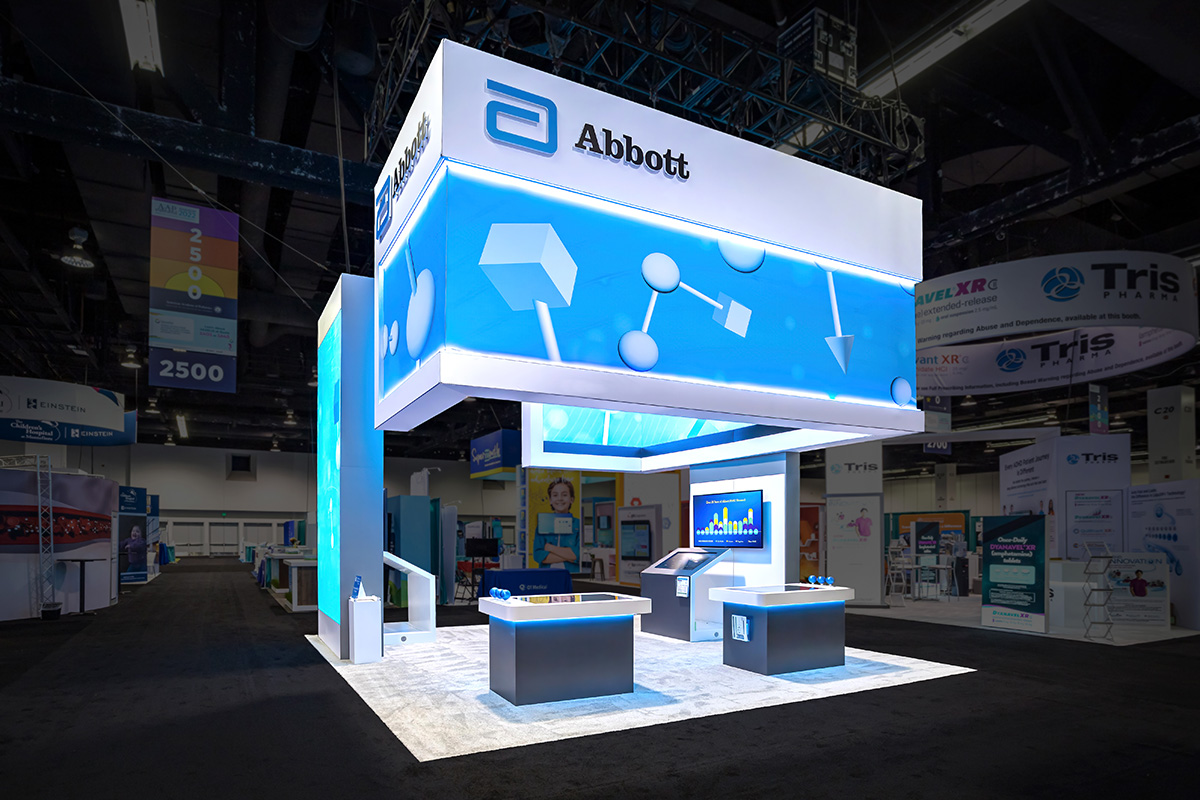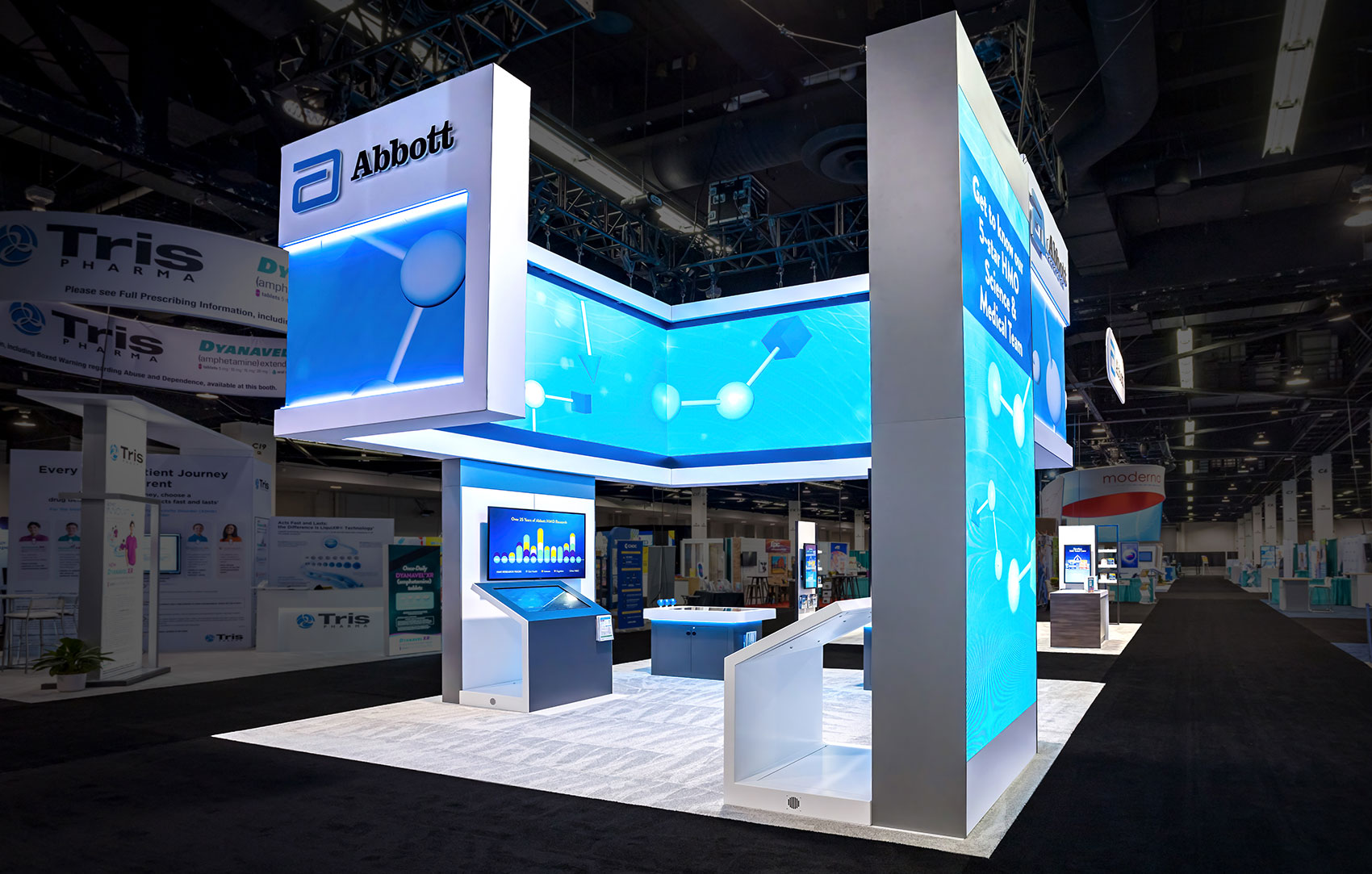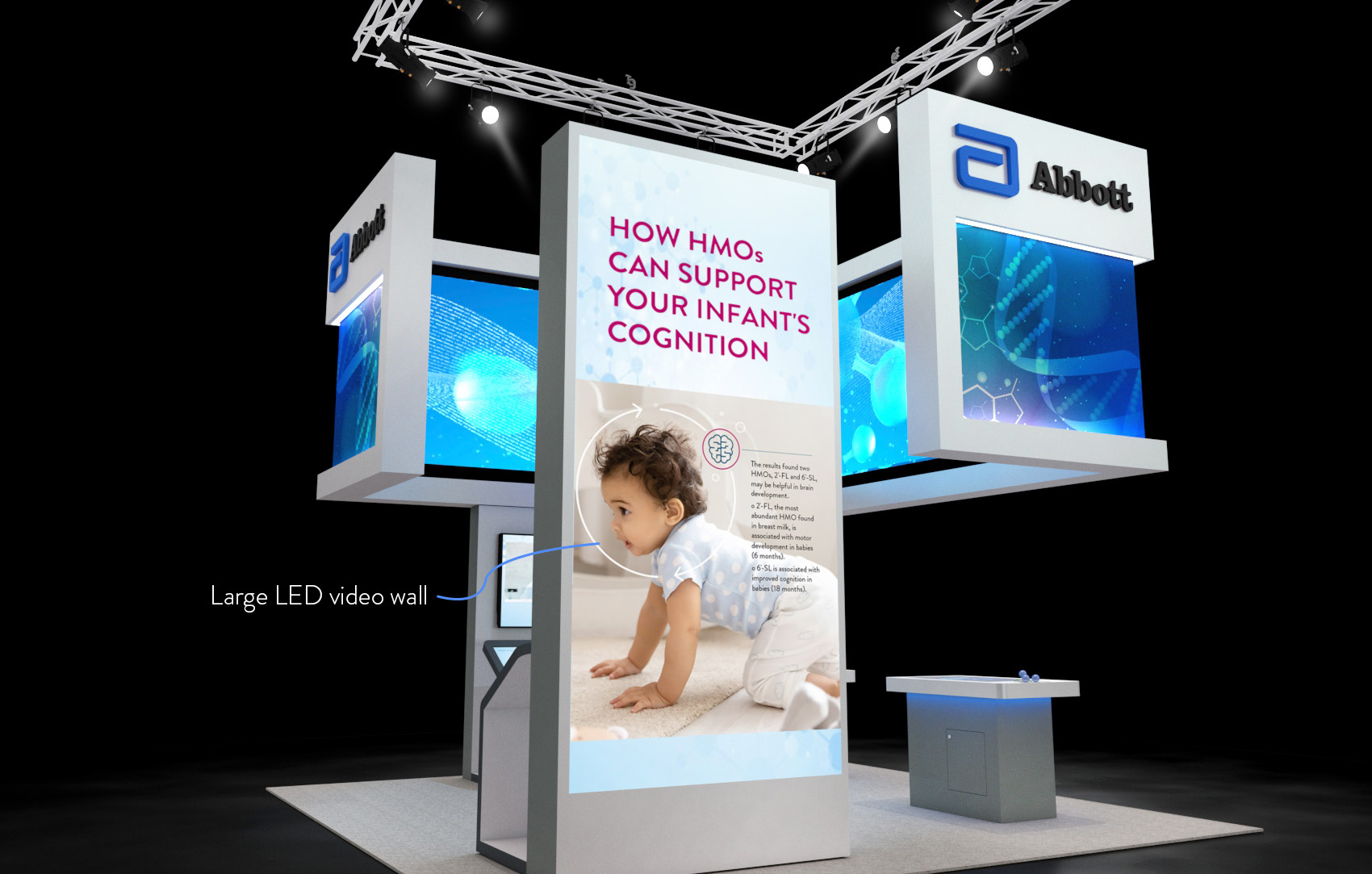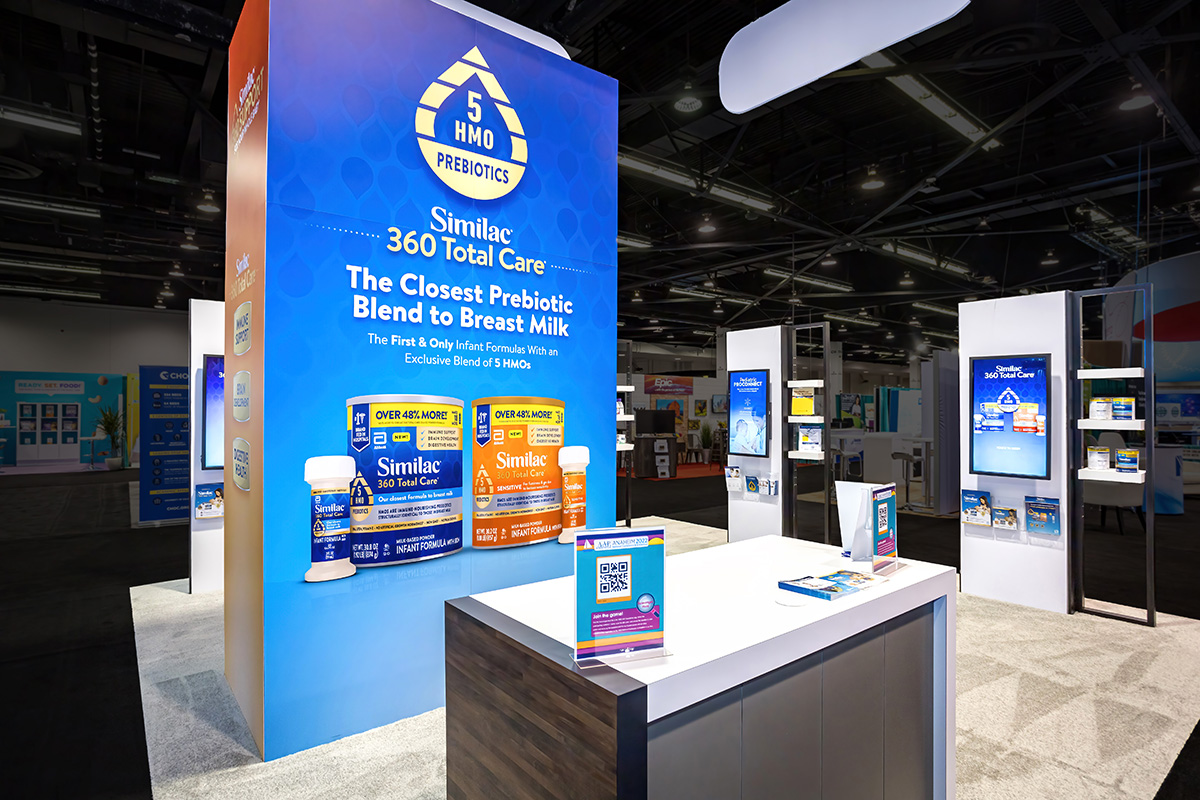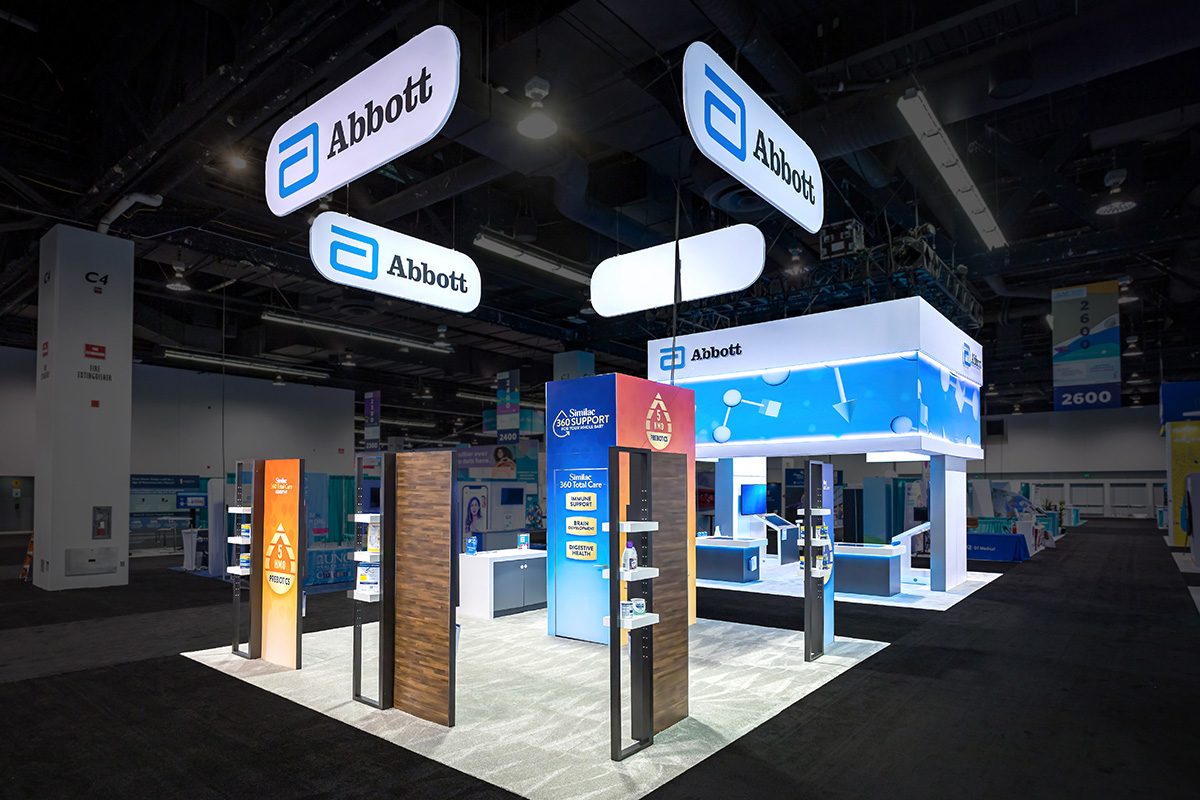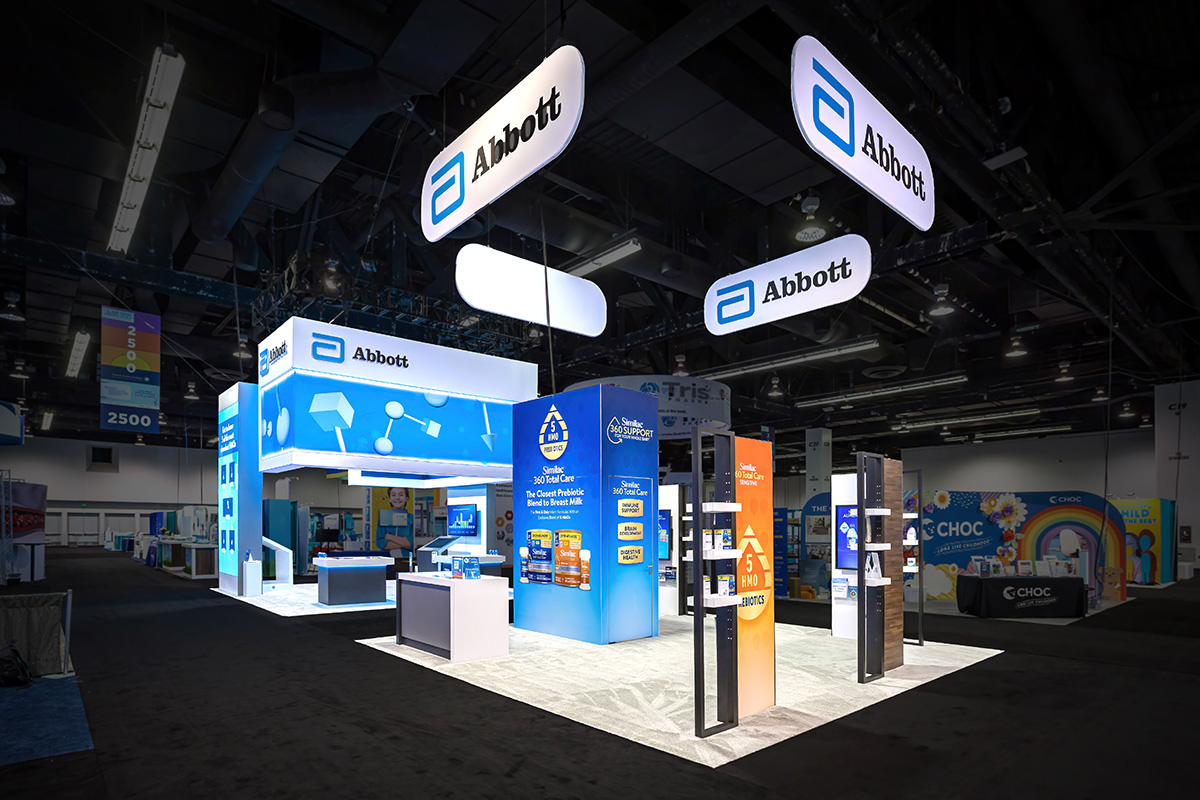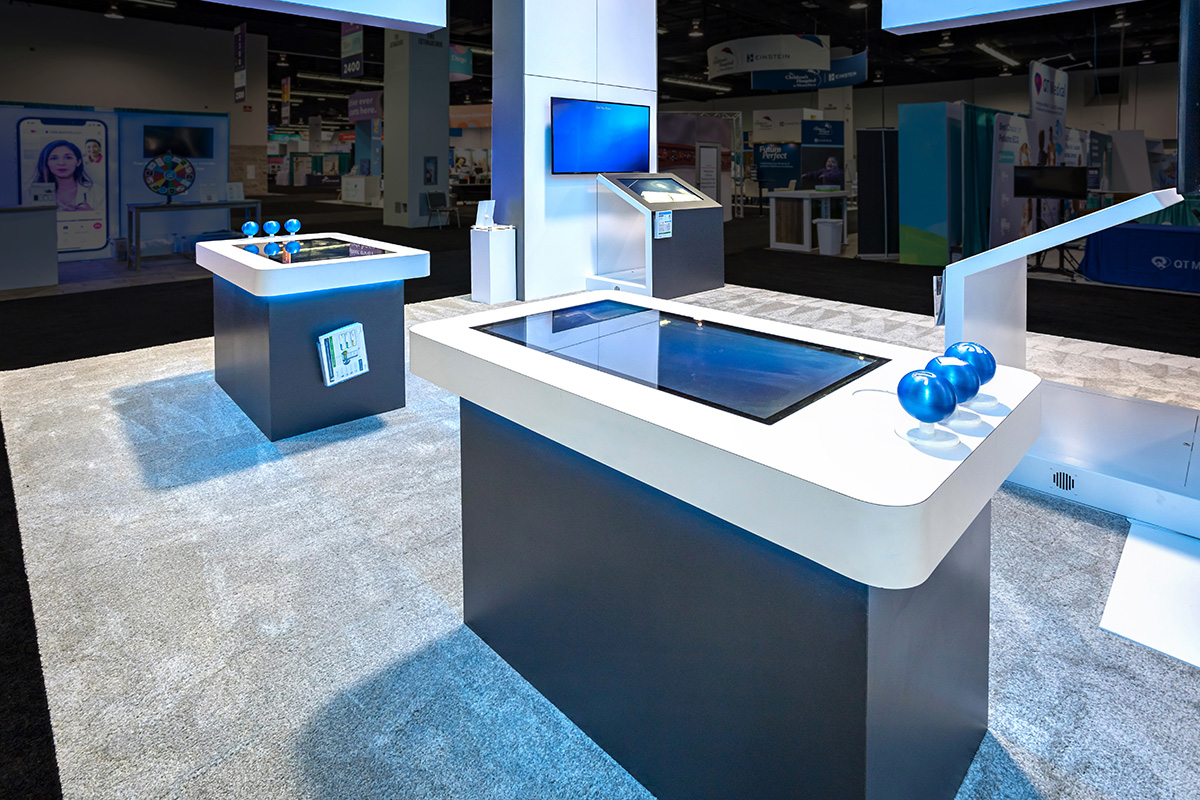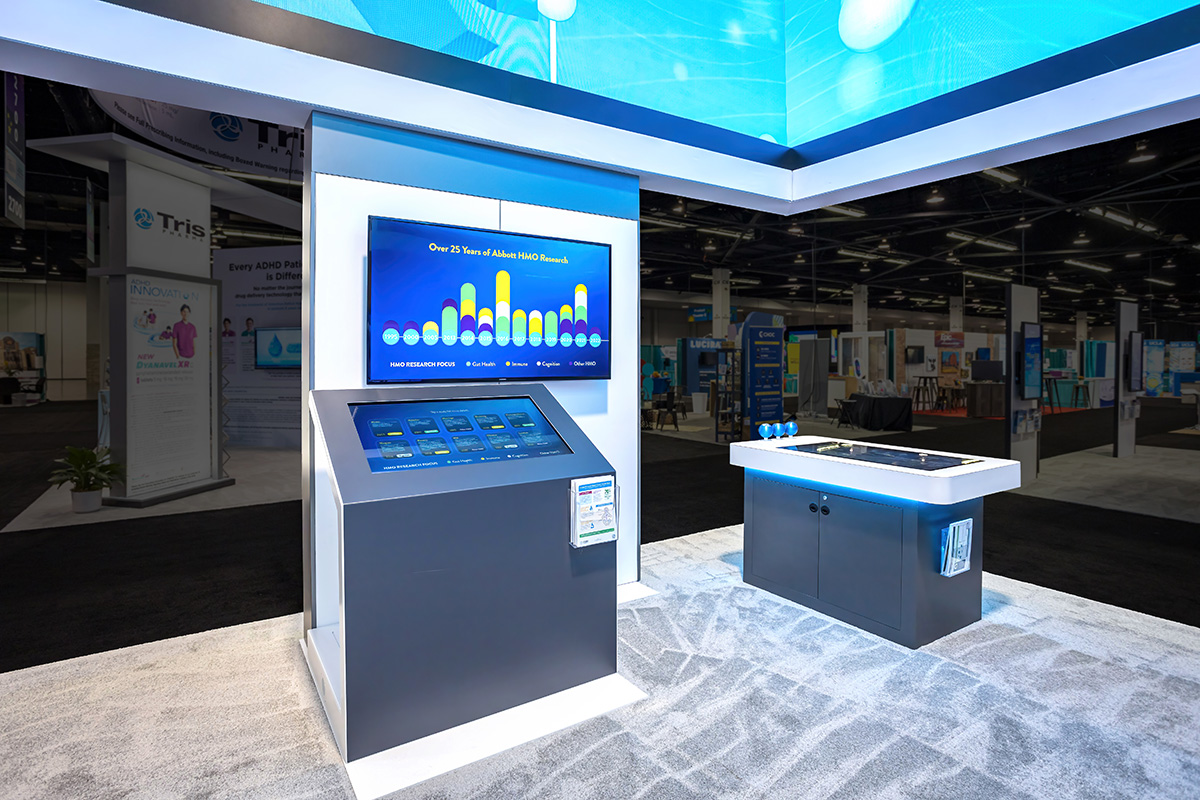 Locus Robotics is a finalist for Best Island Exhibit for its presence at MODEX 2022. As a warehouse robotics manufacturer, Locus Robotics wanted to fully demonstrate its capabilities. The company also wanted a theater experience to further showcase its offerings and an area to meet privately with clients.
Exhibit Concepts' team of designers worked hand-in-hand with the Locus Robotics' engineering team to create a space that could accommodate their capabilities. The ultimate 60'x80' island design included a multi-level warehouse space allowing robotics to work freely and interact with attendees. Within the core of the warehousing space was a theater experience that featured a pair of LED monitors. Additionally, private clients could meet with Locus Robotics representatives on the lower floor of the booth while the state-of-the-art robotics worked overhead on the double deck. The highly integrated space was accented by a clean, smart, and innovative design that was truly a highlight on the show floor.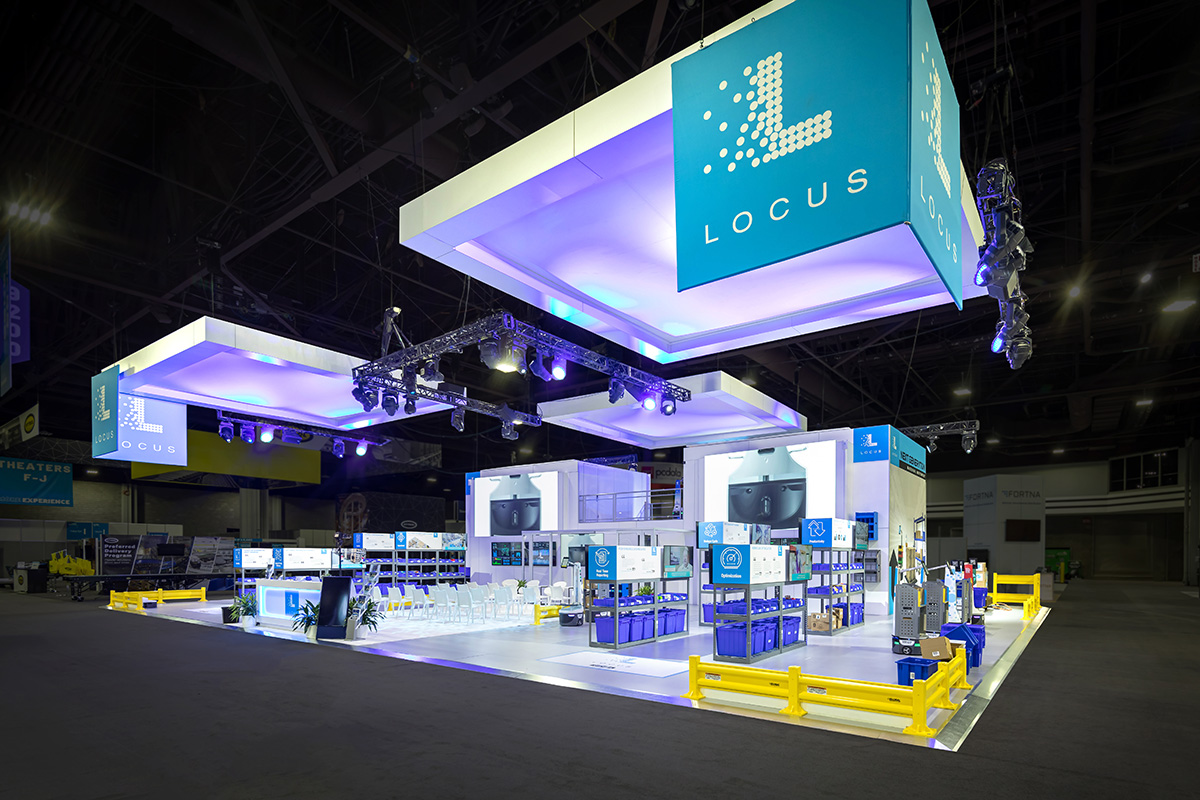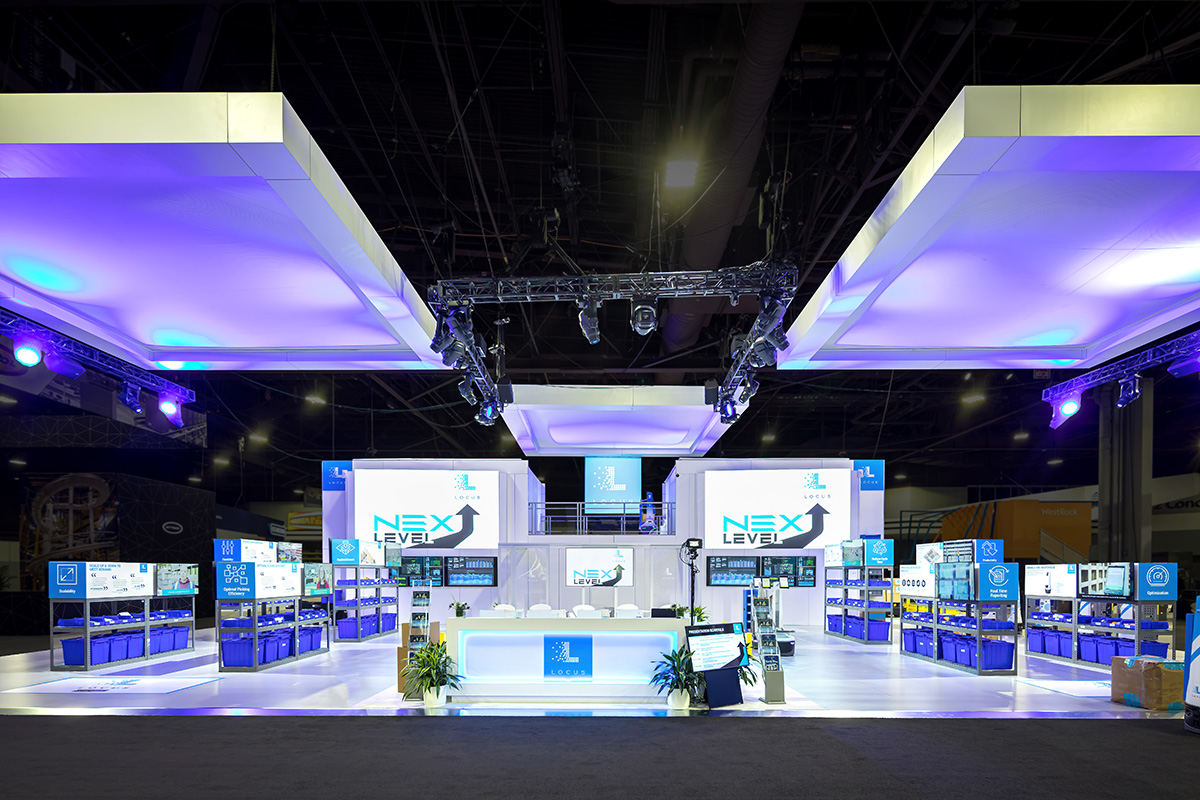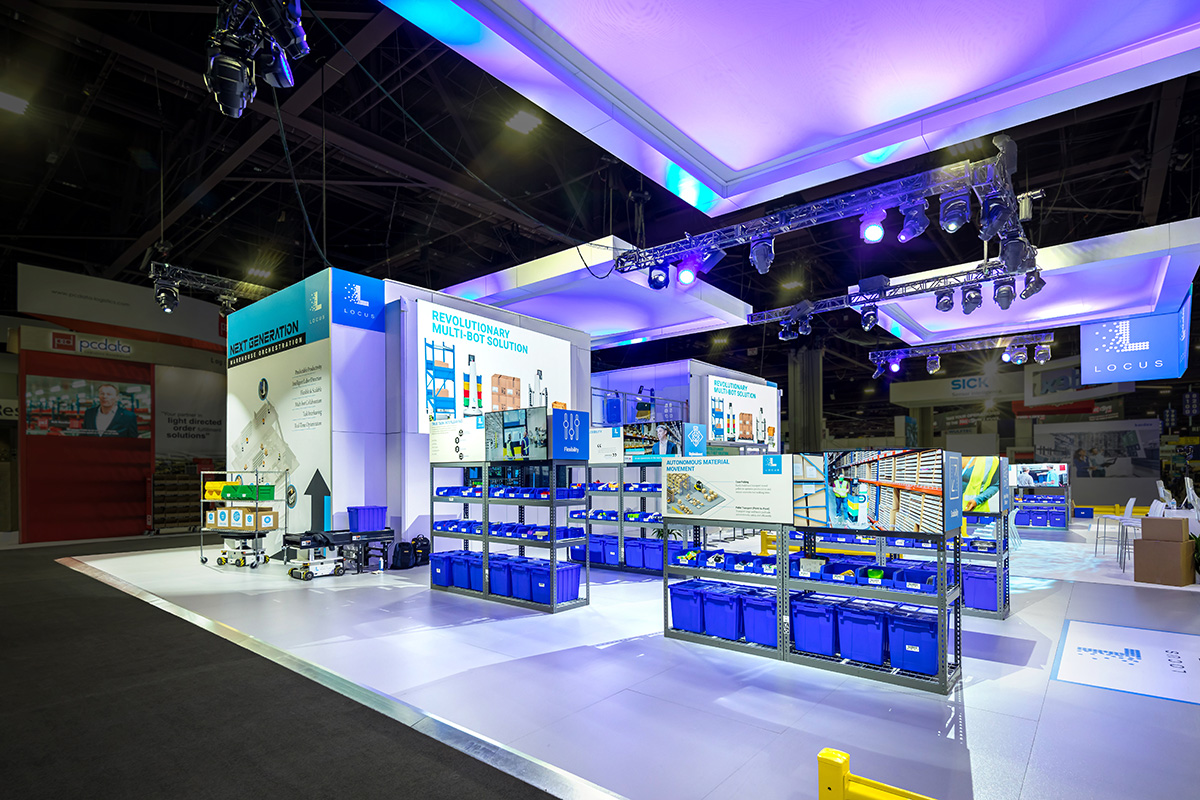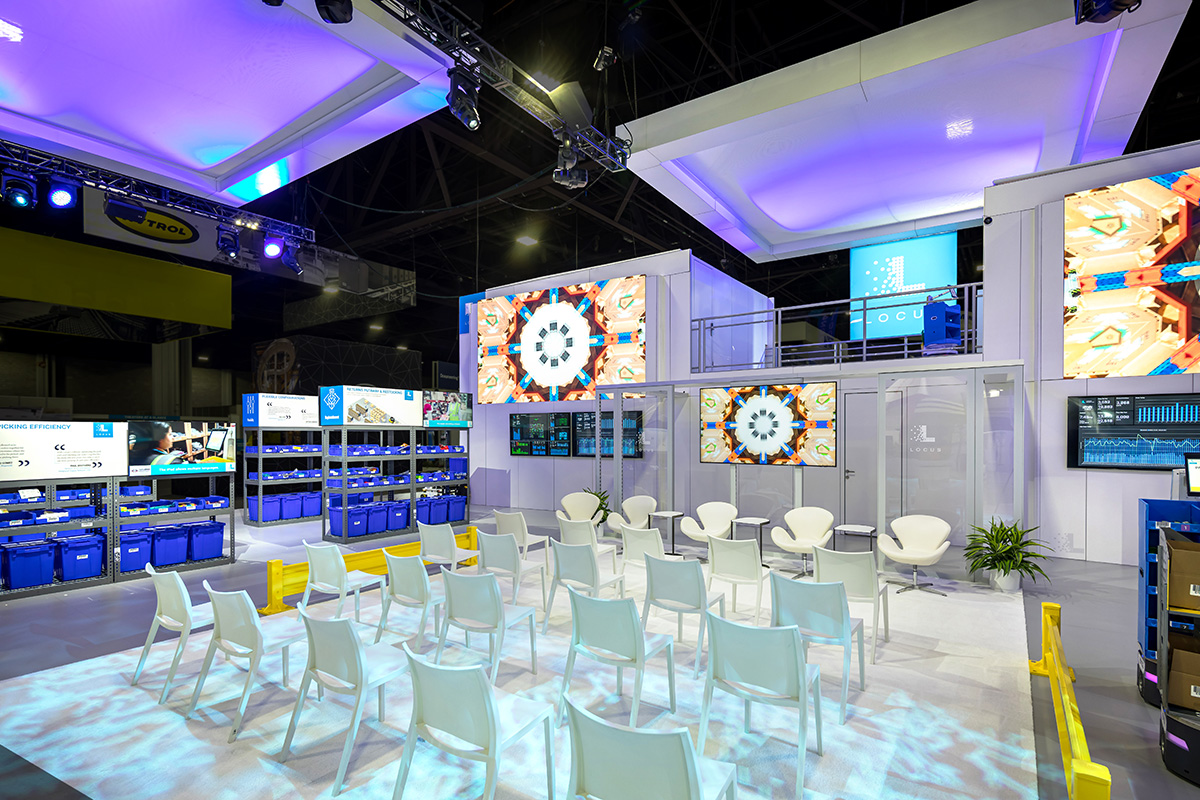 Nestlé Purina is in the running for Best Reconfigurable Exhibit for its presence at both the Veterinary Meeting & Expo (VMX) and the American College of Veterinary Internal Medicine Forum (ACVIM) in 2022. Purina wanted to utilize its busy trade show program to add a new layer of sophistication to its historic branding. They attend several shows a year with many different footprints. Regardless of booth size, Nestlé Purina wanted versatility while still being able to showcase their continuing innovation and contributions to the veterinary world. The Exhibit Concepts design team faced challenges in marrying the brand's iconic yet humble checkered logo with a more elevated, educational, and reconfigurable look.
Designers utilized modularity to offer an array of reconfigurable engagements. Drawing upon the Purina logo, the booth featured a square design with crisp architecture, dark tones, and illuminated elements to set a new tone for Purina. The footprint can range in size from 10'x10' to 30'x60', with attendees being met with as many as five separate engagements. Engagements included a touchscreen with spotlighted shelving that highlighted various product offerings, a trivia experience that tested attendee knowledge, a theater experience that educated visitors on the brand's evolution and future, and two separate engagements where attendees used iPads to interact with both the Purina Institute and Vet Direct brands.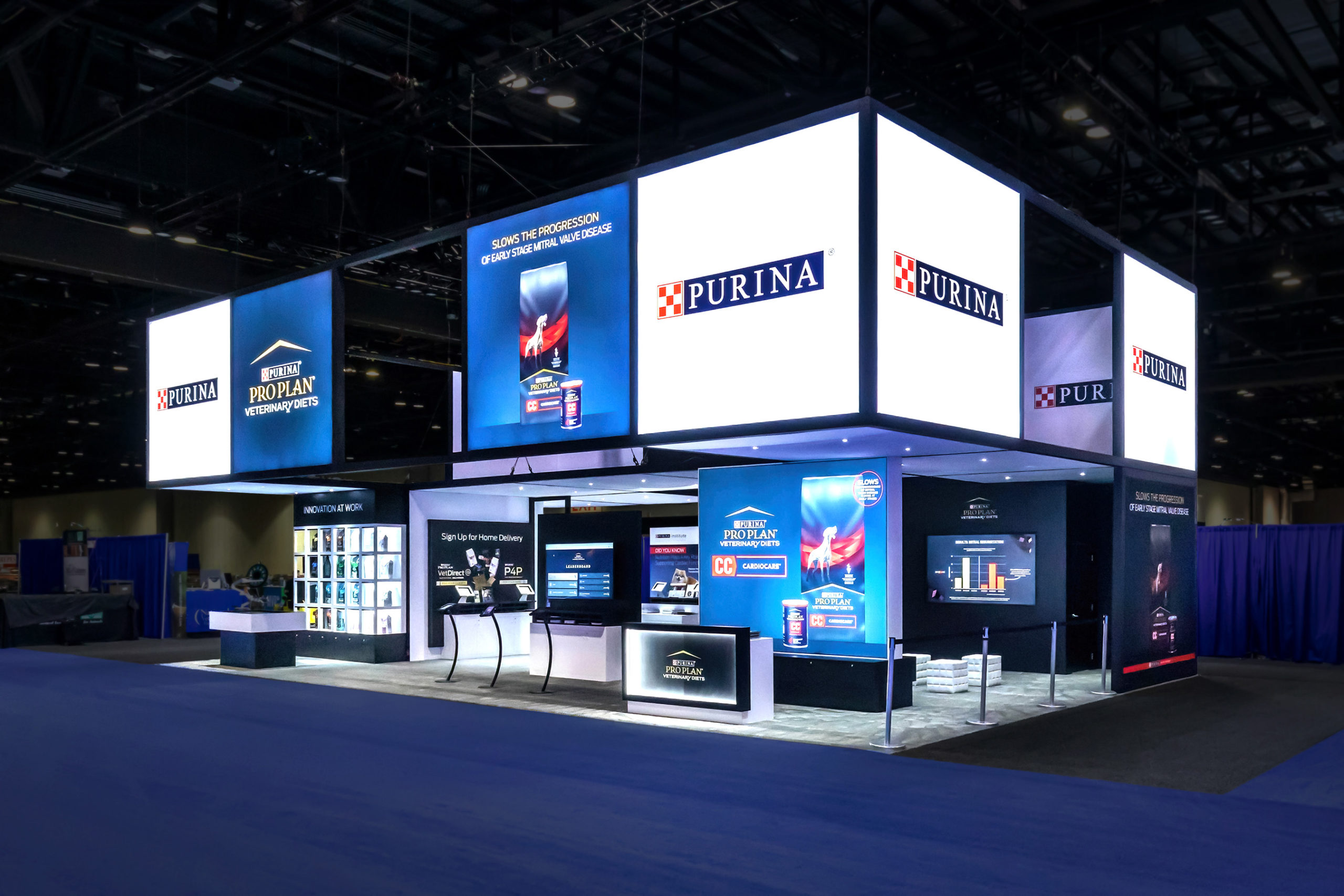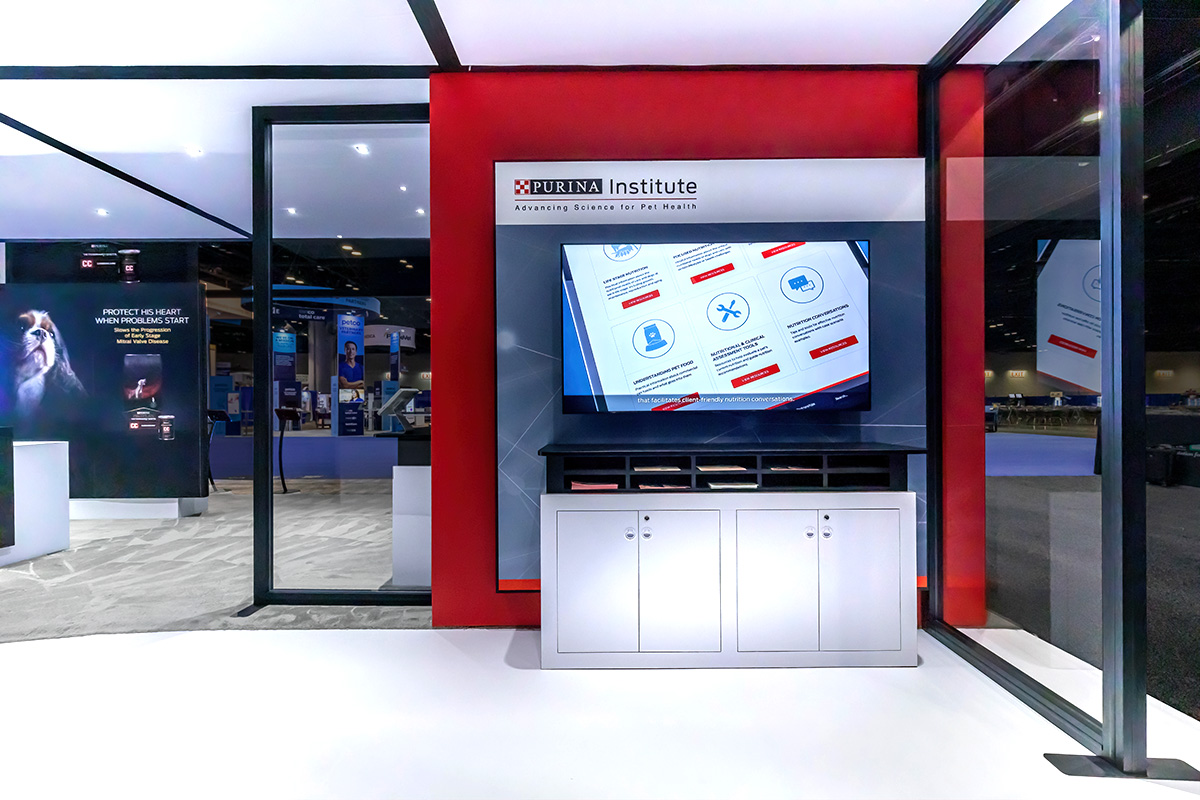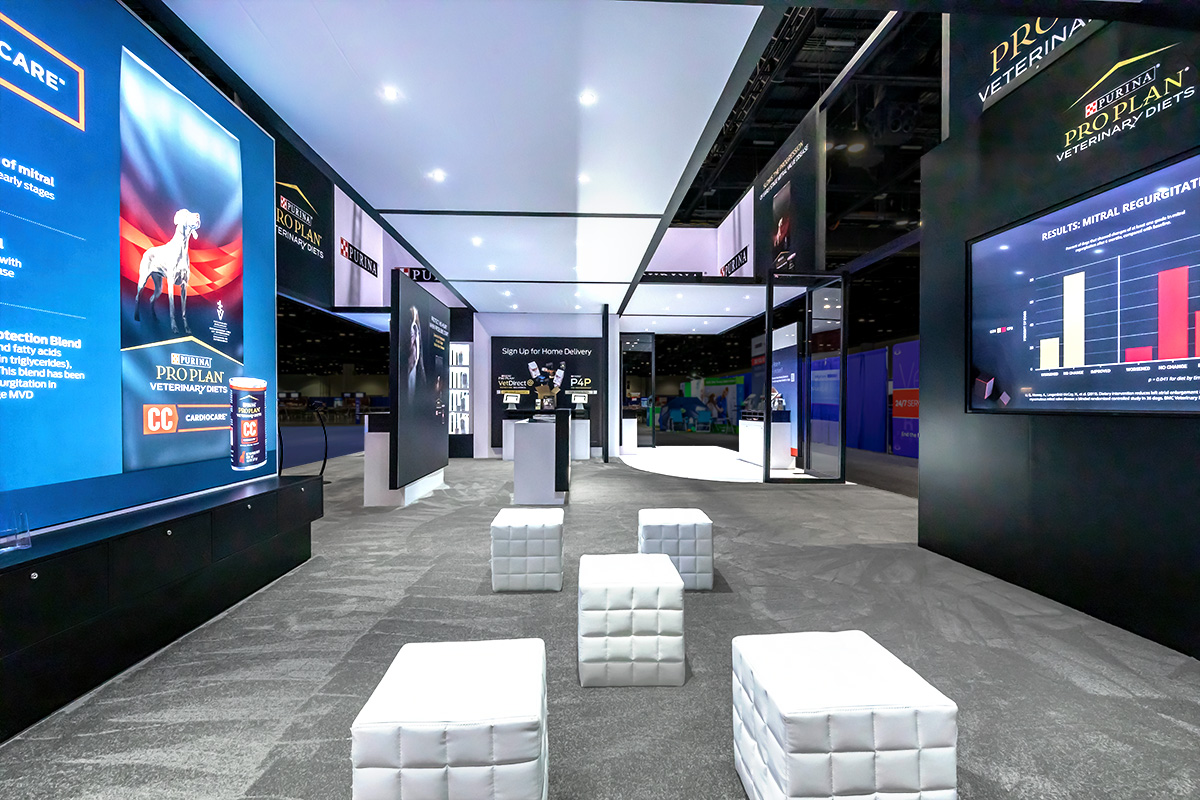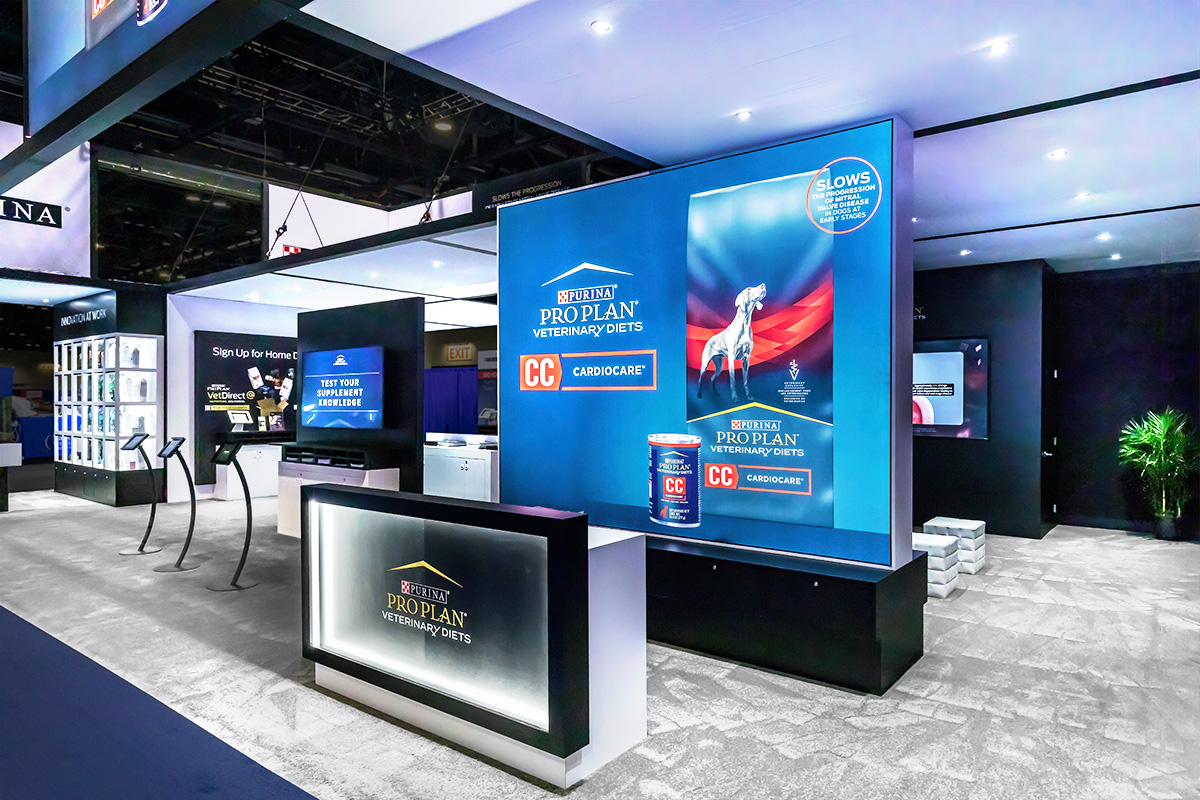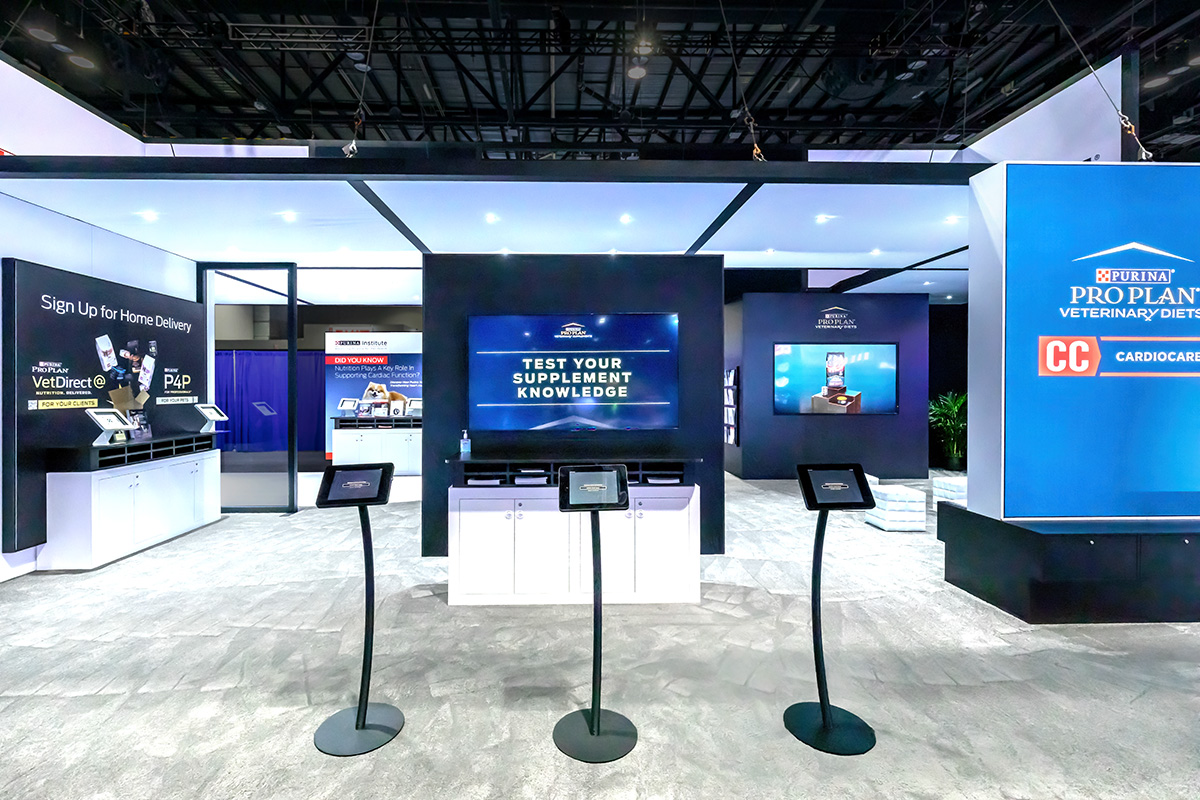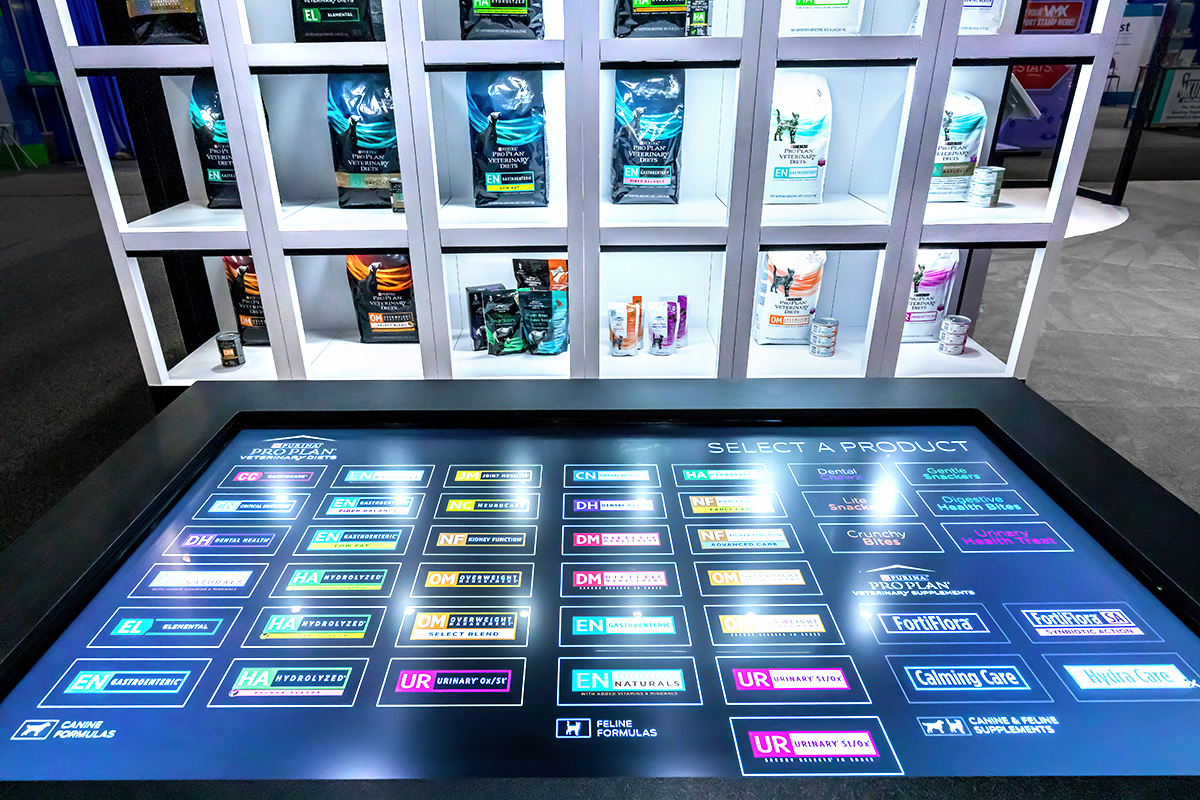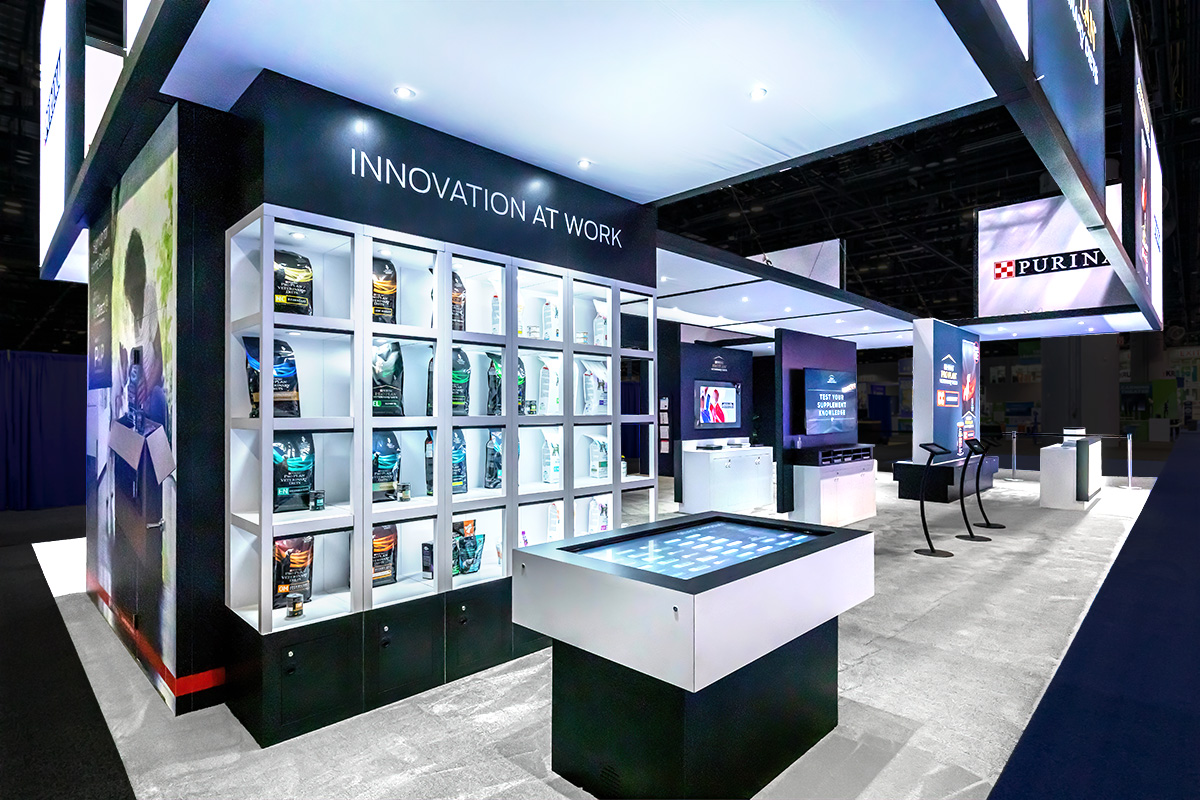 Lastly, Exhibit Concepts has been named a finalist for Best In-Line Exhibit at EXHIBITORLIVE in 2022. The trade show serves as a marquee event for the trade show industry. Understanding the heightened competition, Exhibit Concepts was looking to offer attendees an unforgettable, immersive experience with a modest, budget-friendly design.
To rise to the occasion, Exhibit Concepts took a tech-forward approach to its booth. The humble 10'x30' in-line packed an experiential punch featuring a first-of-its-kind exhibit management system. The exhibit fully immersed attendees with various digital engagements, including custom gamification, a lead retrieval app, eight experiential videos, and a touchscreen monitor. The exclusive digital content relied on the heavy use of tablets, a large LED wall, custom audio, lighting, plus a synchronized rumble floor and scent diffuser to fully encapsulate attendees into the exhibitor's experience.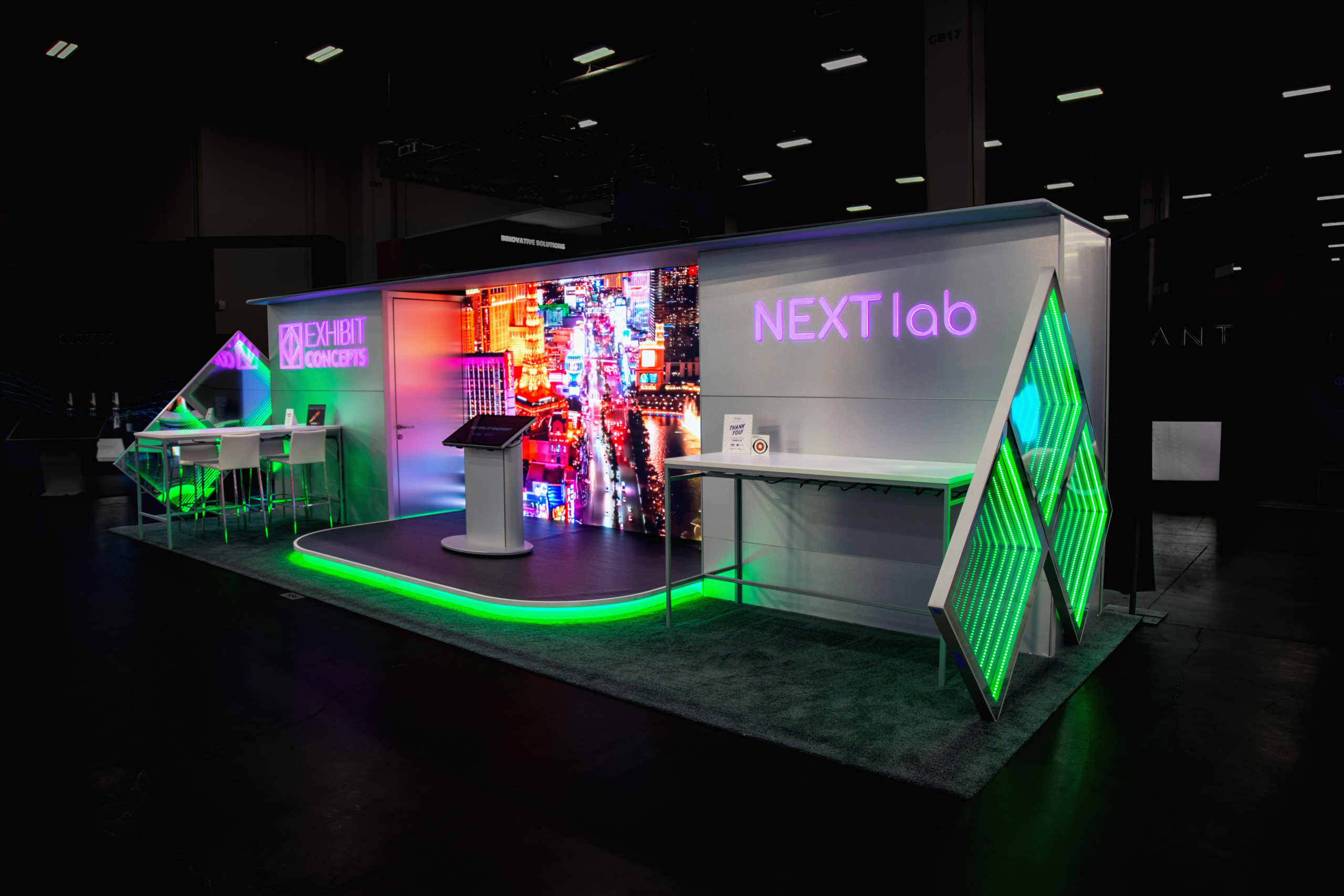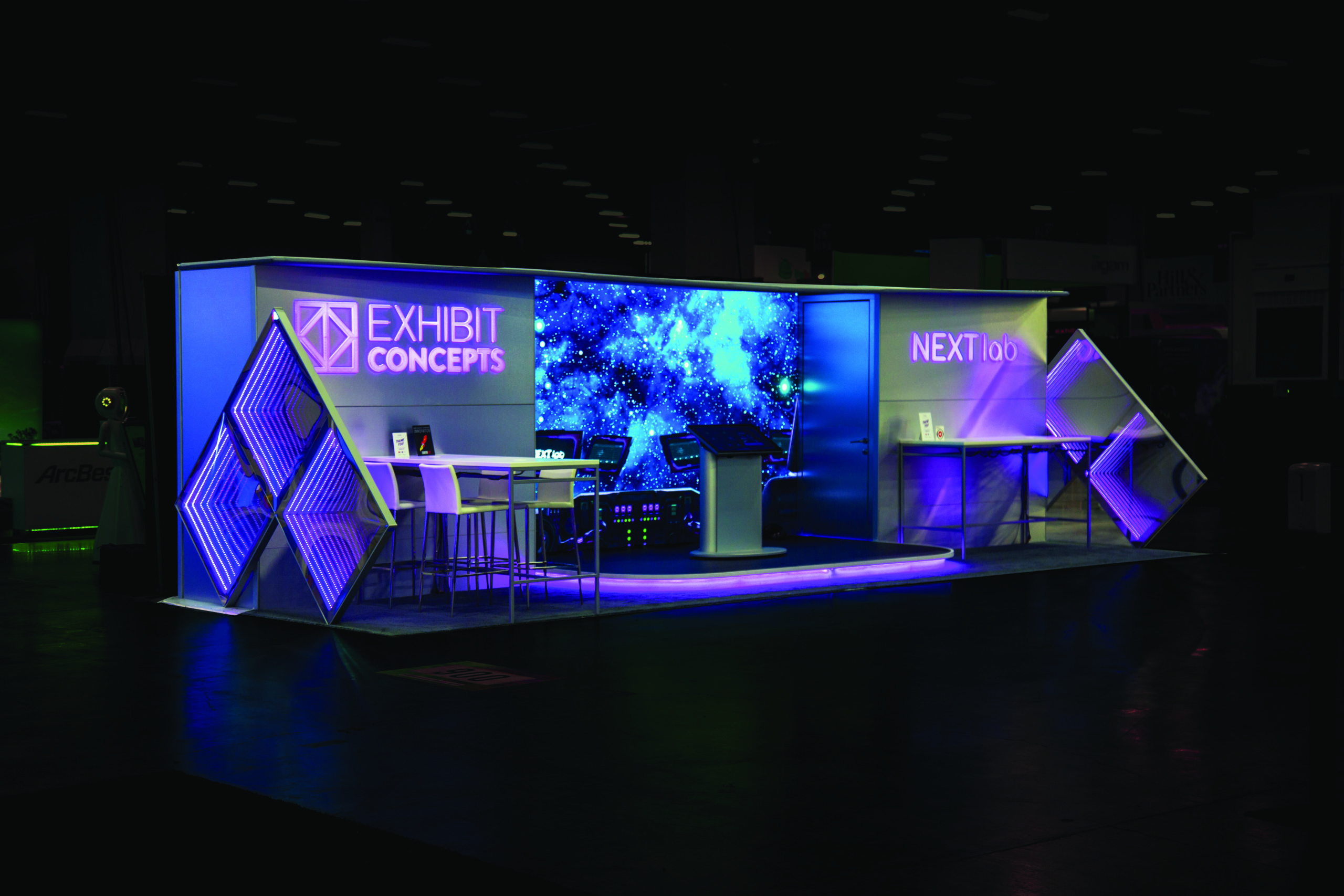 A panel of 12 judges are now tasked with identifying the eight winners among the highly qualified finalists. A ninth honor, the People's Choice Award, will be given to the winner of an ongoing voting campaign. To vote and check out the other finalists, you can visit EXHIBITOR'S Portable/Modular Awards page to cast a ballot. You can vote once a day until April 24, 2023. Winners will be announced during EXHIBITORLIVE, which runs April 23-26, 2023.