In a perfect world, an exhibit hall would be light and bright with ceilings as tall as skyscrapers. There would be no restrictions, no poles to design around, and no rules whatsoever. Unfortunately, most trade shows have a list of restrictions and limitations, and sometimes you find yourself in a hotel with low ceilings and dim lighting. But that does not mean they prevent you from having a successful event. And it certainly doesn't mean there is a limitation on creativity. So, when a client asked for a solution, creativity was the key to success.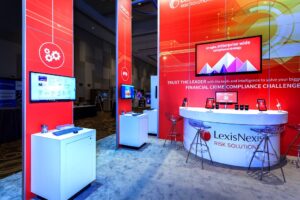 The Client: LexisNexis Risk Solutions, a leader in providing essential information to help customers across industry and government assess, predict, and manage risk.
The Need: A booth that would enhance their center position while conveying their message with a professional appearance despite the hotel venue with a low ceiling.
Our Solution: A beMatrix system was used for the booth structure to facilitate a one day set up and tear down. This system allows for quick installation and dismantle and is fitted with custom graphics for a branded experience. The brand pillars were represented throughout the booth and explained with graphics in the LexisNexis signature brand red. The ceiling panels of the booth were left open to expose a metal cage installation that reinforced the concept of security.
For an additional pop in the dark, confined space, custom light bars were built and installed throughout. From the reception desk to the ceiling, light made this booth stand out from the crowd.
The Takeaway: Location is everything, but it doesn't have to stifle creativity. The real world is full of obstacles and problems just waiting to be solved by those willing to think outside of the box.
To read more, visit our full case study here.