Attending the Consumer Electronics Show (CES), the largest electronics show in the world, is a big deal for any company. There are more than 4,000 exhibiting companies at the show and over 180,000 people walking the floor. For the Wireless Power Consortium (WPC), it's a crucial platform to share the mission of their organization with the masses.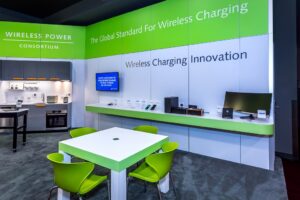 In 2018, Exhibit Concepts supported WPC with a custom rental booth, graphic design services, and product integration. This open, inviting, contemporary space integrated products so visitors could see how wireless charging can be safe, easy, and even subtle. The latter feature was demonstrated through a small kitchen setup that featured charging by placing kitchen appliances on wireless "hot spots" on the integrated countertop.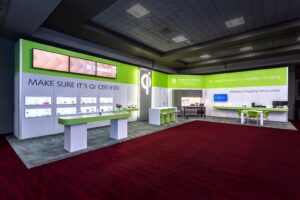 Founded in 2008, the WPC is a member organization of 487 companies including major organizations like Apple and Samsung working to create a
safe, reliable charging experience. Rapid changes in technology mean there are many low-quality wireless charging devices that can be potentially
unsafe. The WPC has adopted the Qi (pronounced "chee") standard that ensures they are safe and carry the Qi Certified designation.
The WPC attends CES to educate visitors about Qi as a safe, energy efficient offering and they have a prime space in a hallway where thousands pass through to walk from one exhibit hall to another in the Las Vegas Convention Center.
For more highlights from CES 2018, read our post on the highlights from the show floor.