Technology is attractive to any trade show goer and over the years, it's evolved and become a staple on the show floor. Innovative and interactive technology draws a crowd, as people can't resist shiny new gadgets and games to play from their favorite brands.
Just because your company might not be in the tech realm doesn't mean you can't incorporate technology to increase engagement or to share your message. From video games to motion sensor video displays, there are a multitude of experiences you can create for attendees by using technology. Here are six ways our clients created a memorable, engaging experience with unique forms of technology:
1. If you want to gather people in your booth, using video game technology is an excellent way to engage visitors and put smiles on their faces. When Scot Forge decided to promote their aerospace offerings, they knew they needed to create an interactive experience that would align with their products. We created and coded an 8-bit game using the same concept as the classic Atari "Space Invaders". Instead of a space ship, an 8-bit version of the Scot Forge logo was programmed to shoot the aliens as the attendee scrolls. When a visitor wins or loses the game, a custom screen appears and tracks the score. The game was programmed to run on keyboard controls, but we were able to map the keystrokes to a joystick for a better gameplay experience. Think you can beat the highest score? Make sure if you see Scot Forge at a show, that you drop in for a little game play.
2. The force was strong with Fabtech 2018 visitors. OTC Daihen, a Japanese company produces advanced welding products in the industrial and manufacturing industry and are well-known for their entertaining and thematic booth experiences. To draw a crowd, we drew inspiration from Star Wars for the entrance of their booth. We created two tall pedestals at the front of the booth which featured retention fabric, LED lights and fog machines for dramatic effect. At the top, two robots programmed by OTC Daihen stood and dueled with custom light sabers. We wired the light sabers' sound effects into the booth's speaker system, which played in sync with the movement of the robots to create a complete, immersive experience. When it comes to creating tech solutions, we live by Master Yoda's words: "Do or do not, there is no try."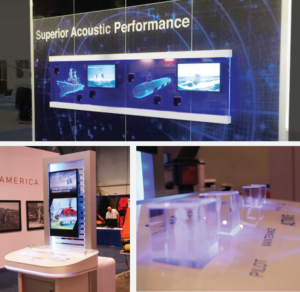 3. When Collins Aerospace exhibits, the best way to show their advanced solutions is by engaging and educating visitors with interactives that showcase their products and how they work. . We've created multiple interactive projects for their trade show booths that resulted in high engagement and success. One facet of their business is supporting the U.S. Navy and Allied surface and submarine fleets. On a display, we CNC'd a submarine, which slowly rotates on the screen. The display included movement sensors that when triggered by hand movement, played video detailing a part on the fleet. For their aerospace division, we created a display with a table that had receptacles carved into it. In these openings, glass blocks that represented either personnel, a place, or a type of machinery sat and could be picked up and moved by a visitor. At the bottom of the blocks and in a center opening, RFID tags were placed so that when a visitor moved a block to the center opening, a video would trigger on a display screen. If you make learning interactive, it's a surefire way to burn your brand into a visitor's memory.
4. For EXHIBITORLIVE 2019, we decided the best way to make our brand's story unforgettable was with our own "magical" robot named Orville, along with his not so talkative friend, Wilbur. What makes Orville magical? When visitors pull open the "magic door" on the robot's torso, a video plays introducing the visitor to one of our clients' projects. From the moving performance of "This Little Light of Mine" at the Mississippi Civil Rights Museum to children playing at the Mansfield Independent School District Early Learning Center, an unforgettable experience was burned into the memory of our visitors. Now, Orville sits in our cafeteria for all our employees to enjoy as their regular lunch date.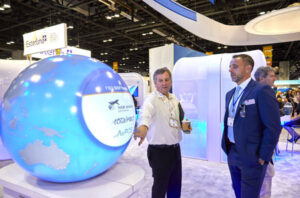 5. Borrowing from our experience designing interactives for museums, we conceptualized and Pufferfish brought an interactive touch screen globe to life for the World Fuel 2018 National Business Aviation Association Business Aviation Convention & Exhibition (NBAA-BACE) booth. When a spot on this rear projection touch screen globe was tapped, information about a World Fuel FBO (Fixed Based Operation) would display for the visitor. In partnership with Proske and Pufferfish, our client, Abbott, also uses the globe technology at international shows to showcase where their products are available, all around the world.
6. Kellogg's Tony the Tiger mascot is a beloved and huggable character. When the brand goes to shows, Tony is always at the booth to greet and interact with guests. To add some fun and create more of a draw to the experience, we designed and fabricated a photo booth kiosk that included a built-in touchscreen display and social aggregator software. The kiosk allows guests to take their photo with Tony the Tiger and then have the option to share the photos with friends and family via social media networks or direct messages. This all happens in real time, with the social aggregator displaying a continuous loop of all the visitor's photos on the opposite (aisle facing) side of the kiosk. Visitors are sure to never forget this experience – it's all captured on camera!
Whether you're a leading-edge technology company or not, it's a great way to create an engaging experience for your booth's visitors. Not sure where to start? Let us brainstorm and help you take your engagement to the next level.