Complete Trade Show Solution Exceeds Omron Corporation's Goals at CES 2018, 2019

2018:
111 Media Booth Visits
3.8 billion+ Media Impressions
Won "Best in Show" from EXHIBITOR Magazine
Listed as Exhibitor Magazine's Top 20 Best of CES
2019:
189 Media Booth Visits
2.5 billion+ Media Impressions
Listed as Exhibitor Magazine's Top 20 Best of CES for Second Consecutive Year
From the Client:
2018: "The success we achieved at CES is ongoing and momentous for Omron Automation of the Americas. It was our first time as one global company to display at CES and thanks to Exhibit Concepts' efforts, we achieved all of our goals, and then some." – Matt Trowbridge, VP of Marketing for Omron Corporation
2019: "It would be hard to top what ECI did for us at CES 2019. They are truly phenomenal when it comes to strategizing, design and all-around support. We look forward to working with them again!"- Matt Trowbridge, VP of Marketing for Omron Corporation
The Need
Omron has attended the Consumer Electronics Show (CES) for the last two years. At both shows, their presence needed to enhance brand awareness and value with a focus on partnering and recruiting in the U.S. Both years, Omron had goals to gain recognition from the media and influencers in order to communicate their core technology to target audiences. Omron captured attention by engaging booth visitors through a variety of visual, engaging mediums.
Forpheus, the ping pong-playing robot, facial recognition technology, group presentations, and other robots and machinery performing a variety of tasks were key elements in both the 2018 and 2019 booth experience.
The Solution
We took a multi-faceted, attendee-centric approach to maximize exposure and ensure a successful CES exhibition plan.
ECI knew exhibit design alone could not achieve Omron's objectives. So, ECI provided a complete solution which offered CES-specific support for strategic development and planning, project management, design and fabrication, experiential design, management, and production, content development, show service coordination, and product integration.
The result? Omron exceeded all their show goals for both CES 2018 and 2019 including attendance, media impressions, and social engagement. Plus, the booth and total experience won a Best in Show award from EXHIBITOR Magazine in 2018, as well as a spot on the Best of CES Top 20 list for the two consecutive years.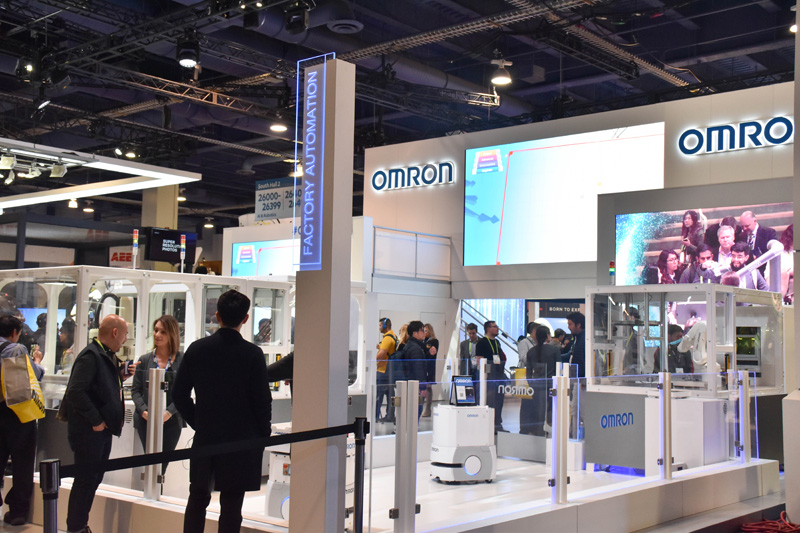 A large scale trade show space with equally big goals requires a partner who thinks strategically, understands your needs and can help you deliver on (and exceed) your goals.
Want The Same Results For Your Business?
Since 1978, Exhibit Concepts, Inc. (ECI) has delivered big ideas and even bigger results. We are an award-winning event marketing partner that designs, produces and manages experiential environments. We do whatever it takes to help our customers grow their business. Period.