Strong Account Management Leads to Cost and Process Efficiencies
The Client: LG Air Conditioning Technologies USA is an industry leader in the global air conditioning market that creates award-winning, efficient, end-to-end HVAC solutions for residential or light commercial structures.

"I cannot stress enough how the ECI team delivers not only design innovation but takes great responsibility in delivering cost effective solutions and savings opportunities." – Jacki Jaynes, Senior Manager, Channel Marketing at LG Air Conditioning Technologies USA
Show service costs cut by 25% 

Incorporated rental components for fraction of the cost of ownership

Light weight, modular components and use of rental inventory cut storage fees by over 60%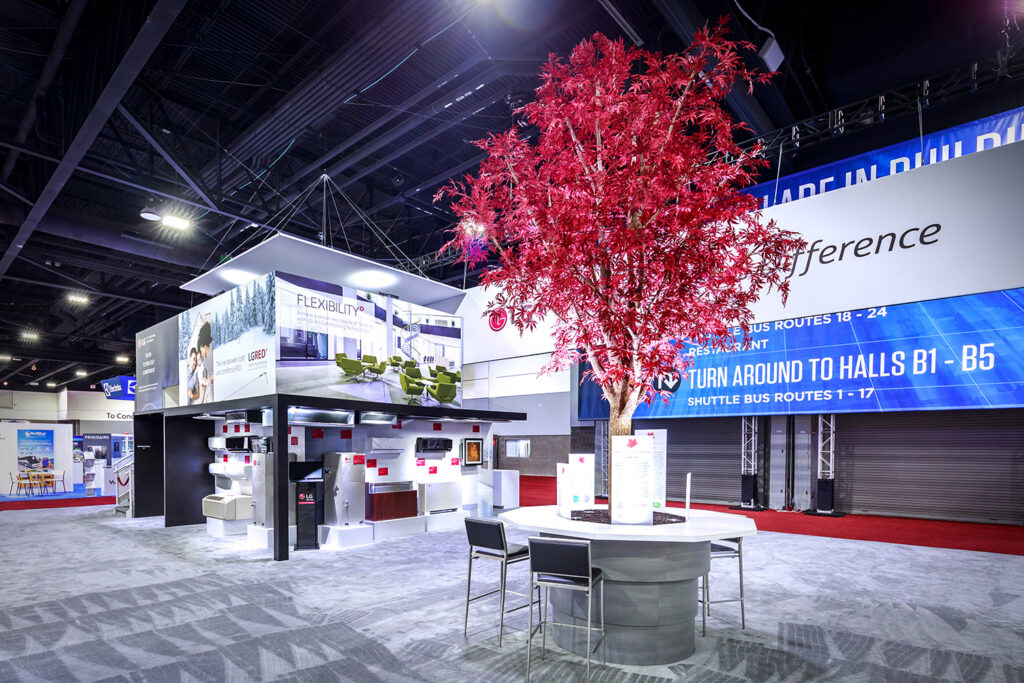 The Need
LG needed a visionary creative partner that would produce an eye-catching design and create a memorable brand experience while also cutting costs on storage, shipping, drayage and show services. This partner would also develop a working relationship that would create process efficiencies along the way.
Goals:  
Create a booth with maximum impact and the most cost-effective design for the 2019 AHR Expo
Partner with face-to-face marketing experts that fully understand the brand vision and will act as an extension of the LG marketing team
In 2009, fabricating the Pacific Combat Zone and more recently fabricating the displays for the recently opened Admiral Nimitz Gallery in 2017.
The Solution
Early on and through the project, Exhibit Concepts operated as an extension of LG's marketing team. ECI put a focus on the discovery process to assure that the design would meet LG's goals, objectives, and vision for the expo. By putting an emphasis on discovery, the ECI team was able to anticipate LG's wants and needs.
ECI found solutions for LG's booth that would cut costs while also delivering maximum impact on the show floor. The booth property is modular and incorporated rental components that reduced shipping, drayage and storage costs. ECI also managed the booth's show services, which streamlined the ordering and billing processes.
By acting as a full-service face-to-face marketing partner, ECI was able to meet LG's goals and objectives, reduce costs and streamline processes while creating a beautiful design and a memorable experience for AHR Expo attendees.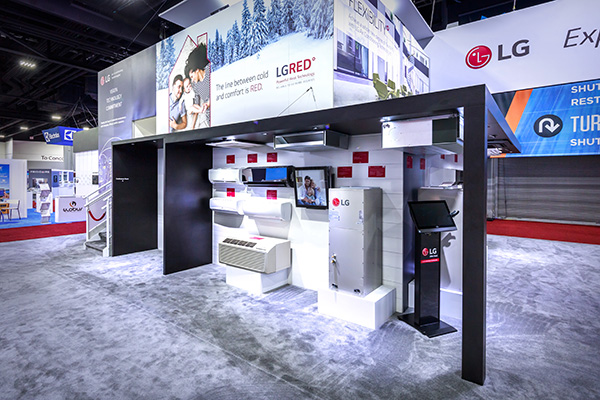 Partnering with a full-service face-to-face marketing partner with strong discovery processes and dedicated account management teams will not only develop killer designs, but will develop process and cost efficiencies, reduce error and rework, meet budget requirements and achieve better results.
Want The Same Results For Your Business?
Since 1978, Exhibit Concepts, Inc. (ECI) has delivered big ideas and even bigger results. We are an award-winning event marketing partner that designs, produces and manages experiential environments. We do whatever it takes to help our customers grow their business. Period.