Creativity and Quality Possible Without Exceeding Budget
The Client: FORCAM is a global technology company serving the manufacturing industry with the world's first turnkey and open, manufacturer-independent, and expandable cloud platform solution for the industrial Internet Things (IoT/IIoT). The solution FORCAM FORCE™ operates with the motto "PLUG & PERFORM" and is the new IT industry standard for smart manufacturing.

From the Client:
"What impressed me is that ECI understood what I was looking for and helped me connect the dots between technology – partner ecosystem – and the manufacturing customer. ECI did an outstanding job positioning our booth and left no doubt that two companies had come together to deliver quality to their clients."
– Sandy Abraham, Director of Global Marketing and Brand Management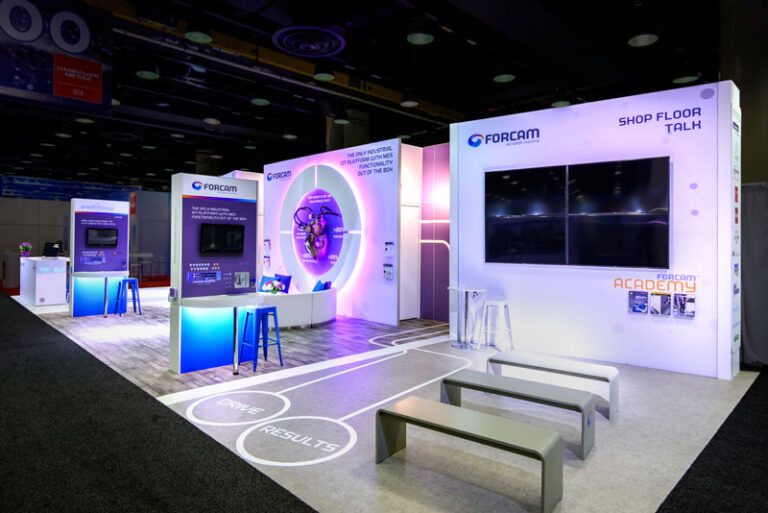 The Need
FORCAM was in the next stages of exhibiting in the U.S. and needed to find a partner that could create a booth presence in line with FORCAM's vision and brand voice. They wanted a booth that would look modern, smooth, and sleek to showcase their top-notch shop floor "Smart Factory" concepts without exceeding the budget.

The client needed to find a partner to portray a consistent voice of the FORCAM brand on the IMTS 2019 show floor and create a simple, sleek booth that showcased FORCAM's top notch and modern "Smart Factory" concepts without exceeding the budget.
The Solution
Before presenting our ideas, our team took the time to undergo an extensive discovery process with FORCAM to better understand their brand and their needs. FORCAM delivered a complete RFP to support the process. Our team looked at the previous booth to get an understanding of what worked and didn't work, the desired set-up of the new booth and layout.
We presented the client with a custom rental booth designed exactly as FORCAM envisioned, but with added elements such as a product pedestal and a custom detailed four-foot shroud to surround their prized sculpture of an industrial heart, to make an impression. In addition, we converted the power connections from European to meet US standards. This allowed us to reapply LED lights to light up the heart to draw attention to it as a focal piece.
By adding rental components, sticking to the brand guidelines while adding new elements to highlight the unique booth features such as the heart, and putting an emphasis on the quality of materials led to us meeting their budget and creating cost efficiencies without sacrificing the look.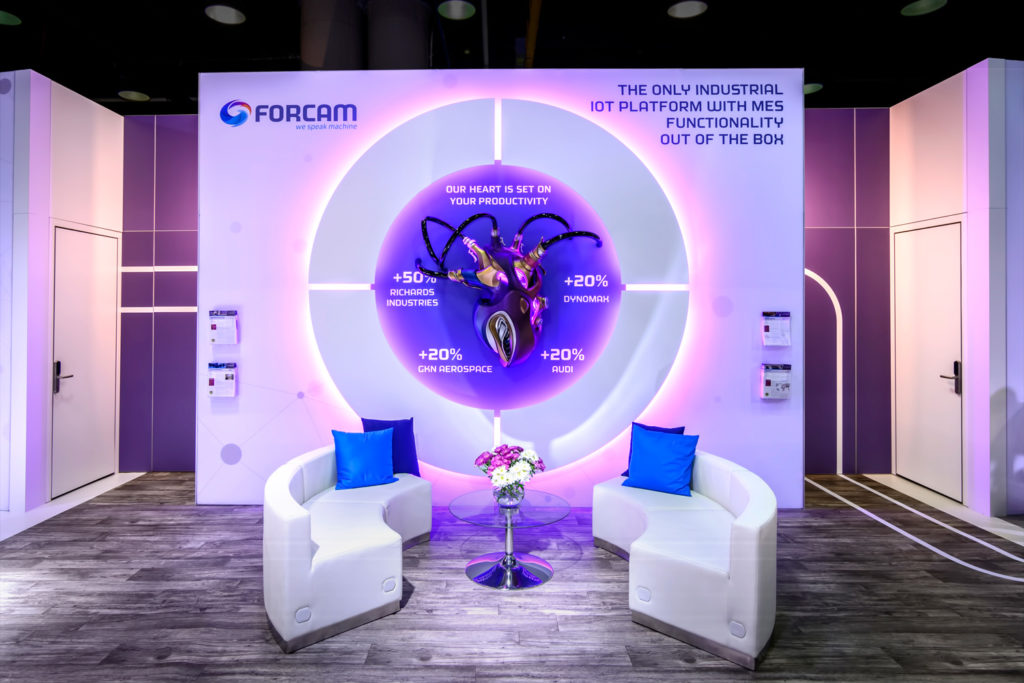 A strong discovery process and understanding of the brand's voice, needs, and budget is key to creating a booth that brings the customer's vision to life while also instilling brand awareness in visitors' minds. FORCAM achieved their brand awareness goals with a booth that had stopping power, reinforced their brand identity, and left visitors with a positive impression.
Want The Same Results For Your Business?
Since 1978, Exhibit Concepts, Inc. (ECI) has delivered big ideas and even bigger results. We are an award-winning event marketing partner that designs, produces and manages branded environments. We do whatever it takes to help our customers grow their business. Period.