The Client: The American Museum of Science and Energy (AMSE), which is managed by the United States Department of Energy (DOE), is located in Oak Ridge, TN.
Established in 1949 to provide unique and meaningful science education programming, AMSE offers a dynamic program focused on the DOE's past, present, and future missions. In 2018, AMSE decided to relocate to a renovated retail space that is part of the Main Street Oak Ridge redevelopment project.
The Need
AMSE has long been one of the top attractions in the Knoxville area.  
The Exhibit Concepts (ECI) team worked hand-in-hand with the project designer, Hilferty & Associates, to bring the new AMSE space and offering to life in a spectacular fashion. The facility was scheduled to open in less than a year, with no option to push the debut date, and finish on–budget. 
This environment needed to enhance the visitors' experience as they're introduced to the incredible cutting-edge science that has been a hallmark of Oak Ridge since the 1940s. The exhibits' purpose is to educate visitors, of all demographics, to  understand complex concepts such as nuclear particle imaging, supercomputing, super hydrophobic surfaces, energy generation and distribution, with interactivity and fun games. 
The Solution
EARLY INVOLVEMENT
ECI was awarded the fabrication and installation responsibility of this project. With this role, there were two main reasons it was absolutely essential that ECI be introduced to the project early in the design process: (1) to obtain early understanding of the project, constraints, content and expectations of the various groups involved; and (2) to manage coordination with the exhibit designer, specifically on overall schedule and cost control, fast-tracking of identified items, and ultimately fabrication and installation of exhibit components. As part of the Final Design Phase, ECI was asked to collaborate with the designer to produce detailed mock-ups. In addition, we developed prototypes for some specialty-custom build exhibit elements as a proof of concept as well as to work out design details which could not be satisfactorily determined in other ways. In relation to a typical museum project timeline (approximately three years vs. one year), it was necessary that this task be executed much earlier in the process to maintain the strict schedule.
COLLABORATION
ECI collaborated with an award-winning team; the general contractor, architect, designer, client, and many agency and media partners. Because of our early involvement, we were able to work in tandem and be proactive in solution development with all parties on this project to ensure its success. It was for this reason that we could not only commit to the aggressive schedule to complete the partially developed exhibits design, fabrication and installation, but also the project was completed early—in just 8 months.
ON-BUDGET and ON-TIME
ECI was responsible for detailing, fabrication and installation of "museum quality" exhibition elements. Work scope included procurement and coordination of supplies and materials; fabrication; mock-ups and prototypes, transportation and installation of all exhibit platforms and surfaces; graphic panels and murals, stand-off panels and associated supporting components, engineering and installation of overhead systems to display graphics and macro artifacts; artifact handling and mounting; display case lighting and exhibit casework; and overall site coordination of all contractors associated with this project.
There were many instances in the design, planning, and prototype phases where ECI made recommendations on various construction materials, building approaches, etc. which saved money and time. For example, we selected a proven off- the-shelf metal support structure for the graphic panels because custom fabricated elements were too costly and would have slowed the production process.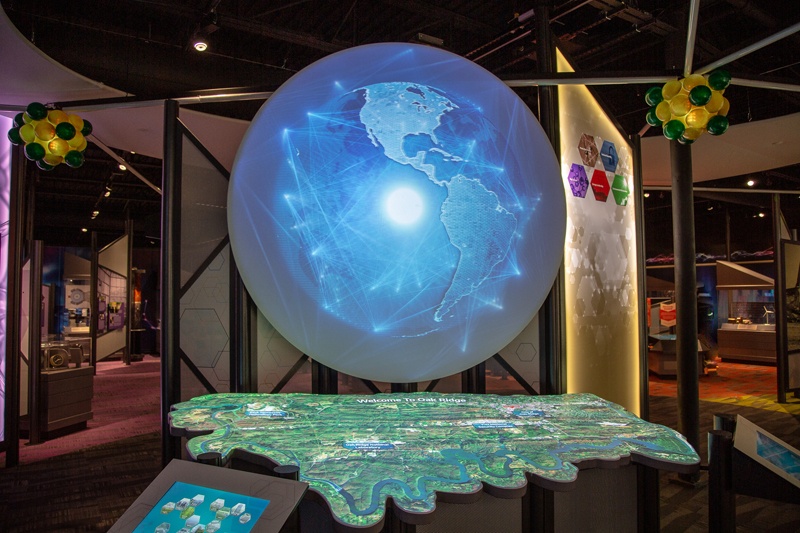 The Takeaway: Award Winning
In 2019, a team consisting of ECI, Designer, Architect, General Contractor, Media Producer, and AV Hardware Integrator were awarded United States Department of Energy Secretary's Achievement Award. This award recognized the Team for its significant contribution and unparalleled commitment to assure the successful establishment of the American Museum of Science and Energy. 
Exhibit Concepts also won the 2018 United States Department of Energy Small Business of the Year Award. ECI competed against all nominated Department of Energy projects completed by small businesses in 2018. The award recognized the outstanding small business who generated innovative and technical solutions that contributed toward the fulfillment of our national security and energy missions.