Kellogg's K-12 Virtual Event
The Client: 
The Kellogg's Away from Home division of the Kellogg Company is dedicated to helping non-commercial and commercial foodservice operators stay ahead of consumer cravings. The Kellogg's K-12 team is a segment of Kellogg's Away from Home dedicated to satisfying students' cravings and USDA requirements with products that are delicious and nourishing. 
Kellogg's was able to provide attendees with a memorable and engaging experience on a virtual platform with the help of ECI's NEXT Lab VExP suite of solutions. 
"We were really happy and surprised with the response to the virtual show!" -Samantha Baffes, Kellogg's Senior Manager of Commercial Strategy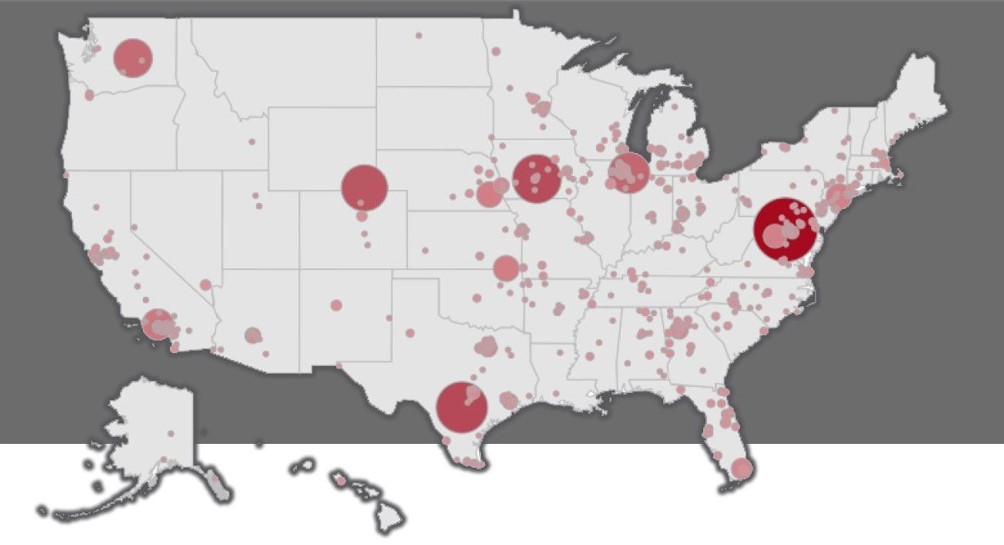 1,274 Unique Registrations

 

4,250 All Time Page Views

 

173 Poll Submissions

 
Average time on the event platform: 54 minutes

 

Event emails: 26% open rate

 
The Need

Each summer, the Kellogg's K-12 team typically attends the School Nutrition Association's Annual National Conference (ANC), the largest school nutrition specific conference for K-12 industry professionals.
The USDA mandates that school nutrition professionals must complete a certain amount of CEUs (continuing education credits) through professional development presentations each year. Kellogg's provides these educational opportunities for industry professionals, which are presented at the ANC.
As the School Nutrition Association canceled its in-person event due to COVID-19 and had no plans for a virtual event, Kellogg's made the decision to create their own proprietary virtual event.
That's when they contacted Exhibit Concepts to help them plan and execute a successful virtual event to maintain their presence and continue to achieve their marketing and sales goals. 
The Solution
The Decision to Go Virtual
Exhibit Concepts' talented NEXT Lab department offers VExP, a family of digital experiences and strategies for the next generation of face-to-face to make virtual events engaging and memorable while reaching the client's sales and marketing goals.
Upon cancellation of the School Nutrition Association's Annual National Conference, Kellogg's reached out to our team to help them create and plan a proprietary virtual event.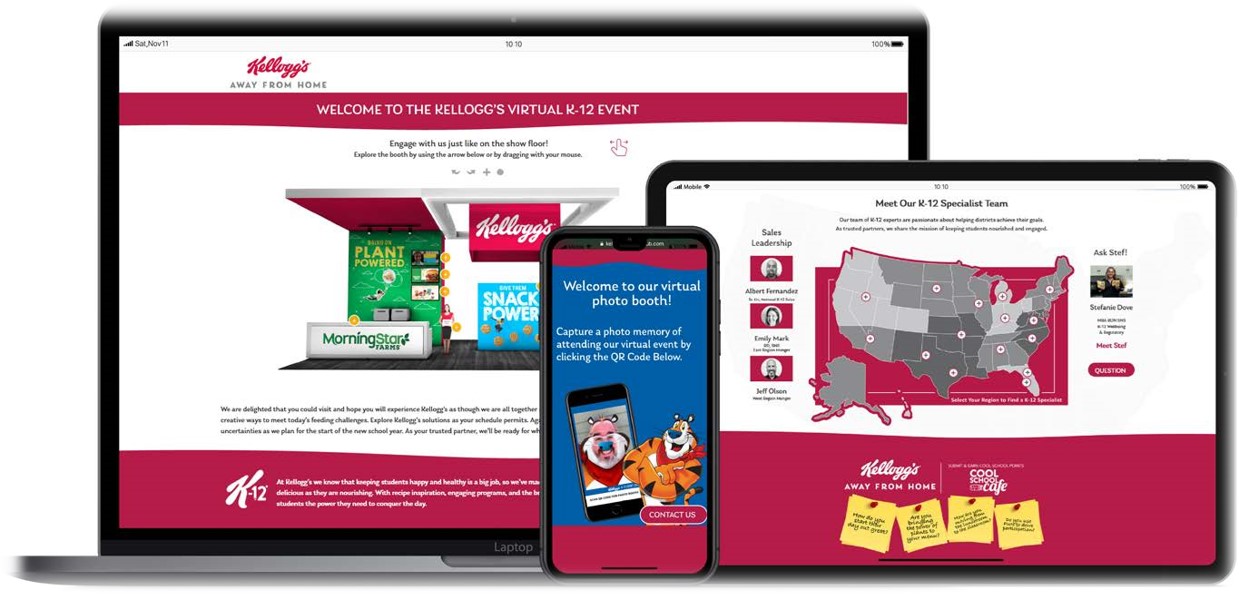 ECI's NEXT Lab team executed a custom virtual event platform for Kellogg's in order to meet their main objectives for the event to Inform and Educate, Connect and Converse, and Engage and Entertain. Attendees could access the virtual event from a desktop, laptop, tablet, or mobile device.
Kellogg's Senior Manager of Commercial Strategy, Samantha Baffes, shared that they wanted the virtual event to keep the feel of an in-person event. "We made it very interactive, and operator focused. We had a way attendees could setup calls with our salespeople to still have that connection, and we did spotlight features on the attendees to still have that peer-to-peer aspect," Baffes said.
The planning process was the same as it would have been for the live ANC event, but it all came together in a virtual setting…and MUCH shorter planning timeline!
ECI's Account Executive, Stephanie Matlock, shares, "Early May 2020 we began working with the Kellogg's K-12 Team to explore virtual options and by the end of May, we had a plan in place, decided on a platform and overall plan for a proprietary event in place of the ANC. And believe it or not, we went live with the virtual event on July 22, 2020, just 8 weeks from initial planning."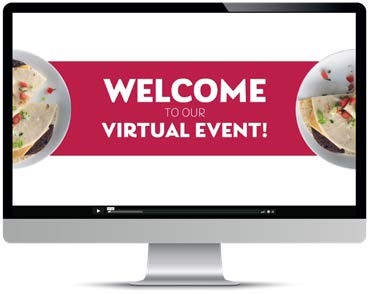 Event Structure and Engagement
The main virtual event took place over the course of 2 days with a schedule of live sessions, programming and discussions each day, live chat, polling, a virtual photo booth, downloadable resources and the ability to book a meeting directly with the speakers and Kellogg's reps.
Here's how event organizers achieved their three main objectives for the virtual event:
1. Inform and Educate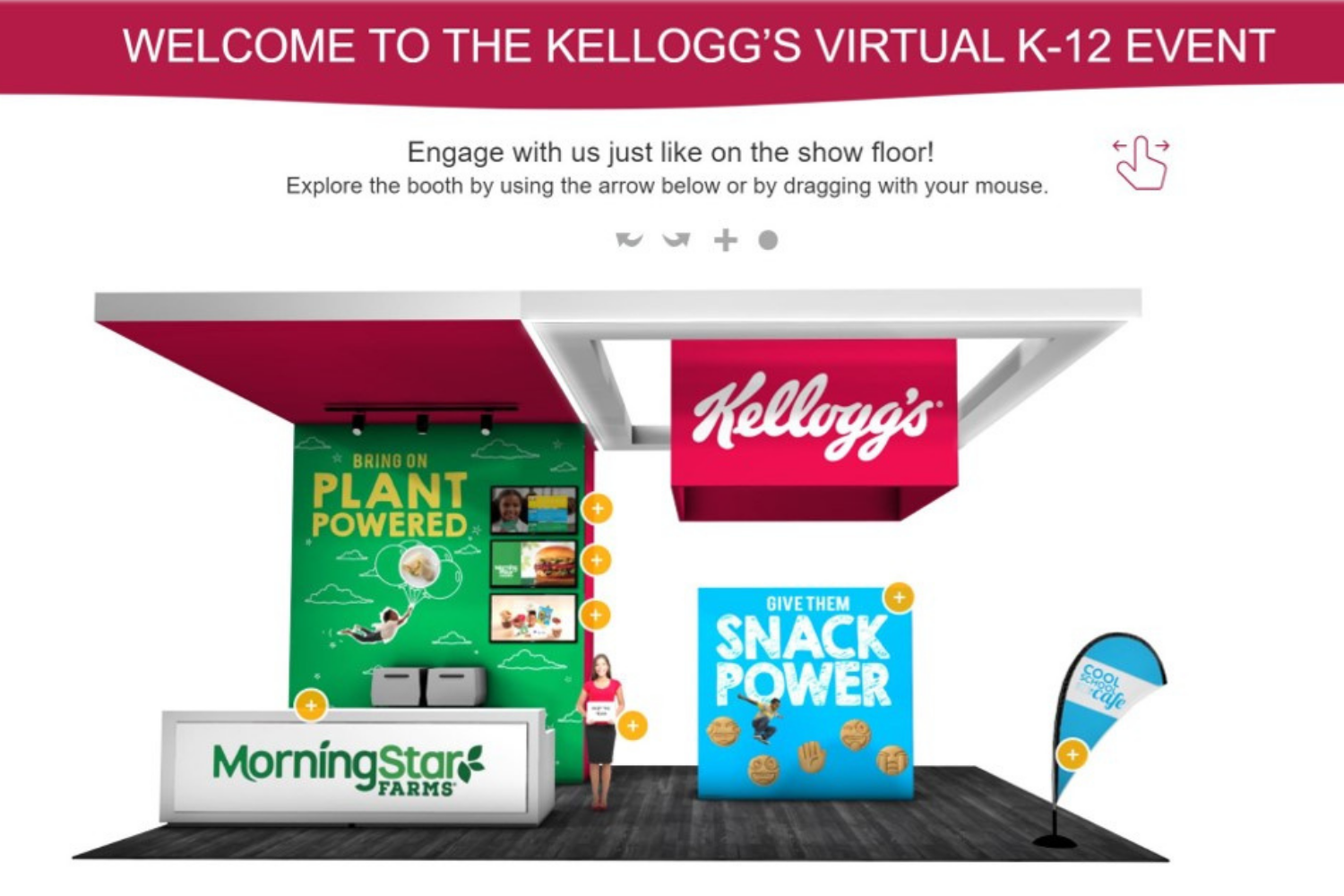 Welcome video, which walked the attendee through what will be offered and what to expect.

Virtual Booth with clickable links to resources

Live, educational events for CEU credits

Downloadable content in between live sessions
"Regardless of the industry that you are in, chances are there is some sort of professional development that your customers are looking for, or there's a natural curiosity to learn more. If you tap into those hot topics in your industry, and plan continuing education opportunities, it allows you to provide an additional solution for your customer through your event." – Stefanie Dove, MBA, RDN, SNS Kellogg's K-12 Wellbeing & Regulatory Business Partner
2. Connect and Converse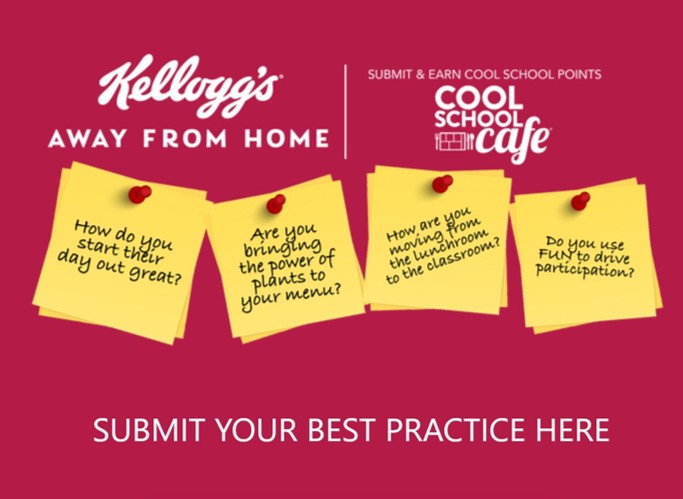 Links to set-up meetings with a Kellogg's team member

Live chat

Polls and forums to engage the attendee
3. Engage and Entertain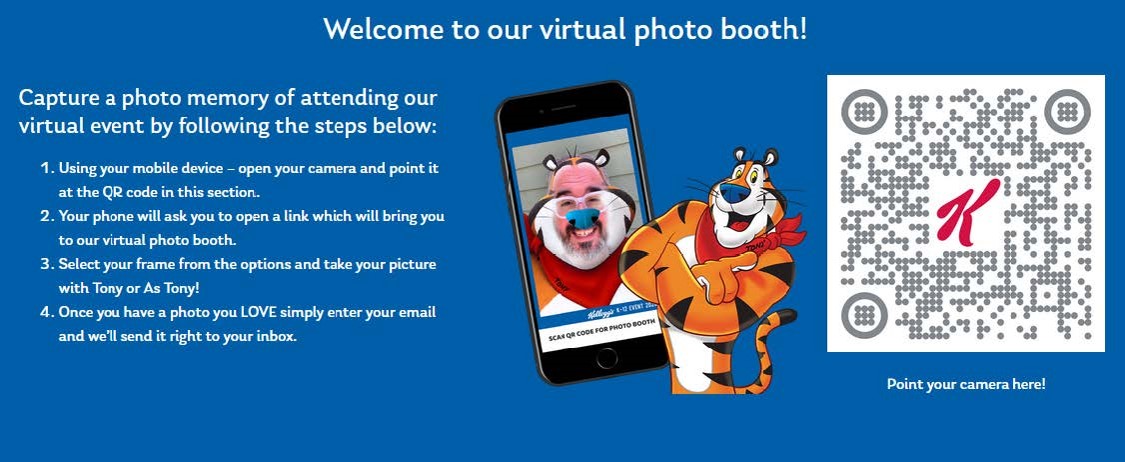 Chef demos with new recipes, which replaced the chef experience attendees would normally see in-person at the ANC event
Virtual photo booth with Tony the Tiger mascot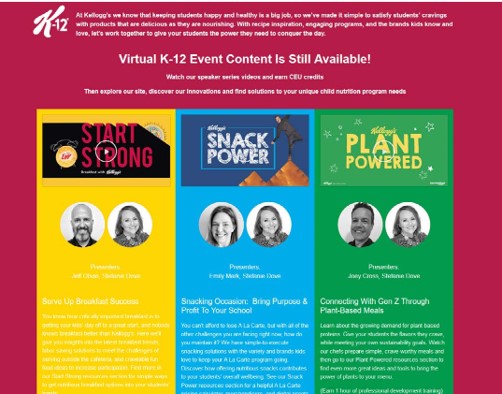 Post-event aspects included on-demand content which extended the lifespan, reach, and value. Visitors who couldn't join live, were able to experience the event content on their own schedule. Those who attended live, had the ability to re-watch, re-engage and share their experience with others. foo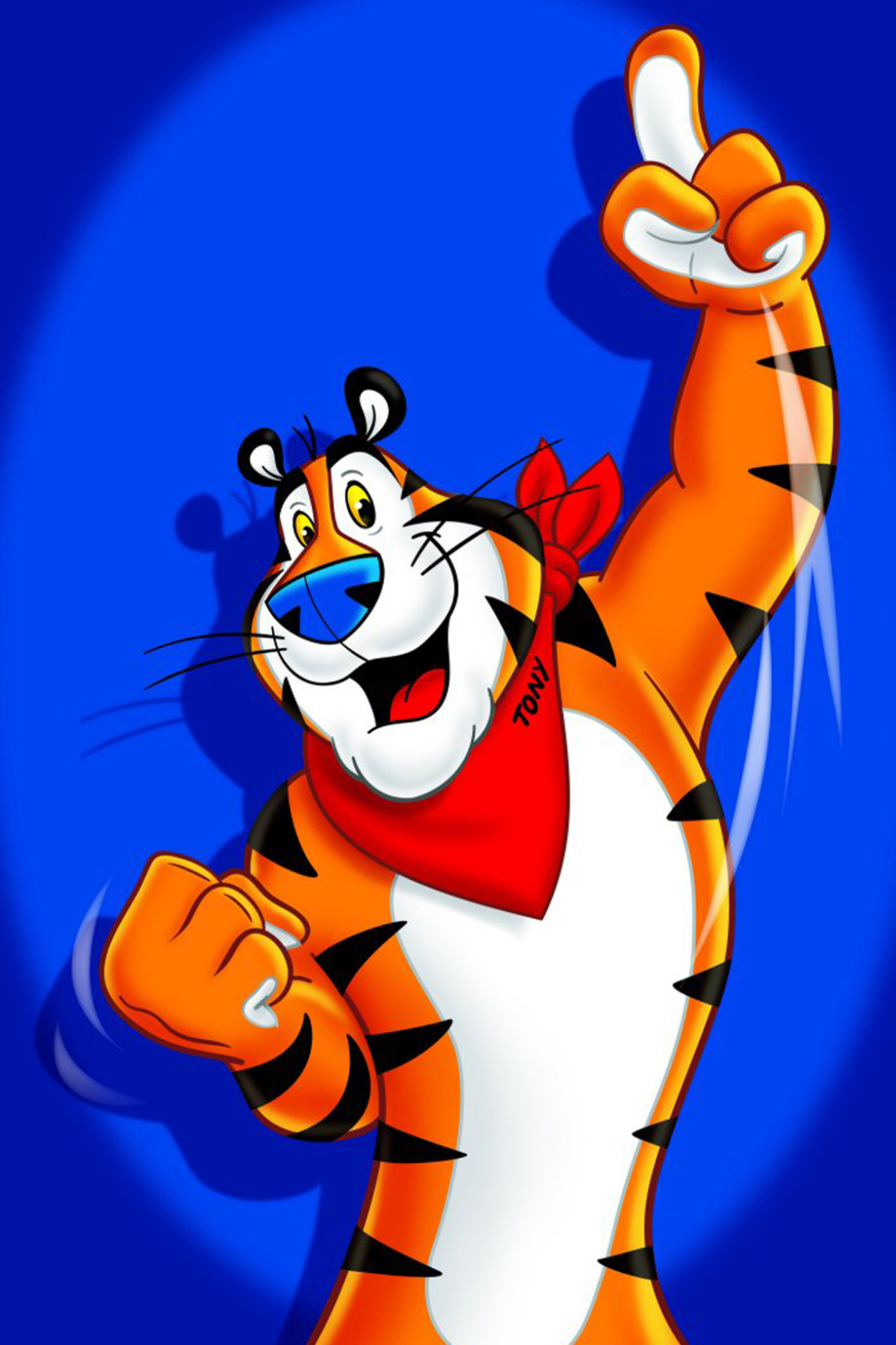 The Kellogg's team shared their Top 5 Takeaways from their experience of planning and executing a proprietary virtual event:
1. It takes a team!
"Working with ECI, and the great team we had internally, made everything go smoothly."

 -Samantha Baffes, Kellogg's Senior Manager of Commercial Strategy
2. Give yourself time to plan (we recommend at least 12 weeks)
3. Be prepared for anything from technical issues to quiet participants during breakouts
4. Provide a CEU (continued education credit) or professional development course
5. Provide easy to find useful and relevant tools and documents for your audience